After Christmas Sales!
Athleta has started their semi-annual sale, and as of today, you can get an extra 20% off sale items with code EXTRA20.  That down jacket I mentioned the other day is now only $103 with the sale + discount.
Bandier is doing a tiered discount sale.  If you've got a particularly long wishlist over there, you can get up to $150 off.
Carbon38 is offering an additional 30% off sale items with code XMAS30.  You can get Vie Active's rockell tights in satellite orchid for only $38! (My review here.)
Lululemon's infamous Boxing Day markdowns are live, including quite a few winter goodies for much nicer prices, like the runderful 1/2 zip for $69 and the down for a run vest for $99.
Nordstrom's half yearly sale is underway, and it includes a pretty significant activewear selection.
Sweaty Betty's year-end sale has some new markdowns.  The thermal run leggings (my review here) are now down to $84.  I picked up this ombre tank, these leg warmers, and this coral LS.
New Releases
Lululemon had their Christmas upload late last night.  I'm actually loving the look of this new pattern, blooming pixie.  It's right in my color palette and reminds me of the older lulu I love.  I especially love bags in this print for some reason.  Hoping I can get some speed shorts in this!  Shown: urban warrior duffel, run all day backpack and all sport bra 3-strap (the two bags are only available in Canada right now).
I'm also happy to see peacock blue showing up in a few pieces, like these align pants.  This color showed up briefly over the summer and went away sooner than I would've liked, so maybe I'll get my peacock blue fix after all.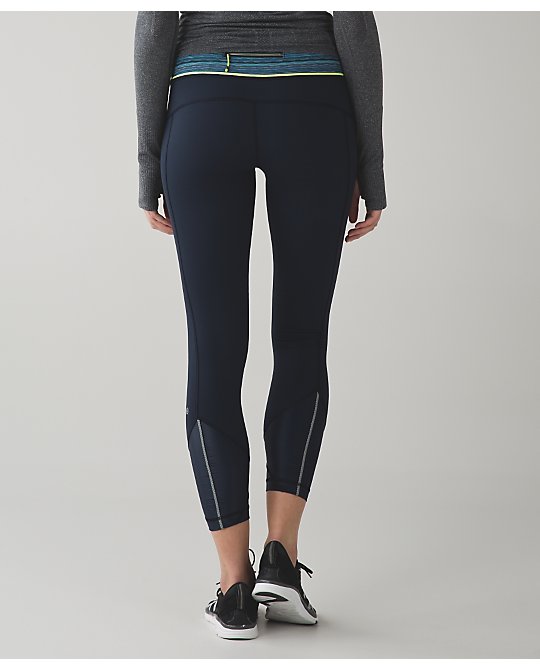 One more from lulu: I like these pace queen tights in inkwell.  They're a simple but pretty design for run.  Bordeaux is nice too, though I've gotten a little bordeaux'd out this season.
Besides their sale, Athleta also has a few new releases floating around.  They have these new bold stripe chaturanga tights, which are seriously just like K-Deer's signature stripe design, although at least these are lacking K-Deer's stitching style.  Although sometimes design similarities can reasonably be interpreted as coincidence, and though I usually like to give the benefit of the doubt, this one seems a little hard to interpret as anything other than copycatting.  It's a bit disappointing to see, especially since K-Deer is much, much smaller than Athleta.
On the more positive side, these new navy superimpose chaturanga tights are fun.
One more brand doing the sale + new style thing: Sweaty Betty.  This new finish line top in is pretty, and is also available in a nice deep blue too.  They've also got a groovy new geometric print on these stability leggings.