Mystified by lululemon's many fabrics? What do they feel like, and which one will work best for you? I've got you covered!
Luon
Feels like: cottony soft (but not made of cotton!), warmer against the skin, gently holds you in
Best for: yoga, barre, aerial arts, studio workouts, leisure, to-and-from layers
Luon MVPs: wunder under tights of all lengths and define jacket
Luon is lulu's original, signature yoga fabric. It has a cottony feel to it and can feel cozier against the skin compare to other athletic fabrics. All luon is 4-way stretch and moisture-wicking. Variations of luon include full-on luon, which is a tighter weave intended to provide extra support and coverage. Light luon (sometimes called luon light) is exactly what it sounds like: slightly less thick, which is great for things like tank tops where sheerness isn't a concern.
Keep in mind that luon items that have prints/patterns typically feel much slicker and less cottony-soft, almost like luxtreme. You'll also notice that prints are usually backed in white, which can cause the print to appear slightly faded when stretched.
In winter, lululemon offers textured patterns such as herringbone, pique, and variegated knit: example pictured above. These patterns are actually knit into the fabric, unlike most prints. Compared to normal luon, they are extra-thick, and super cozy and warm. They are some of my absolute favorite lululemon items and I definitely recommend them when seasonally appropriate!
Luon is a versatile fabric which can be used for a whole slew of activities, including just lounging around. Most runners don't like to run in luon bottoms, because it can feel hotter. Luon is not recommended for high-intensity, high-friction activities like running or spinning because it is more likely to pill.
Note: luon is more attractive to lint and pet hair. Pet owners, expect to use the lint brush liberally!
Luxtreme
Feels like: slick, smooth, cool against the skin, compressive
Best for: running, spin class, strength training/CrossFit, anything high-intensity
Luxtreme MVPs: energy bra, free to be wild bra, scalloped wunder under crops, pace rival crops
Luxtreme is lulu's signature fabric for running. It has a much lighter feel than luon and feels nothing like cotton. Instead, it's smooth-faced and slick to the touch. It feels cool against the skin and is great for high-sweat. Luxtreme is highly resistant to friction and will not pill. Personally, I feel it is more breathable than luon. Luxtreme is another versatile fabric that can be used for lots of other sweaty pursuits.
Full-on luxtreme is a variation of luxtreme: it's a tighter weave with more compressive and coverage. This means the fabric has a slightly thicker, sturdier feel than regular luxtreme. Personally, I really like full-on luxtreme. It's especially great for tights.
Note: luxtreme is awesome for pet owners. It resists lint accumulation, and pet hair brushes right off!
Nulu
Feels like: ultra-flexible, wearing almost nothing, breathable, ultra-soft, no compression
Best for: hot weather, yoga, studio classes, low-impact strength training, leisure
Nulu MVPs: align crops and pants
Read a full review: align crops
This fabric is intended to fit like a barely-there second skin: it's ultra-lightweight, breathable, and crazy soft. It has a more plush, softer feel than luxtreme but it's not cottony like luon. Instead, it has a slightly spongy, luscious feel.
Because it's so light, nulu is a great option for hot climates and hot workouts. It's important to note that it does not offer any compression or smoothing. If you prefer a firmer fit that holds you in, skip nulu and try another fabric. Some people like to wear a size down in nulu for a slightly tighter fit, but it's never going to be truly compressive.
Nulu is also prone to pilling, so do not use nulu items for high-intensity, high-friction workouts. Because nulu is so lightweight, be sure to do a squat test to ensure your leggings have the amount of coverage you want.
Nulux
Feels like: stretchy and comfortable, silky to the touch, lightly compressive, ultra-breathable
Best for: strength training, warm weather running, spin class
Nulux MVP: fast and free tights
Read a full review: fast and free tights
If you like the next-to-nothing feel of nulu, but want an option for high-intensity workouts, nulux is the fabric for you! In my opinion, nulux is closer to luxtreme than it is to nulu. Luxtreme and nulux are very similar in both feel and usage, the main difference is that nulux is lighter weight and silkier. Like nulu, nulux is pretty lightweight and thus can be lower coverage. Do a squat test before you pop the tags to make sure you don't see anything you don't want seen.
Since nulux is very light, it's a little bit cooler for hot workouts compared to luxtreme. If you're not a fan of shorts, nulux crops and leggings are a great solution.
Nulux has a slightly slicker feel compared to nulu, but isn't as heavy duty as luxtreme. Like the name suggests, nulux is like the lovechild of nulu and luxtreme. It's pilling-resistant, so it's great for high-friction workouts like running.
Note: like luxtreme, nulux is resistant to pet hair and lint!
Everlux
Feels like: smooth and soft, medium weight, compressive
Best for: spin class, strength training, yoga, running, and honestly almost anything!
Everlux MVPs: invigorate tights and wunder train tights
Read a full review: wunder train tights
Everlux feels like nulu and luxtreme combined, taking the best of each of them. Super-soft to the touch, luxurious, and comfy like nulu, but somehow still nicely compressive and sweat-wicking for high-performance settings. They feel slightly warmer than the ultra-lightweight feel nulu, but are still designed to wick away sweat and dry quickly in hot, sweaty environments, like luxtreme.
Everlux might be the most versatile of all lulu's fabrics. Comfortable enough for casual wear and low impact workouts, but durable and sweat-wicking enough for high intensity and high impact. If you are a generalist who wants tights that are seriously down for whatever, everlux will be your best friend.
Swift
Feels like: lightweight, smooth, like your classic running shorts but even better
Best for: running, strength training/CrossFit, HIIT
Swift MVPs: speed up shorts, hotty hot shorts
Swift fabric is used for shorts, skirts, pants, and jackets. It's a loose-fitting performance fabric, never used in tights/leggings. It's super stretchy, but still holds its shape a little more than a pair of leggings.
Swift is more durable than the other fabrics here, though it's still possible for it to snag. I've only snagged 1 pair of shorts in the 7+ years I've been wearing swift material (thanks, cactus!), but it does not unravel. You can simply use a needle to push the snag through to the inside and you're good to go. I have used my shorts for 7+ years, including dozens of CrossFit WODs and hundreds of miles of trail running and I have never torn a single one.
Lululemon's 2-way swift fabric is the most durable of all, but currently they don't manufacture items in 2-way, only 4-way stretch. Despite the fact that 2-way sounds inferior, it's actually an awesome, durable, and super-flattering fabric. If you're shopping for secondhand lululemon items, you might run across my beloved 2-way. Read about the difference between them here.
Other notable fabrics
Lululemon uses many different weights of cotton (or cotton fleece) in their to-and-from and casual pieces, like the ever-popular scuba hoodie. Some yoga/casual crossover tops will be made in a lightweight cotton. Pima cotton is a softer, super-luxurious cotton used in a lot of casual tops.
Rulu is short for "running luon" and is perhaps the most decadent lulu fabric out there. Its intended use is winter running, so it is thick, warm, and incredibly soft. These items typically only come out in the fall and winter, because they are much too hot for summer. Rulu is also one of the most comfortable fabrics for wearing as casual wear. Look for vinyasa scarves made out of rulu for an incredible soft, cozy feel.
Silverescent technology is used in high-sweat, seamless items such as swiftly tops. It has silver fibers woven into the fabric that helps prevent the growth of bacteria, which helps prevent the fabric from becoming smelly.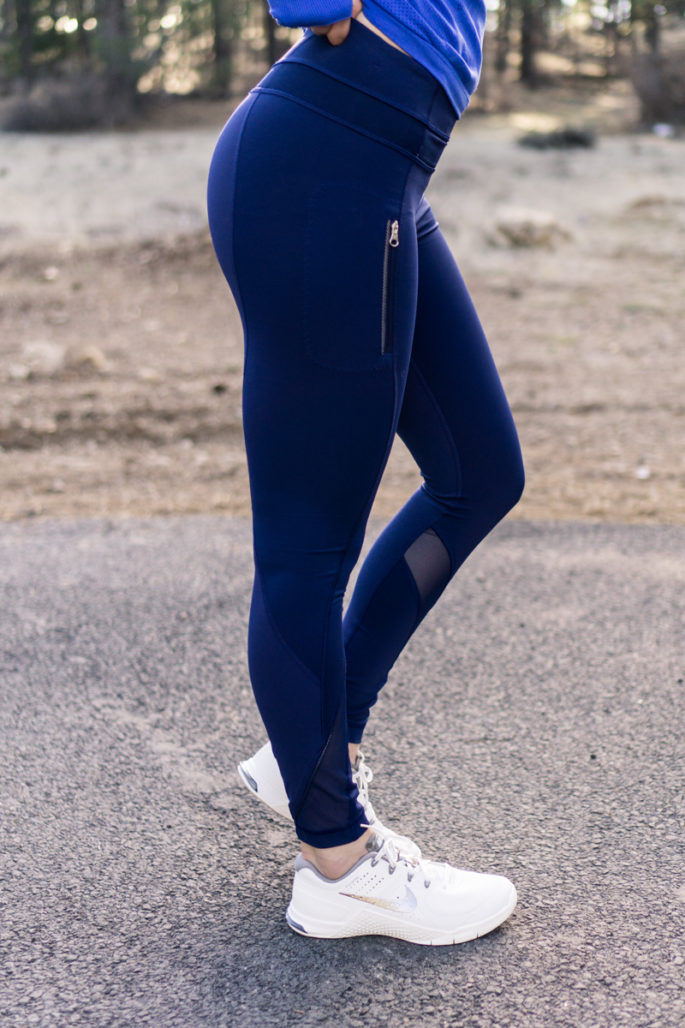 Caring for your lululemon
All activewear should be washed cold water and hung up to dry. Be sure not to use fabric softener, because it will hinder the fabric's ability to wick away sweat and will make it less breathable. Be sure not to put your lulu in the dryer: instead, let it air dry on a drying rack or even your shower curtain rod. While lulu will not shrink in the dryer, over time, heat damages the stretchy fibers and will cause items to wear out and lose their shape faster.
Be sure to wash all your workout clothes together. Wash cotton and other natural fabrics in a separate load of laundry, especially towels. Washing workout fabrics with cotton can cause them to pill.
For down puffer jackets and outerwear, care is a little more complicated. I wrote detailed instructions on how to wash those items here.
My personal lululemon picks
Below, I've linked up a few of my personal favorite lululemon styles that I think you'll love. You can also see all of lulu's latest over here.

P.S. Tips for saving money on lululemon
If you want to save a few $$ on your lulu purchases, sign up for Rakuten, a cashback program. When you use your Rakuten link, you'll get a few dollars back with every purchase. I've used Rakuten for many, many years (as have thousands of others) for lululemon as well as other online shopping, and I can confirm it's the real deal. If you've never used Rakuten before, you can sign up using my invitation link for a $30 bonus when you make your first purchase.
The other big way I save on lulu is by buying secondhand via Poshmark and eBay. I've scored some amazing deals there, plus I've been able to earn a lot of money back from items I no longer love or need. You can learn how to score great deals on Poshmark in this post.