The basics
Lululemon's sizes range from 2-12. A small number of items also include sizes 0 and 14. For starters, you can check out lululemon's official size chart, but bear in mind that measurements and size charts are a good starting point, but may or may not predict your perfect size.
It's important to note that if you are on the smaller end of the size spectrum, your lululemon size will most likely NOT be the same as your dress size. A size 2 in lulu is actually equivalent to an XXS, definitely not the same as a dress size 2. A lulu 4 is equivalent to an XS or 0/2. Sizes will get closer to your usual dress size in sizes 6-8 and above. In other words, don't trust the number on the label–it may or may not be what you're used to!
Before you try something on, it can help to know how it's supposed to fit. If you're trying something on in stores, the tag will tell you if it's intended to be a fitted or loose style. Compression is also a factor here. Items labeled as lightweight, naked, or barely-there will likely feel a little looser, and you may even prefer a smaller size. On the other hand, items (especially tights) designed for a supportive, compressive fit will feel tight and may even nudge you toward a larger size.
How to tell if your lululemon is the right size
1 | Comfort. The most important part of fit is, of course, comfort. Does it feel like you're going to rip right out of it if you move? Is something cutting in somewhere? Pay close attention to key areas like the waistband, underarms, and bra band. If something is pinching or squeezing uncomfortably, try sizing up.
2 | Movement test. See how the item feels when you move around a little bit. Try twisting, squatting, jogging in place, raising your arms, lunging, etc. Notice how your clothes feel when you're done. Did everything stay put, or did it slide up or down? Do you feel like you need to adjust anything? If anything shifts around too much, you may want to try a smaller size.
3 | Fabric appearance (luon fabric). For gear made of lululemon's luon fabric, especially pants, make sure there is no sheen to the fabric. When luon is overstretched, it'll get a bit of a shiny look to it. If you grab a pair of pants or a tank and stretch it out a bit with your hands, you'll see what I mean. If the fabric is shiny at the hips or thighs when you are standing normally, you should probably size up.
4 | Wrinkling. If your leggings or crops are too small, the front hip/crotch area will appear overstretched. There will be faint "whiskering" across the crotch due to the fabric being strained.
Look at the tights above and notice are overstretched across the front of the hips, creating a wavy pattern. They are too small!
On the other hand, if there's excess fabric and lots of wrinkling around the crotch and the thigh crease, this could indicate that they're too big.
Ideally, when you are standing up straight in a neutral stance, the fabric should fall smoothly across the front of the hips, like this: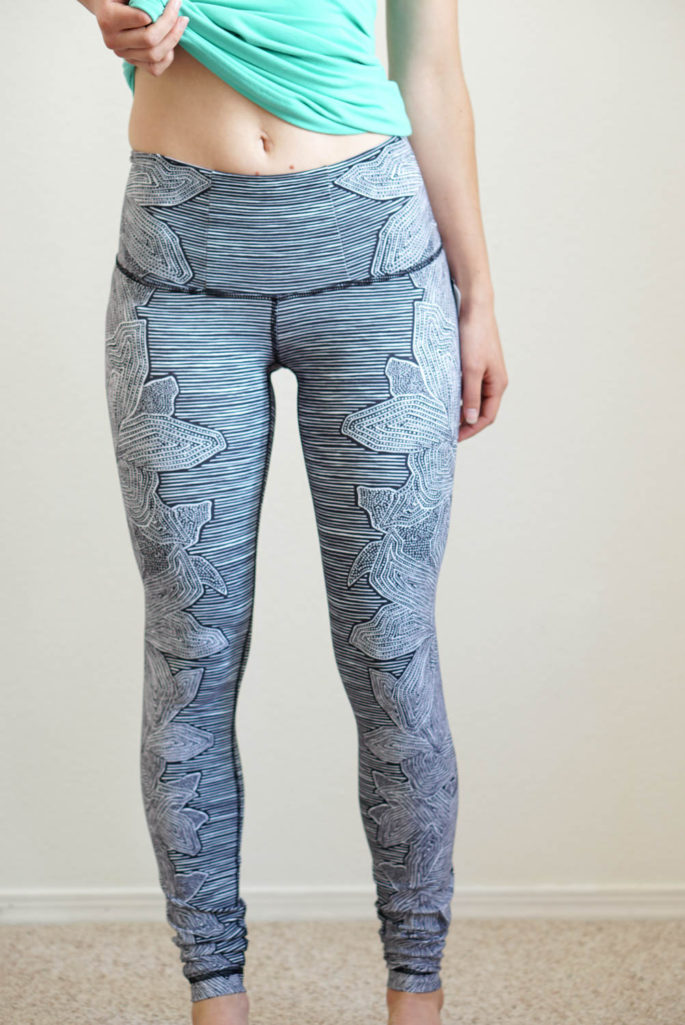 In this photo, you can see the fabric lays smoothly across the hips, with no extra wrinkling or signs of overstretching. These fit perfectly!
Lululemon bra sizing
Most lululemon bras are not sized by band/cup and instead are marked with the same sizes as other items. Here is a rough guide to how lulu's sizes compare to US band size:
2 = 30
4 = 32
6 = 34
8 = 36
10 = 38
12 = 40
The numbers above may vary from person to person, but they're a good place to start! Make sure you check the tag first to see what kind of support and coverage to expect. If you are a full-busted lady and you want to try a style with lower coverage, try a size up from your usual lulu bra size.
For lower support for things like yoga, lulu's most popular styles are the free to be line. They have a ton of different styles with higher and lower coverage to accommodate a wide range of cup sizes. I love the free to be wild for smaller cup sizes, and the free to be serene for larger cups. For medium support and coverage, the energy bra is a timeless favorite.
Where to go next
I hope this was helpful! If you want to read more detailed information on specific styles, check my review archives.
Below, I've also linked up a few of my personal favorite lululemon styles that I think you'll love. You can also see all of lulu's latest over here.

P.S. Tips for saving money on lululemon
If you want to save a few $$ on your lulu purchases, sign up for Rakuten, a cashback program. When you use your Rakuten link, you'll get a few dollars back with every purchase. I've used Rakuten for many, many years (as have thousands of others) for lululemon as well as other online shopping, and I can confirm it's the real deal. If you've never used Rakuten before, you can sign up using my invitation link for a $30 bonus when you make your first purchase.
The other big way I save on lulu is by buying secondhand via Poshmark and eBay. I've scored some amazing deals there, plus I've been able to earn a lot of money back from items I no longer love or need. You can learn how to score great deals on Poshmark in this post.