First up: the most exciting development of my week: the stuff your bra from lululemon is back!!!  This sports bra is one of my favorites.  I'm hoping they come out with some more fabulous colors in the coming weeks, since I already have one that's (partially) flash light, and black and white aren't calling my name.
Lululemon also made not one but TWO pairs of white pants in the past couple of weeks.  Both the foli manifesto wunder under crops (first pic) and the free spirit pants (second pic) sold like hot cakes.  As you might expect, reports came pouring in that both pair are painfully sheer.  So, if you run across a pair, keep the expectations down low.
By the way, if you want a pair of white crops, I recommend the Koral gauge capris.  They're not sheer at all (full review here).  They're from last year, but I found a few stragglers still in stock via Swell, Lala Look, and Vickerey.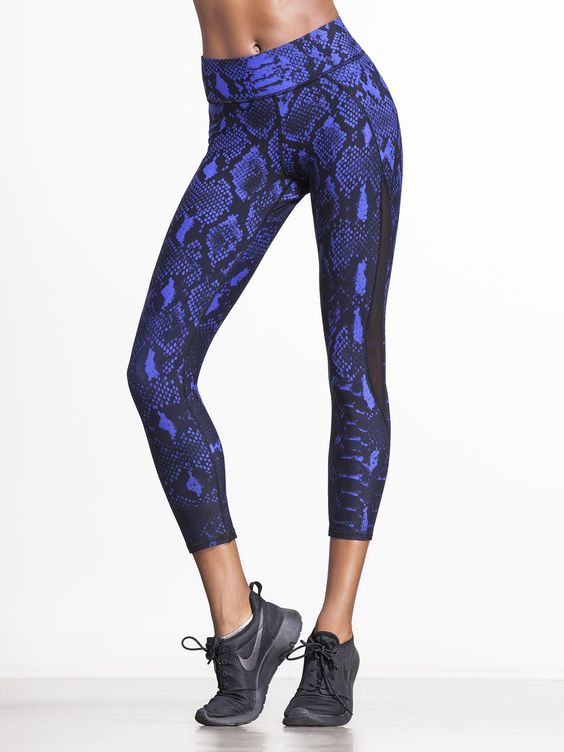 I am in love with this new snake print from Michi, found via Carbon38  SWOON.  Unfortunately, Michi runs a bit too big for me, so I'll just have to admire them from a distance.  They served up the stardust leggings in black python and medusa crops in blue python. (P.S. The black python leggings are a little cheaper via Bandier.)
Also a fan of this new Gemma print from Running Bare (also on Carbon38).  I've never tried this brand before, but have been curious about it.
One more from Carbon38: they released another collaboration with Goldsheep this week to line up with the Met Ball theme.  Meet the tessellation legging. (P.S. If you wanna know how these fit, I have a review of the same leggings in a different print here.)
Speaking of which, looks like that sort of print might be trending this season.  Here's a similar pattern from lululemon.
One more thing: love Werkshop?  Well, now the men in your life can get in on the action, too.  Well, almost.  Werkshop launched a Kickstarter campaign for a new men's performance short line.  I put in a pledge for my honey.  Go help get it funded!