New polartec home stretch crew.  It has "mile" and "high" written in reflective print on the sleeves.  It also comes in storm grey.  If you lived in Denver this MIGHT be cute?  The fit was very boxy and bulky in one try-on pic I saw.  It'll set you back $128.  Also shown: reflective speed shorts. [Lululemon Logan Circle]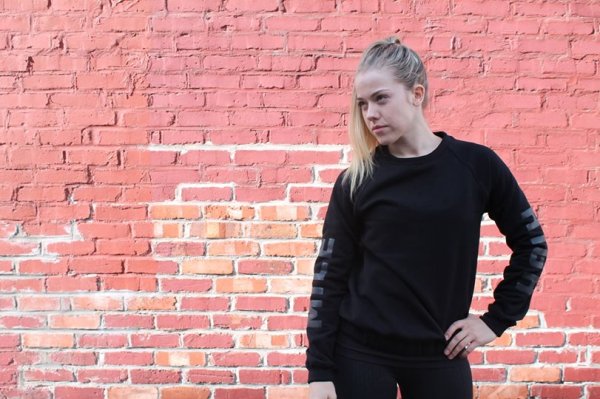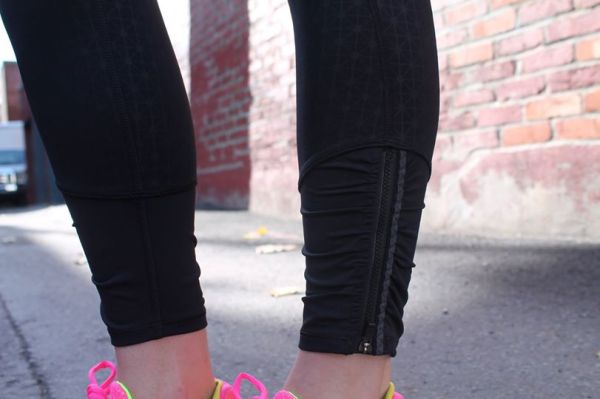 Home stretch crew and runday crops are back in a new geometric pattern that reminds me of a ball-and-stick model of atomic structure.
Yes, they ARE rundays, not rebel runners, although the 2 appear quite similar in these pics.  Key difference: there's ruching on the rundays at the zipper that you can see here, but not so with the rebel runners. [Lululemon Westmount]
This is also labeled the home stretch crew (according to Britt's picks a few days ago), but has reflective stripes on the arms instead of words.  Not sure if there's 2 version of this crew, or if it was mislabeled on Britt's picks.
Also, the reflective speed shorts are pictured again.  Be warned!!!!  The speed shorts have NO LINER and are priced $78 (even higher than my prediction of $76!).  A review on the Hong Kong website also says it has no gel pockets in the front.  Wtf lulu, are you trolling us?  I think they must expect the reflectivity to blind anyone before they get a glimpse of the lady business. (Personally, I always wear underthings with my speeds, but I would in no way be comfortable without the liner too.) [Lululemon Grand Ave]
Bright bomber jacket. [Lululemon Grand Ave]
New reflective dot toque and gloves.  Not sure if her swiftly is new also or if it's an old one she just happened to be wearing. [Lululemon Grand Ave]
Diamond jacquard space dye flaming tomato/bumble berry wunder under crops. [Lululemon Grand Ave]

Blue CDBG swiftly long sleeve and base runner pants. [Lululemon Virginia Beach]
Heathered black herringbone base runner pants (and the tonka stripe rust berry swiftly from a few weeks ago). [Lululemon Maryland Plaza]