This week's new stuff preview via Britt's picks:
One of the weirdest pieces in a while: the city one piece, aka a yoga leotard (supposedly).  It has a low back, a plunging front, AND high-cut leg holes to complete the trifecta of revealing features, so you'd have to be pretty bold to wear this on its own to yoga.  Not to mention, yoga in a leotard just seems weird in general.  I could see this working for ballerinas, maybe, especially with tights underneath.
New departure vest coming made of cotton fleece.  I wonder if this was supposed to release with the departure capsule months ago?  It's a bit unclear from the pics where the vest begins and ends.  I assume it's just the black part, and the heathered grey is a scuba hoodie layered underneath.  Looks a bit like a shorter version of the everything she wants vest.
Another color of the mudra scarf coming: inkwell/early blue in a plaid pattern.  This could be nice.
Not sure how the peplum pullover is news considering another color was uploaded last week, and I'm not sure anyone *actually* bought it, but there you go.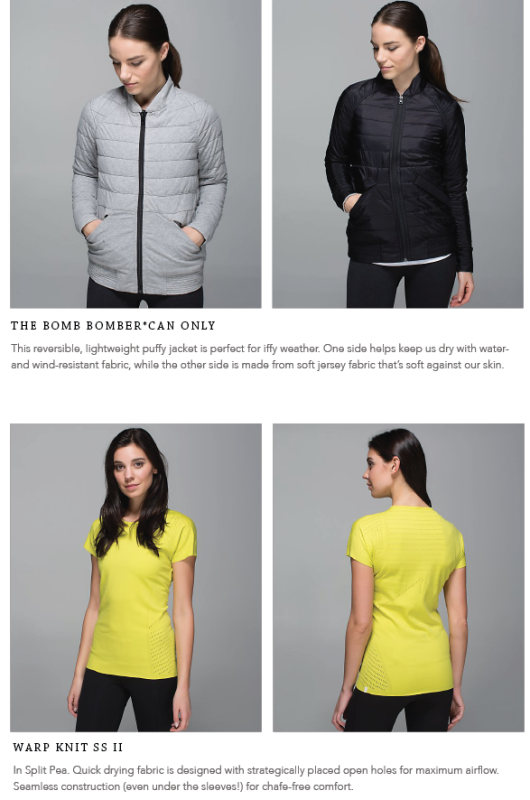 The bomb bomber is a new medium-weight jacket designed to be weather-resistant.  The plain, straight lines across the chest don't do much for this model, it's too bad they didn't add any contouring or something like most of their puff jackets.
The warp knit short sleeve is coming.  Bear in mind that, based on this being uploaded to other countries, it's only sized S/M/L.
Finally, the warp knit tights in alberta lake are coming to North America.  A lululemon store in Australia posted a couple pics of these already here and here.  As with the SS, these are sized S/M/L.
The yoga party pant is already in US stores, but will apparently only be uploaded to Canada this coming week.
Finally a good solid colored CRB: black cherry!  This was spotted in some Canada stores last night, but is only supposed to be uploaded to the US this coming week.  This is a beautiful color and I will have to peruse through my wardrobe before upload to see how much it will actually match.
Lastly, the atomic red miss misty jacket appeared on the website briefly last week, but apparently it was some kind of mistake, because it was pulled shortly after being spotted.  Looks like it will be back officially on Tuesday.