The uploads in Europe and Asia were pretty massive today as far as new stuff is concerned.  I was expecting more of it to hit North America tonight, but that didn't turn out to be the case, which makes this post extra-long.  Interestingly, the pace setter 1/2 zips from Australia showed up in Asia.  This is a bit surprising since Asia and Europe tend to synchronize more closely with North America.  Maybe, just maybe this means we will get those?
Anyway, here's the massive dump of new stuff: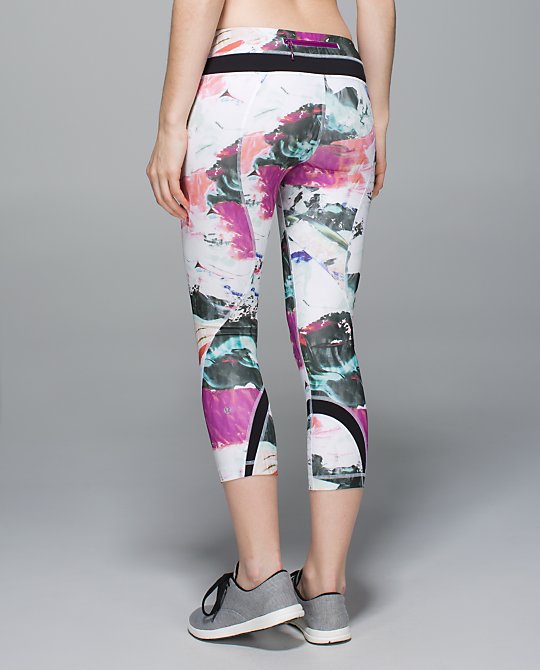 Tons of pigment wave!!  Stuff your bra, what the sport shorts, speed tights, inspire crops, and high times tech.  Note these are high times tech, not tech mesh, so it's just the blocked styling without the mesh.  Pigment wave speed shorts were also spotted in Singapore stores, but I don't have a picture of these at the moment (they have not uploaded anywhere yet).  Pattern placement will be key in many of these.  A particularly white spot on the bum could mean massively indecent sheerness.
New iridescent multi bottoms: inspire crops and top speed crops.  If you don't love the inspire tights, you might hold out for these.  There are also iridescent what the sport shorts.
Good vibes deep navy print on tracker shorts, top speed crops, and speed tights.  Inspire crops already showed up in this print, and there's also a pace rival.
Electric coral pace rival.  This is a promising omen for shorts to come in this color.  Both lengths are available in this color as well as good vibes.
New speed shorts with brushed animal trim and fresco blue stitching.  I guess this means we probably won't get brushed animal speeds, like the trackers and run times.  Maybe we'll get heat wave and/or ghost weave instead.
I love these fresco blue run times.
New semi-relaxed french terry cool it pants.
Regal plum energy bra.  This is pretty.
Heathered marled ultra violet on the daily hoodie.  Not sure why this is UV instead of regal plum, but that's what it says.
Butter pink in flux jacket.
The noir jacket is redesigned and back in brushed animal coal black.  Maybe this means the noir capsule is going to have a re-run.
Mystic jungle butter pink traveling yogini rucksack.
Lastly, for the fugly portion:
Var-city track pants.
What what what no.  Who is asking for more massively oversized pants?  First the forward fold trousers, then the seva pants, then the tranquility pants (again), now these for the yin pants?  Dear lord.