Splits59 released their first dose of Spring 2015 goodness this week!  A couple more items have already been added since the initial drop early in the week, so it's probably safe to assume things will continue to trickle in over the next few weeks.
In conjunction with this product drop, they also updated their website, which I was really happy to see.  It looks much more sharp and up-to-date now.  Their site is also now mobile friendly, which is great since I found myself frustrated trying to use the old site on my phone on multiple occasions.
My two favorite Splits items got a redesign for 2015.  First up is the devon tank.  Instead of crossing high between the shoulders, it now has a more geometric design that attaches at the bottom of the open back in addition to attaching at the shoulders.  I like the look of this new design and I'll be interested to see how it drapes.
For some reason, the devon in this new blue shade, tidal, isn't on the website in XS right now.  Hopefully it's just delayed and will be coming later because I want one… The only other color in the updated style right now is black, but I'm looking forward to seeing future colors.
The nova trailblazer capris were also updated.  I kind of dig these grey/white novas, but with both the blue denim panels at the hip *and* the colored reflective detail, they might be too busy for me, not sure.  I'll be interested to see if Splits plays with this type of colorblocking in future novas, it could be cool.
Some changes in this edition of the nova: the wrapped lame detail is different in three ways.  First, it's actually not even lame anymore.  It's powermesh instead.  I'm actually kind of sad about this as I really liked the lame, not to mention that mesh is so ubiquitous now that it's not really a source of much excitement.  Another change is that it used to wrap all the way up to the waistband across the thigh, and now it just goes up to mid-thigh, and it wraps around the back of the knee instead.  But of course, mesh inserts wrapping around the butt would…not be a good choice.  The area where the lame used to wrap is now just a simple seam, so you still get some of that booty flattery.  The reflective piping on the back looks mostly the same.  I think the angle and possibly the height is changed, but since there's only one picture it's hard to tell.
While I'm on the topic of pics: I wish that Splits would showcase more pictures of their products.  At most, there's typically just 2 pictures of a product (front and back), and often additional colors only get *one* picture.  It's really hard to get a sense of what something is like with 1 or 2 pictures, especially when it has trims and accents that you can't see well (or at all).
Besides the new white and grey novas, there's also a pair in this new shade called liberty.  These are pretty, but might be too similar to the pair in hype I already have.  Lots of Splits' core items are available in liberty too, like the loren bra and raquel tights.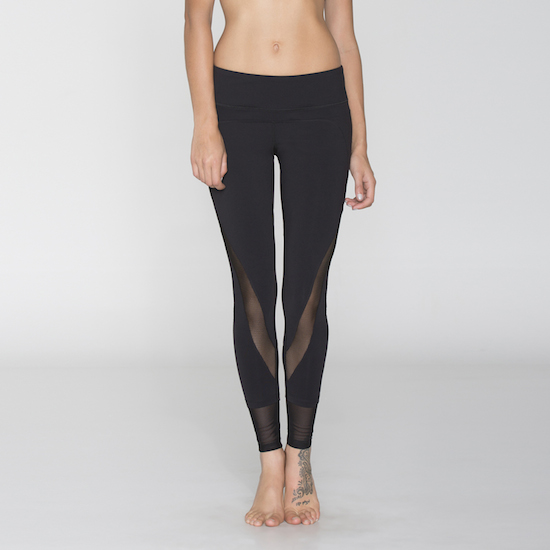 Given how prevalent mesh has been lately, you probably won't be surprised to hear that mesh is heavily featured in the new releases.  Most of the mesh is featured in their noir line, which is styled a bit more edgy and modern than most of their general collection.  Pictured here: a new edition of kym noir tights and the olivia ellipse run tee.
More mesh: new circuit novas and raquels in tidal and black.  The mesh inserts here aren't the usual type of mesh that has very fine openings, instead the "gauge" on these is much larger.
As a contrast to the more saturated tidal and liberty colors, mist is a lighter shade of periwinkle, shown here on the danica tank.  This reminds me a lot of lululemon's cool breeze.
Another lighter shade: laguna.  I'm surprised that I actually kind of like this berkley cropped pullover, especially in black, but I really don't know how I would wear it since I don't usually like to show bare midriff.
See more of what's new at Splits59 here.
Bonus sneak peek:
This little thumbnail popped up when I hit the "bottoms" menu–these are nova reef crops and aren't on the website yet.
The new print looks like it might be the same as the bra pictured here (I cropped this from a photo on the nova circuit capris, this bra has not yet been released).  This print incorporates several of their new spring colors: laguna, mist, and liberty.