Two lakes for the price of one: that's just one reason among many that Isthmus Peak makes a wonderful day hike.
Isthmus Peak is a great alternative to the iconic, wildly popular Roy's Peak.  Both of them are challenging hikes involving a great deal of climbing, and both treks reward hikers with dazzling lake and mountain views.  I waffled between the two hikes because we only had time for one, but I ultimately settled on Isthmus.
The hike is approximately 5 miles each way with a leg-obliterating, lung-burning 4000′ of elevation gain.  My Garmin recorded 11.03 miles and 4,078 ft.  It took us a bit under 5 hours, including plenty of breaks.
The Isthmus Peak trailhead is about 30-40 minutes north of the Wanaka township, while Roy's Peak is within a few minutes, which is probably enough to ward off a bit of crowds.  But don't let that dissuade you!  It's well worth the drive, and while you're there, you can explore the surrounding area.
The parking area is small, wedged between the lake on one side and the road and mountains on the other.  We were one of a small handful of cars there when we arrived, but by the time we left, the parking lot was jammed with a couple dozen cars.  We hopped across the road to the trail and made our way off.
The trail didn't take long before it sent us straight up a steep grade.  As soon as I took the first few steps uphill, I knew I was in for a punishing day.  I had accumulated several days of walking, hiking, and biking from the rest of the trip, and my legs were anything but fresh.  Oh well.  I was going to do this hike even if it took all day.
It wasn't a sunny day, but I didn't mind.  The cloudscapes painted a moody scene overhead and spared our skin from harsh sunshine. (There is basically no shade after the first mile or two.)
The trail meanders through active farm land, alternating for a while between narrow single-track and a wider path.  Sheep kept watch over the trail as hikers passed, staring with bemused expressions as they chewed their breakfast.
We climbed switchback after switchback, and as my legs burned ever more fiercely, I tried not to look up to see how much higher I had to climb. Lush green grass gave way to rock, sparse brush, and bare dirt.  I had to take frequent stops to let the burn in my legs neutralize, but I didn't mind.  The view isn't just rewarding at the summit, it's gorgeous the whole way up.  I loved the interesting shapes created by a ridge that flanked almost the entire climb.
Somewhere around mile 3 or 4, I got a second wind.  I don't know how or why, but I chose not to question it.  I barreled ahead, refusing to stop for fear of losing my momentum.
We popped out on top of a ridge where the trail intersects with a backcountry trail.  From here, the trail rolled its way toward the proper summit.  The landscape near the top is bleak, but the views that surround it are anything but.
We were finally high enough to get our first glimpse of Lake Wanaka, sprawling out below us in glittering shades of teal blue.
As we approached the summit, snow littered the trail.  Most of the snow was packed, which was easy to navigate, but near the summit, it was quite mushy.  I spent a lot of time delicately negotiating a path to avoid a wipeout into muddy snow or a soaked sneaker.  Fortunately, I escaped with only a damp toe.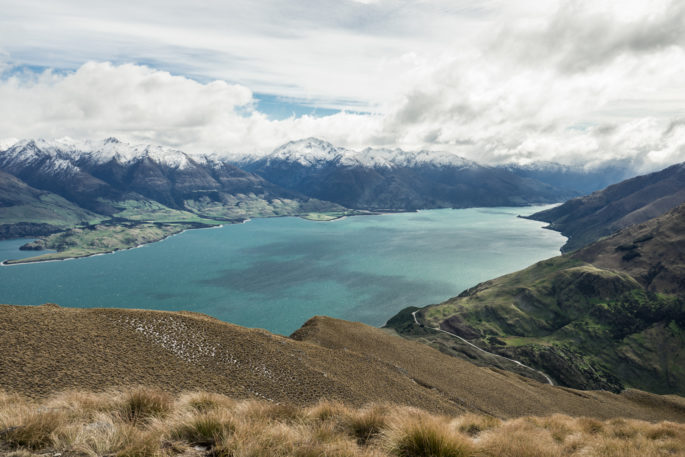 After a leg-melting climb, we arrived 1,386 meters in the air at the summit of Isthmus Peak.
The wind had been kicking up from time to time, but at the summit it was hurricane-level vicious.  The strongest gusts were enough to knock me off balance.
The views were second to none.  Richly toned lakes, snow-capped peaks, rolling green foothills… All ingredients for a good time.
I was especially giddy to discover that my lens was wide enough (16 mm at its widest) to capture both lakes in one frame.  Lake Wanaka is to the left, Lake Hawea to the right.  The narrow isthmus this photo looks down on is called The Neck.  We shared the summit with only one or two other groups.
We had in mind to have our lunch at the top, but that didn't pan out.  The wind and the cold made that plan a firm no.  Instead, we made our way down a little ways until we found a nook sheltered from the wind where we could take a break.  Scarfing down our sandwiches felt so good after three hours of slogging up a mountain.
But just because we left the summit didn't mean things were easy.  The grade is so steep that the hike will finish you off with a nice pounding on your joints and quads.
Isthmus was certainly no gentle companion, but I trust you can see why it's so worth it.
I guess I'll just have to go back to see how Roy's Peak compares.
P.S. Wearing: lululemon down for a run jacket ii, Athleta stripe contender tights