I'm back for your next installment of "AA tries on half of the store".  Most of these are items that have come out within the last month or two, and are still in a lot of stores.  You can find my previous installment of try-ons here.
What I reviewed in this post: 
Be present jacket – coco pique
Namaskar hoodie – black
Movement jacket – inkwell lookout stripe
Neutral blush cool racerback
Studio racerback – black
Textured wave inspire tights
Cabin yogi long sleeve – neutral blush
Cabin yogi wrap – heathered medium grey
For reference, I am 5'3″, and I typically wear a size 2 in lululemon tops and bottoms.  Unless otherwise noted, that's the size I'm wearing in these pics.
The be present jacket has come out in several cute colors lately, including one hitting stores in alberta lake just a couple days ago.  One of the interesting features of this jacket is that you can cover the thumbholes when you're not using them.  In my pics, you can see that the black portion near the cuff is flipped back, but you can flip this part down if you like to cover the empty thumbholes.  You can't really use the thumbholes with the cuff flipped down.  I picked out the coco pique to try on because the white herringbone version has white cuffs, which I felt like was asking to get dingy.  I didn't love the coco pique forme or define, but for whatever reason, I think this jacket looks way better in this texture.  You'll notice that unlike a lot of lulu's jackets, this one is shorter, hitting right around the waistband of my pants.  It's actually pretty petite-friendly for this reason.  My true size was a good fit–definitely fitted, but not as skin-tight as a forme or define.
I thought zipping the jacket all the way up was pretty impractical.  It's way up in my face's business (about up to my mouth!), which would drive me nuts, not to mention would probably result in a lot of makeup transfer.  Not being able to wear it zipped is a downside for me since I often like to zip jackets all the way up for a little extra neck warmth.  The plus side of the oversized collar is that it looks great mostly zipped, like the pictures above.  Last thing to note: the only other downside of the jacket is that I felt the design created a bit of a straight-waisted look.  Not a big deal, but if you prefer your designs to create a curvy, hourglass silhouette, skip this one.  Overall, though, still a darn cute jacket.
This jacket was pretty frumpy on me.  It's very big and billowy, especially in the back, and not in a cute, slouchy way.  I probably could've sized down 1 or possibly even 2 sizes had that been available.  The only issue with sizing down is that it's a short jacket, which means it could end up being too short in smaller sizes.  It's made of luon, which makes it about the same weight and warmth as a stride or nice asana jacket.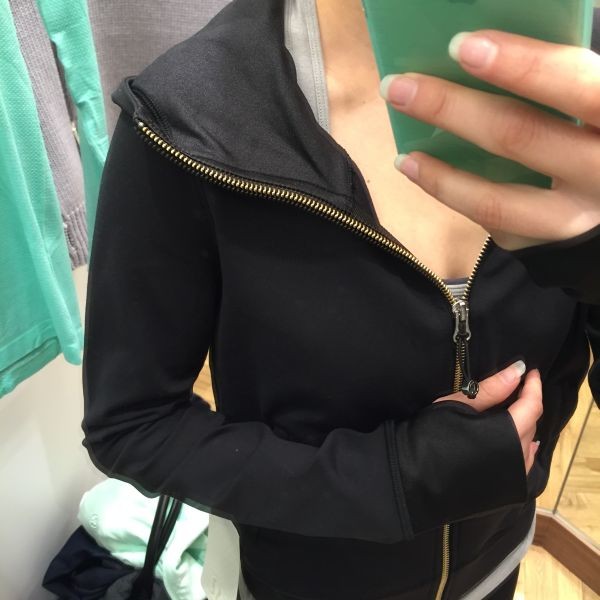 The one positive thing I have to say about this jacket is the details at the cuff and hood: the fabric has a shinier finish there, which gives it a little bit of a classier look.  This past week, the namaskar hoodie got marked down to $79, which is a much more palatable price than $118.
The movement jacket is, in many ways, just a lighter weight version of the scuba hoodie.  I found it to fit a bit looser than a scuba hoodie, though.  For a more fitted look like the scuba, I would try a size down.  The inkwell lookout stripe is pretty adorable, but in the first and third pictures you can see how the stripes curve in a funny way when they meet the bottom hem.  I thought this looked kind of odd, almost like the fabric was bunching oddly.  Overall though, pretty cute jacket, especially in lookout stripe, but I still prefer the warmth and the fit of a scuba.
This color actually looked better than I expected.  In the stock pics, the color seems to clash with the model's skin tone, so I wasn't expecting much.  I was also expecting it to look pretty naked, but it didn't.  The one downside is that this one was a bit revealing–you can see the outline of the cups in my energy bra underneath, the line of the pants, etc.  It wasn't incredibly thick, plus light colors on the CRB in general aren't incredibly forgiving.  All in all, the color was nicer than I expected, but still not one I felt like I needed.  This would be more practical for layering and casual wear than workouts, at least for me.
Lulu was really pushing the SRB over the CRB for a while, so I decided to give it the ol' college try.  I don't mind the curved hem, I think it's cute without being too loincloth-y.  The neckline is about the same, no higher or lower than the CRB.  I didn't love how much bulkier the edging is versus most of their tanks.  I also really didn't like the low-cut armholes.  The CRB generally covers the side edge of a bra, but the SRB shows quite a bit.  I would guess it's about .5-1″ difference in the cut there.  Overall, an easy choice to stick with the classic CRB.
The inspire tights seem to be a really nice addition to the run bottom line.  I've never been crazy about speed tights in general, and these longer inspires are a nice full-length option for those of us with shorter legs.  I typically wear a 28-29″ inseam on my pants, and these were just about perfect on me, with just the tiniest bit of ankle scrunch.  I like the contoured seaming on these, which is the same as the inspire crops, which I've always thought were flattering.  The textured wave pattern is really cute and feels actually textured to the touch.  My true size fit great and were totally opaque.  This particular pair, while very nice, wasn't a must-have for me, but I will be looking out for future inspire tight colors.
I almost bought this LS when it first came out in inkwell, but I hesitated and missed out on my size.  After trying it on in stores, I have to say I feel totally fine about my hesitation.  The fabric is boolux, but wasn't nearly as soft as other boolux sweaters I own and have tried on.  I liked the overall cut–the contoured hem was pretty, and the fitted silhouette is a nice change from all of lulu's oversized and slouchy fits.  The neutral blush color also looked nice.  Unfortunately, I found it lumped and bumped in weird places:
You can see in this pic some lumps in the shoulder, perhaps from the hanger.
And in the back, where the angled lines meet at the center of the upper back, it poked out oddly instead of lying flat.
Overall, I had high hopes for this one, but it definitely fell short of my expectations.
While the LS felt like a rougher knit, the cabin yogi wrap had a softer feel to it, like usual boolux.  Unfortunately, the dropped sleeves (aka "webbed armpits", as my mom calls them) were disastrous on me.  Not only does the seam across my upper arm bother me, it also made the wrap drape all wrong, making the fabric hang away from my body in an odd way.  For that reason, I can see why these haven't been selling super-quickly.