Another early upload–almost an hour early, in fact.  Another really boring upload for the US.  Canada's wasn't a lot more exciting.
Canada was lucky enough to get the caspian blue/inkwell mini check pique vinyasa scarf.  None yet for US.
US finally got the parallel stripe CRB!  I might be getting this one but am not sure yet.  It's the only thing I might be interested in tonight. (Edit to add: lol jk, didn't notice at first there's no 2 in this.  @#*$.  There's no 12 either, but both sizes are available in Canada.  Come on lulu, get it together.)
Neutral blush was also uploaded.  Neither country has gotten the solid menthol that popped up in Australia yet.
The infamous stress less hoodie is up on both sides.  I might like this if I had infinite money, but it's too similar to the rest day PO I already have to justify throwing down another $98.
For some reason, US did not get a size 2 in plum peach but Canada did.  Go figure.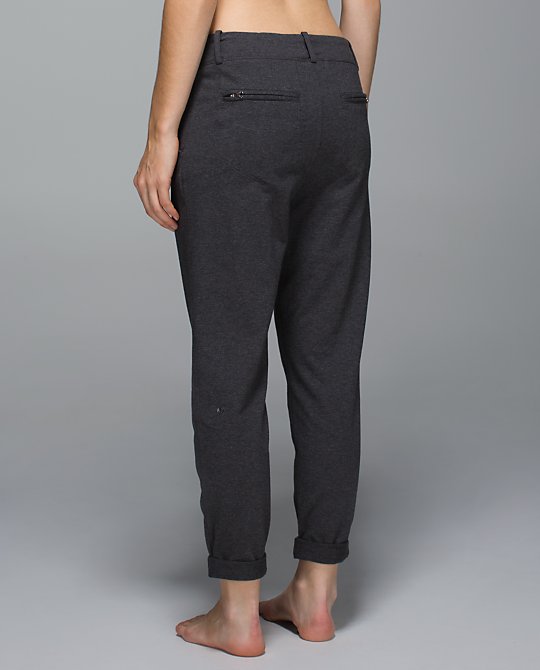 The stress less pants uploaded to US, although I'm not sure if anyone actually cares.
The motivate capsule uploaded in pieces.  US and Canada both got the tank, and Canada also got the pants and crops.
US got the breezy tank in black and divided stripe grey.  No pretty purple or the green stripe seen in stores.
Yet more cotton things: the live natural bra is in Canada.  It's marked as a second edition, but I don't know what changes were made from the previous release earlier this year.  I kind of like the subtle not-quite-neutral look of pretty purple and grey together, although this bra would never work for me.
Atomic red atomic floral high times pants in Canada.
Other upload notes:
– Where the hell are my menthol stained glass love and solid menthol speeds??? *cries*
– In fact, there were no new speeds at all this upload.
– Both US and Canada got oil slick blue lotus camo WUP.  There's also oil slick blue lotus camo groove shorts.
– Forward fold trousers.  I don't even know.
– Both sides got the atomic red atomic floral tracker shorts.  Canada also got animal swirl deep coal trackers.
– Only the US got the resolution hobo, and it only went up in solid black so far.
– US did get the atomic floral festival bag, though.
– Canada got the back up long sleeve.
– Canada also got the atomic red define, although not in a 2 or 12.  I don't remember if US got those sizes in atomic red.  Despite the stock photos, a commenter noted that this is very orange in real life (probably much like the race with grace).
– US got all 4 namaskar hoodies.
– The laser cut WUC showed up in the US even though they were first seen in stores in September.  Logistics fail.
– The rain or shine jacket is also now in the US.