As we were promised on what we love this past Thursday, the sweaty or not capsule is the theme of tonight's upload.  This line is targeted toward gym/cardio, so a lot of the featured products this week are in a similar vein.
Well, well, look what we have here.  A new solid cool racerback in alarming! (US only.) Just a couple of tops have appeared in alarming so far so I wouldn't have guessed we'd see a CRB.  Alarming is an older color that's been brought back.  Red is a rare sighting in lulu-land!  I suppose you could say its appearance was a little…………….ALARMING. #sorry #lolnotreally
The sweaty or not bra in white is, oddly enough, probably my favorite item from the new capsule.  It has a nice crisp look, and the styled photos on the main page really made it look nice.  The black edging should also help it not stain so quickly from sweat.  That said, I still don't like it enough to buy.
The sweaty or not crops might've had potential, but there's a little too much going on.
The breezy singlet uploaded in 3 colors for the US.  This has been getting great reviews so far.  For $58, it's not a need for me, but I'd like to try it on sometime.
The new super squad shorts made their North American debut, which are totally not a direct stab at Nike tempo shorts… These aren't the worst shorts though.
THESE.  These are the most astonishingly awful shorts I have seen in a very long time.  I can't pick what part of them I like the least.  Do not pass go, do not collect $200 (or $64, as the case may be), go directly to fashion jail.
US got the blush quartz sunset stripe speeds (Canada already got them), Canada got black diamond palms (US already got them), and both got classic stripe iris flower.  No size 2 in classic stripe in the US, but there is a 2 in Canada.  I can't with this nonsensical size availability.  Good thing I didn't have my heart set on these.
I love these floral sport run times.  Speeds, please?
OMG this bali breeze wrap it up tank is gorgeous (Canada only).  Glad to see this lovely color back, and the new photo styling makes this really pop.
Canada got these new black high times pants with mesh detail.  These showed up in different colors in Aus last week.  To reiterate what I said then, these are strongly reminiscent of last year's seek the heat crops.  Also, I like the new photography, but some of the posing leaves me a little befuddled…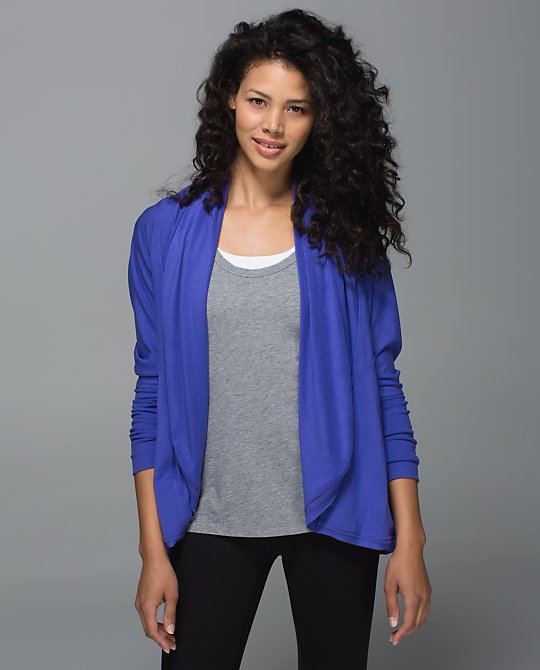 New to and flow wrap in iris flower.  This is prettier than the other colors that have shown up thus far, though for some reason it looks a lot more blue in this fabric/photo than other items.
Other upload notes:
– Grapefruit high times pants in the US.  These reverse to slate, though the slate side shows through to the grapefruit side quite a lot.  No 2 or 12 in these.  Canada got the grapefruit/slate WUP instead (all sizes).
– New dashing purple dance studio pants for Canada.   No size 2.
– Touching on the new stock photo thing again, what is the point of this wrap it up tank pic…?
– The shady palms high times are now in Canada, too.
– As we were promised, the step lively crops are now available in the US.  These are supposed to be a good stand-in for dance studio crops, but they're only available in black and naval blue right now.  Not much fun.
– Stripe play inspire crops are in the US.  These are kind of fun.
– There's also new black WAFS inspire tights on the US side, which are a nice basic that isn't solid black.  No new pace rivals online in the US (lullaby ace spot in Canada), although there are some new colors in stores.