Lululemon scuba hoodie in fatigue green
Went out on the dock to watch a sunset with family after the chaos that was a family wedding.  Didn't stay out for long though, because the bugs were merciless…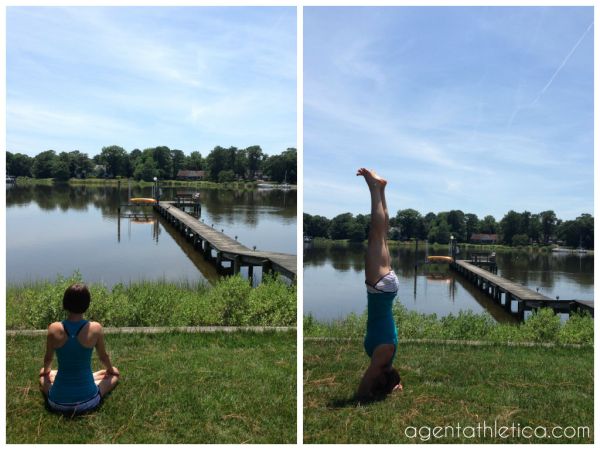 Lululemon cool racerback in surge
Lululemon speed shorts in quiet stripe
Took advantage of the photogenic river one more time.  This headstand turned out a lot better than last week's.  it's amazing how much easier it is to headstand on solid ground as opposed to the dock, hah!
Banana Republic cardigan
Banana Republic striped half-sleeve top
Lululemon speed shorts in love red
DV by Dolce Vita "Archer" sandals
Lululemon sweat once a day bag in black
This was the day of the US-Belgium soccer game so I dressed the part.  Went out to lulu for some try-ons before the game!
Lululemon push your limits tank in brisk bloom
Lululemon speed shorts in bruised berry
My last day on the east coast!  Went to a festival outside so I didn't care that I looked like I belonged at the gym–it was h-o-t!  IMO, lulu is infinitely more comfortable to wear on ultra-hot days spent outdoors because it manages sweat so much better than regular clothes.  Also: turns out black and white looks great with bruised berry!
Lululemon keep it up jacket in laceoflage embossed inkwell
Lululemon speed shorts in blue tropics
Finally made it back home to Arizona, so today I went out on a short loop with my 3 boys (2 dogs + 1 human).  Monsoon season is here which means rain and milder weather, so I finally get to wear my keep it up jacket (which I love, but have only gotten to wear once since I bought it!).  I thought it might rain on us but we got lucky!  It took us almost an hour and a half to walk just under 2 miles because my dogs take their sweet, sweet time.  On the plus side, that leaves plenty of time to enjoy the scenery, and there is plenty of it to see!