Travel has been awkwardly restricted for a year now, but there is at last a light at the end of this weird COVID tunnel. With that in mind, I'm finally publishing this post on Alaska, a trip I took in 2019, just a few months before the pandemic closed in. Whether you're already planning a trip to Alaska and want tips or just want to see some pretty pictures, I hope you enjoy reliving this trip with me! Our trip took place from July 22 to August 3, the height of the Alaskan summer tourism season.
It had been a dream of mine for several years to go on a special trip with my mom, and I saved up to make this one happen. My mom and I both hit milestone birthdays, and this trip was my gift to her. I suggested a few options for destinations, and I was so thrilled when she chose Alaska, because that's what I was secretly hoping. Our trip was primarily centered around maximizing wildlife viewing opportunities. My mom and I are both big wildlife fans, so you'll notice a theme in this itinerary of wildlife-rich destinations and activities. As a secondary priority, we also wanted sweeping mountain views wherever we could get 'em.
For this trip, I took all photos on my Sony A7II body. In addition to bringing my go-to zoom lens, Sony's 24-105 mm f/4 I rented a Sony 100-400 mm f/4.5-5.6 lens via LensRentals. I absolutely loved having this lens on hand, and as you will see, I got some absolutely incredible wildlife photos with it. Almost all wildlife photos were taken with 100-400 mm zoom and/or lots of cropping. Don't let the photos fool you, we were not nearly as close to the critters as it may appear.
Since I rarely shoot wildlife, renting the telephoto was perfect for me. If you're looking for photography equipment rentals, I've had nothing but good experiences with LensRentals in the several times I've rented their gear and would definitely recommend their service. My referral link is good for $25 off your first rental through LensRentals.
This post goes covers a general overview of how we structured our trip and the activities we did plus some tips I learned from planning this trip. Through the next several weeks, I'll be publishing three additional posts going into specific detail (and photos galore!) on especially notable activities: Denali, bear viewing, and wildlife cruising. So stay tuned for more info!
Day 1 | Anchorage
What we did:
Where we stayed: Cheap Airbnb in Anchorage
We arrived on our respective flights late at night the day before. I intentionally did not schedule anything on our first full day, since we arrived late at night after long travel days. First, we were both quite tired. Second, if anything went wrong with our flights, I wanted the assurance that we would not be missing out on a scheduled activity. The weather was not great, and smoke from nearby wildfires blanketed the city, so we opted against my original plan of a hike or bike ride. Instead, we casually walked around downtown Anchorage, exploring shops, food trucks, and the Anchorage Museum. We also used the opportunity to take care of logistics, like heading to the grocery store to stock up on snacks and supplies for the rest of our trip.
We didn't have a car for this segment of our trip, but we had an easy enough time getting around by walking or using Lyft. Rental cars are expensive in Alaska, so it was actually cheaper to use Lyft for a few short trips than to rent a car. Later in the trip, we picked up a rental car for when we planned to travel longer distances.
Day 2 | Anchorage → Denali Star Train
Day 3 | Denali Park Road → Denali Backcountry Lodge
Days 4 and 5 | Denali National Park
Day 6 | Denali Backcountry Lodge → Anchorage
What we did:
Where we stayed: Denali Cabins (one night), Denali Backcountry Lodge (three nights)
Read the full Denali post here →
Day 7 | Bear viewing at Lake Clark National Park
What we did: Lake Clark Bear Viewing tour via Rust's Flying Service
Where we stayed: Cheap Airbnb in Anchorage
Read the full bear tour post here →
Day 8 | Anchorage → Seward
What we did:
Where we stayed: Seward Windsong Lodge
The night before, we'd picked up a rental car for the last stretch of our trip, as our itinerary didn't lend itself as well to the train from that point on. The drive from Anchorage to Seward without stops is only about 2.5 hours without making any stops, but we decided to stretch it out. The drive down Turnagain Arm and beyond is absolutely stunning, and is worth allowing extra time for stops. There are also many, many hikes that are accessed along this road, both short and long.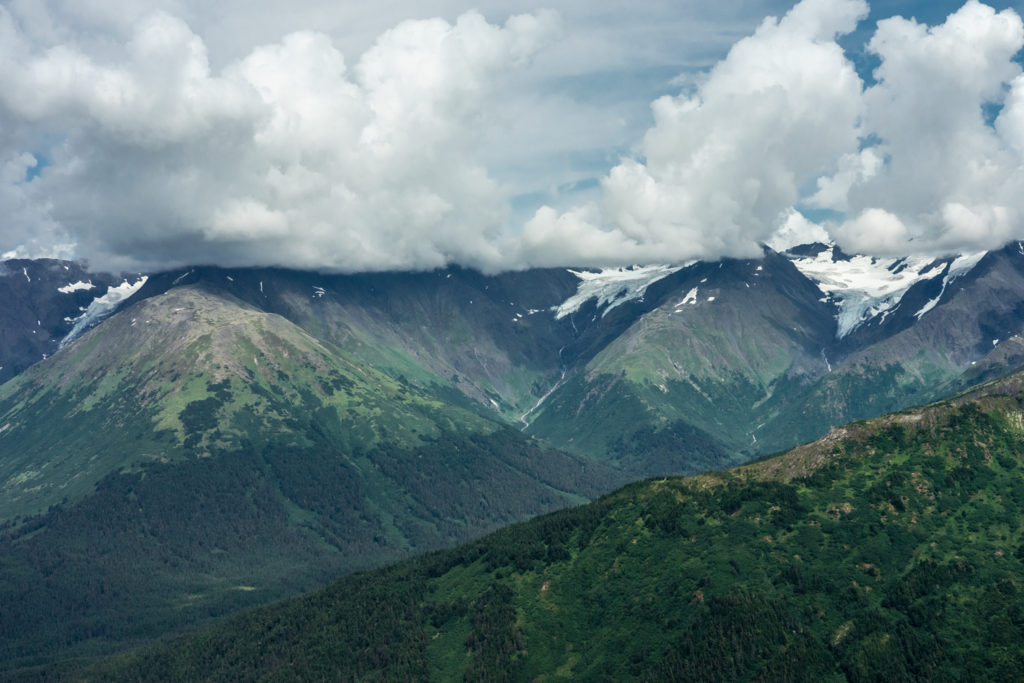 Our first stop was the Alyeska tram just outside Girdwood. Alyeska is a ski resort, and in summer a tram runs up to the top of Mt Alyeska. The tram is a great option for those who don't want to trudge up 2200′ of vertical gain to reach the same views. At the top, you get stunning views of the surrounding area, including the Chugach Mountains, glaciers, and the coast of Turnagain Arm. There's a few paths to meander around the ridge and get different vantage points, plus a cafe if you'd like to eat while you take in the sights. Besides the tram, there are a number of longer hikes in the area, plus summertime resort activities like downhill mountain biking.
After leaving Alyeska, we stopped at a few scenic views and pull-offs along the road. Our favorite stop was a small, barely marked parking lot. Apparently, many travelers use this stop as a de facto toilet, because right at the beginning of the path, the area was positively littered with used toilet paper (please don't throw your TP in the woods, friends!).
Undeterred by the detritus, we scurried past the toilet zone as quickly as possible. About 1/4 mile down the path, we came to a small viewing platform (luckily, the area was free of any tp). Our timing happened to be perfect for the season, because there were upwards of a dozen sockeye salmon parked in the shallow, clear water. Sporting bright red skin, a telltale sign of their maturity, these fish had made the arduous journey upstream to this quaint spot to mate and live out their final days. We stood for a long time, the only ones there, just watching the fish do their fishy things. Nerds at heart, watching these curious creatures in the quiet shade of the trees while we invented names and stories about these fish ended up being one of my fondest memories of our trip.
Before you head out on the Seward Highway drive, it can help to do a little googling and write down specific mile markers with points of interest along the drive. Sometimes places you might want to stop won't be clearly marked or obvious that it's worth the diversion. Or, you can always just wing it, stop whenever something looks interesting, and just let it surprise you!
Day 9 | Kenai Fjords cruise and kayaking
What we did:
Where we stayed: Seward Windsong Lodge
We took our Kenai Fjords cruise first thing in the morning, departing at 8. Later that afternoon, after a little rest and some food, we went back out for a short ocean kayak outing. This was my first time kayaking over some swells and using a spray skirt, but the swells were very manageable (only about 1-2 ft) and our guide was very instructive and helpful. The paddling was generally easy and mellow.
Being able to see the coastline from a different vantage point and a slower pace was special. We beached our kayaks at a spot a little ways down the coast, taking a walk around the area while we let our shoulders recover. We spotted bald eagles perched majestically in the trees, watched salmon in the clear streams, and munched on wild berries as we strolled around the island. Our kayak expedition was a shorter outing, but I'm so glad we did it. If I return to Alaska, I'd love to do at least a full day kayaking tour, or even a multi-day expedition.
Dedicated wildlife cruise post coming soon!
Day 10 | Exit Glacier → Girdwood
What we did:
Where we stayed: Alyeska Hideaway Cabins – Glacier Cabin
Before heading all the way north, we decided to stop at Exit Glacier, a popular spot within Kenai Fjords National Park that includes an easy hike up to the glacier itself.
Seeing Exit Glacier itself was not what it used to be, since the glacier recession has been so dramatic in even just a few years. You used to be able to walk right up to the glacier, with its ice walls towering above you. But because it's been receding so fast, the park hasn't been able to create new viewing platforms to keep up with the rapidly retreating glacial ice, and instead the glacier sits at a distance.
We ended our day in Girdwood, which is such a quaint and gorgeous little town. The rental we stayed at in Girdwood was my favorite little spot of the trip! This renovated cabin was so cozy, beautifully designed, and thoughtfully appointed with all kinds of clever touches. I found it on Airbnb, but got a cheaper rate by booking directly through Alyeska Hideaway Log Cabins. I highly recommend these cabins! I would love to go back and spend longer in one of them and do more hiking in the area.
We had dinner at Jack Sprat, a trendy and delicious little spot, and enjoyed shopping at Mother Hubbard's Cupboard, a charming boutique next door, while we waited for a table. At that shop, I found one of my all-time favorite candles, with citrus and fir notes. I'd recommend paying a visit to both businesses!
Day 11 | Prince Edward Sound cruise from Whittier
What we did: Best of Prince William Sound cruise via Lazy Otter Charters
Where we stayed: Alyeska Hideaway Cabins – Glacier Cabin
Dedicated wildlife cruise post coming soon!
Day 12 | Girdwood hiking and red-eye home
What we did:
We both had red-eyes home, so after checking out of our cabin in the morning, we decided to squeeze in a hike. It was a beautiful day, and we hoped the hike would help tucker us out enough to allow us both to get some good rest on our long flights home.
We originally planned to hike Winner Creek Trail, which features a famous hand tram to cross a gorge. Unfortunately, when we arrived at the parking lot, a fellow hiker told us there had been a tragic accident on the trail and a rescue was in progress. Thankfully, I had a contingency plan. We drove further up the unpaved road, to Crow Pass trailhead. As it turned out, Crow Pass was stunning and an extremely worthy destination.
We went up as far as the saddle point, about 6 miles and 2000′ of gain round trip. With a good bit of a climbing and a few rough rock fields to challenge your ankles, it's more of a moderate/strenuous hike than casual. Even if you don't go all the way to the saddle point, you'll be rewarded with beautiful views of the surrounding Chugach range throughout the hike.
Recommendations for Planning a Trip to Alaska
Having only visited once, I'm no Alaska professional, but I did learn lots of things just from researching and planning my first trip. Here are some tips so you can avoid beginner errors or unexpected snafus.
Book early. Nail down your lodging as early as possible and your flights sooner than later, at least 6 months out will give you the best options. Some places like the Denali Backcountry Lodge are already booking for 2022! Be sure to also book your rental car at least a couple months in advance, since those are in high demand in summer. I booked my car about 2.5 months in advance. Lastly, fill in tours and other activities, which don't fill up as quickly unless they are very small or your dates are very inflexible. I didn't book several of our tours til just a few weeks in advance.
Alaska is very expensive. Unless you're planning to do a lot of unguided hiking, you will likely end up spending a lot of money on tours and guided activities. These activities can be pricey and add up fast. Alaska is by far the most expensive trip I have taken to date.
To save money, alternate high-end lodging with more affordable options. For the couple of times we were passing through Anchorage, I saved money by getting really cheap, modest Airbnbs. This approach left some budget wiggle room for splurging on some nicer options. Stocking up on snacks and supplies from a grocery store in Anchorage also helped us avoid higher prices or a lack of options in smaller towns.
Accept that you'll have bad weather days. About half our trip was gloomy and/or rainy. Keep your expectations in check and be ready to embrace whatever nature throws at you! Show up with a flexible attitude on what a beautiful day looks like.
You don't have to do the popular stuff to have amazing experiences. This is one bit of travel advice I will always repeat. Let go of some of that FOMO and the furious "best of" googling (guilty!), and don't be afraid to swap in something off the beaten path. Sometimes it'll surprise you, and almost every time it'll be memorable.
Alaska is huge, so don't overdo it. If you really want to see Alaska, you're gonna have to go back. Don't try to see everything. Try to narrow down your must-do's to a smaller, more manageable radius. For about two weeks, seeing Denali and Seward, with stopovers in Anchorage/Girdwood was manageable, but definitely riding the line of too ambitious. Avoiding overcommitment will also minimize your time in transit so you can spend more time enjoying where you're at!
The towns, however, are definitely not huge. Even Anchorage, the biggest city in Alaska, is still a pretty darn small city. Seward, a very popular tourist destination, is downright tiny. With that in mind, be aware that options for things like groceries and dining are very limited and are not likely to wow you most of the time. Instead, you'll be wowed by the natural world around you.
Bring binoculars. Binoculars certainly aren't part of my standard travel gear, but wildlife are usually quite far away. Binoculars are so helpful to see the delightful detail of sea otters, bears, and all kinds of other critters!
Expect to dress warmly, even in summer. Most of the time, I was in warm pants, a thermal long sleeve layered under a rain shell, and a fleece beanie. (That said, I run a bit colder than most people.) It was never warmer than maybe 65 or 70 degrees, even in the height of summer. Many days were much colder, especially where there were cool sea breezes. A good waterproof shell is essential for the frequent rain, and waterproof pants are a big plus too, though water-resistant pants will suffice in many cases.
Overall, this trip was a spectacular opportunity to learn about Alaska and scratch the surface of what it has to offer. Alaska is a really unique place and I hope to see it again someday soon!
Stay tuned for more trip reports and, of course, shameless quantities of wildlife photos!