Since moving to the western half of the US, a whole new world of travel has made its way onto my radar.  So many cool places are so much closer now!  When I'm on vacation, I like to hike, explore, and experience cool new places, and the west is perfect for that.  Here are 3 places where I would LOVE to have an adventure this year.
1 | Canadian Rockies – Alberta
I wasn't quite sure how to narrow this one down.  I could probably visit 6 times and still barely scratch the surface.  The Canada's Rockies are home to many gems like Banff National Park and Jasper National Park.
I love the ethereal blue-green colors of the lakes and the striking way they contrast with the surrounding landscape.  Moraine Lake (above) is one of the most iconic, along with Lake Louise.  Don't you just want to take a canoe out there and paddle around for a good long while?  Well, you can.
Photo: David Wilson via Flickr
My great-grandfather traveled quite a bit around the west, and visited to Moraine Lake sometime in the 1940's–this is one of his photos.  Although you sadly don't get the striking effect of the water color, it's a pretty cool picture to me nonetheless.
Emerald Lake is a lesser known destination that's actually just over the British Columbia border in Yoho National Park.  I would love to spend a night or three in Emerald Lake Lodge, nestled away in the mountains.
Venturing a bit further north, Jasper National Park boasts more mountains and other beautiful scenery like the cliffs at Athabasca Falls above.  I'd love to visit Alberta in the fall, when the crowds are a little thinner, the weather is crisp, and there's a chance of some beautiful fall foliage to see, too.
Photo: Pascal via Flickr
2 | Olympic National Park and the San Juan Islands – Washington
A couple of years ago, I visited the Pacific Northwest for a few days, and I've wanted to go back ever since.  I took a ferry from Seattle to Victoria, BC, and was drawn to the mountains springing up from the water around me.  If you haven't figured it out yet, I love dense forests, lakes, and mountains, and the PNW is full of them!
I'd love to go exploring in the PNW wilderness a little, and Olympic National Park seems like a fairly obvious place to start.
Photo: Esther Lee via Flickr
When you hear "San Juan Islands", you're probably picturing tropical beaches somewhere in the Caribbean.  Not so!  The San Juan Islands are actually located north of Washington state, but just south of the Canadian border and Vancouver Island.  They're a unique mix of a coastal feel mixed with dense forest.
Photo: Karen Neoh via Flickr
Whale watching is a popular activity in the area, since the surrounding waters are home to plentiful orca.  It would be awesome to see these beautiful creatures in the wild.
Photo: Jeff Gunn via Flickr
I'd love to spend time kayaking, hiking, wildlife spotting, and soaking up the sea air while still getting my fix of mountains and wilderness.
3 | Yosemite National Park – California
I have never in my whole life seen a pic of Yosemite and been like "nahhh, I'm good".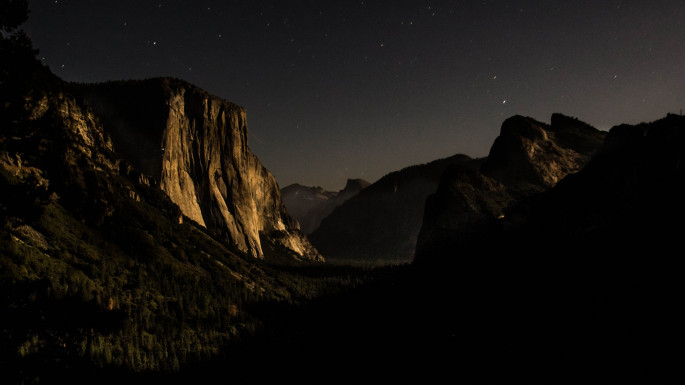 Of all the national parks I've seen photos of, Yosemite is the one that always pulls me the strongest, but I still haven't been!  I'm pretty sure these exact words recently came out of my mouth: "if I don't go to Yosemite in the next 6 months, I will LITERALLY DIE."  Which is totally not being dramatic or anything.  Fortunately, Yosemite is the closest of the 3 on this list–it's "only" an 11 hour drive away, or a couple of quick flights.
Photo: Todd Petrie via Flickr
Yosemite Valley itself is home to both easily accessible views, like Tunnel View above, as well as more challenging hikes.  There's also miles and miles of backpacking and lots of rock climbing to be had, for those up to it.
Photo: Koshy Koshy via Flickr
The biggest bucket list item within Yosemite has got to be the hike to the top of Half Dome (that hulking thing on the right side of the above photo).  Besides the beautiful views, it's a unique hike due to the cables installed to help hoist you up to the top of the massive granite slab.  However, the hike requires a permit, and obtaining one is a very competitive process.
Photo: caruba via Flickr
For the best, most awe-inspiring visuals of Yosemite you'll ever see (short of actually being there), you simply must watch this video.
What's on your list of dream destinations this year?