The fun continues today with another of my all-time faves: Werkshop!
If you've been here for a while, you already know that I'm more than a little crazy about Werkshop.  They're known for their exceptionally amazing printed leggings, but they've been gradually adding some other styles to their repertoire.
I already have 9(!!) pairs of Werkshop crops, but in this post I'm wearing the new ukulele tank, which Werkshop sent me to try out.  Here's a little mini-review.
My tank is a size XS, and it's not quite skin-tight but not quite loose either.  I'm very small on top (I frequently where XXS tops), so if you get your true size I would expect it to be fitted.  The length hits at mid-hip on me (I'm 5'3″).
My tank is the same high quality I've come to expect from Werkshop.  It's well-made, comfortable, and features a beautifully rendered print.  Whatever Werkshop does, they always manage to nail it.  Also, I just love the sweet lil birds on mine.
Take note that the fabric is NOT the same fabric that Werkshop uses on their leggings.  It's a lightweight, flexible material with a light perforated pattern.  Even though the tank is mostly white, it's substantial enough not to be noticeably see-through.  I'm usually leery of printed materials for tops since they can sometimes feel too plasticky or rough, but this material is nicely soft and breezy.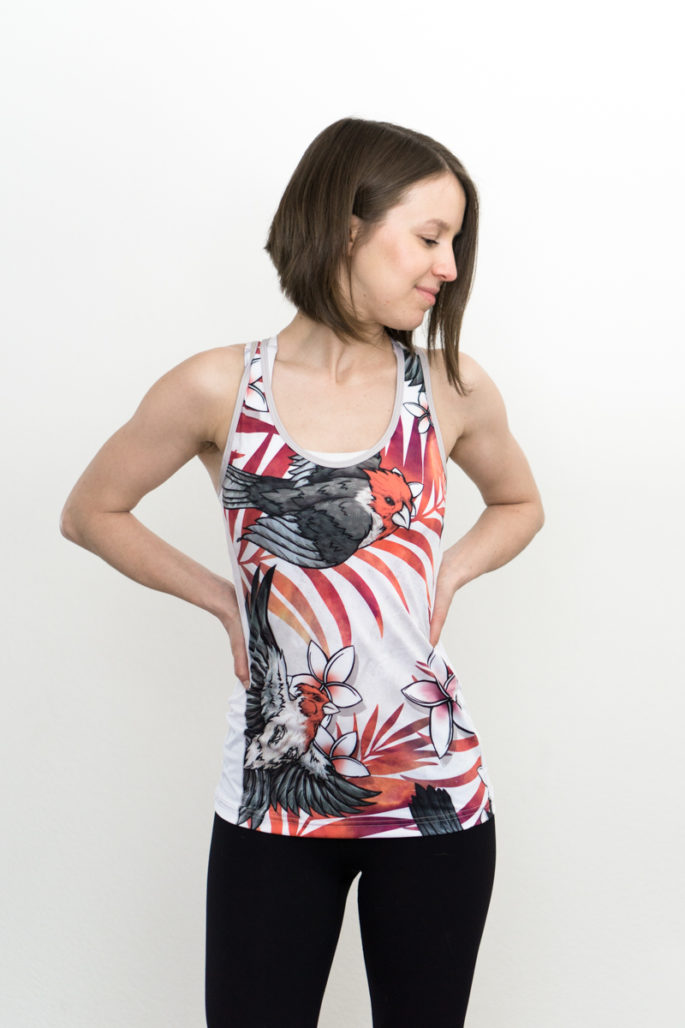 I wore this tank to my aerial silks practice and it got the job done perfectly, not to mention got lots of compliments.  I'm also planning to wear it running and hiking this spring and summer.  It'll be perfect for hotter days.  You can see all of Werkshop's tanks here.
I also recently bought a pair of Werkshop Juliet crops–expect to see those on the blog soon.  In the meantime, I've got more Werkshop reviews you can read from the archives over here.
Speaking of newness, don't miss the redesigned sports bras to match your fab leggings.  My favorite so far has to be the floral nights set.  I ordered the bra and matching full length leggings to try, so expect to see the rundown of those in a few weeks, too.  This is my first full length purchase and I'm so curious to see how they compare.
Now on to the giveaway!!  Werkshop has generously provided 3 prizes for blogiversary #3!  Each winner will receive a tank top of your choice PLUS a $40 gift card to put toward anything you like.  This giveaway is open to entrants worldwide.
You know the drill: enter the giveaway via the widget below.  Sign up for both Werkshop and AA's email lists to enter–be sure to do both to qualify.  Even if you've already signed up for one or both lists previously, your entry will still count as long as you check the box and hit "enter" in the widget.  To keep the contest fair, please do not enter using multiple different email addresses.  Once you've completed the two email list entries, you can earn bonus entries by following Werkshop and AA on Instagram to increase your odds.
The giveaway will close in one week on May 10th at 5p PT.  A winner will be contacted ASAP once the giveaway closes.
Good luck!