As promised in yesterday's Alala upload post, today's post is a review of my new blanket jacket, a new style for fall '15.
Disclosure: this jacket was gifted to me from Alala.  All thoughts and opinions in this review are my own.
I received this jacket in XS, which is my usual Alala size, and I'm happy with how the fit turned out.  It's on the voluminous side (it is a "blanket" jacket, after all!), which makes it an interesting shape to play with.  The extra room is also to be expected with an open, drapey jacket like this.  Because of the loose cut through the body, sizing is easy to get right on this style.  If you're between sizes, either one should work.  Your larger size will give you more of the slightly oversized look (like how it fits me here), while your smaller size will look slightly more tailored.
I was a little nervous that the length and overall cut would be overwhelming on my 5'3″ frame, but I thought the proportions actually worked out surprisingly well for a small person.  The hem hits a couple inches above my knee, which is a good spot for me.
As a slight aside: some of Alala's pieces are cut a bit small through the sleeves, but that isn't the case here–the sleeves fit pretty true to size.
The jacket is made from a double-layered fabric that's black lined with heathered grey.  It feels great to touch and has a silky, soft finish.  The black side of the fabric has a slight sheen to it, not perfectly matte.  It's decidedly mid-weight, neither too thin nor ultra-warm.  In other words, it's definitely a blanket jacket, not a blanket coat.
There is no closure for the jacket, it just drapes open as you see in these pics.  But there's plenty of fabric if you want to wrap up in it a little tighter.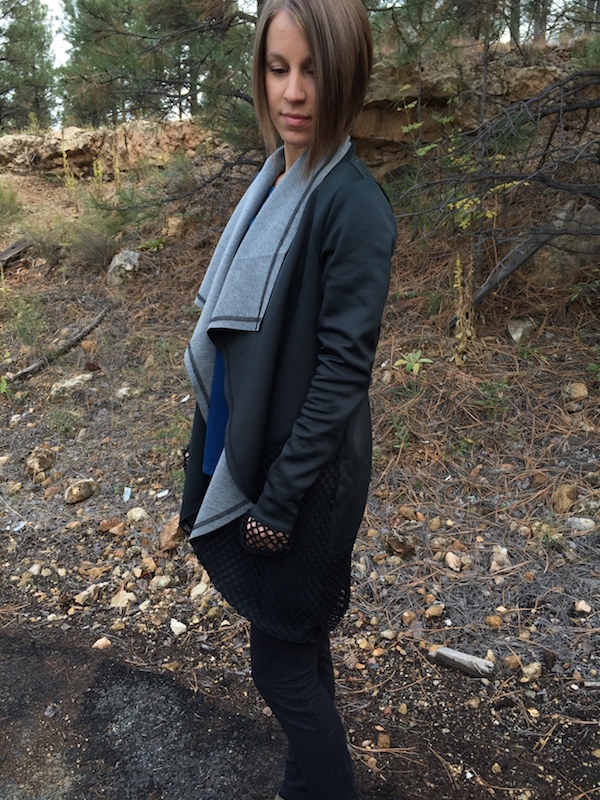 Since the fabric is on the thicker side, I noticed that sometimes the drape kind of pushes itself out.  Although I don't have a good pic of this from the front, you can see a little bit of what I mean in these two pics from the side.  The first pic has two "layers" of drape, whereas the second one only has one.  So, sometimes when that lower drape falls out, it sits differently, becoming more of an "A" silhouette as opposed to skimming the body closely.  Either way is fine with me, though.
The pockets are HUGE.  The area on the sides covered by the mesh overlay is *all* pocket underneath.  There's more than enough room for even the largest of smartphones with plenty of room to spare.
Besides the mesh at the side pockets, there's also mesh at the back.  This panel is just (double-layered) mesh, not backed by solid fabric, which to me helps the jacket from looking too heavy at the bottom.  While the mesh has some stretch to it and can withstand a little tugging, the wide openings make it quite vulnerable to being caught on corners and sharp bits of things.  This just means I'll have to be careful when wearing this, especially around my dogs.
I also love the mesh cuffs.  Besides having style appeal, the light mesh fabric stays out of your way when you're not using the thumbholes.
Overall, the blanket jacket is already one of my favorite pieces for fall.  I haven't had it for long but have already worn it quite a few times.  If I hadn't been gifted this jacket, I still would've purchased it on my own.  It's a statement piece that is a delight to wear.  It feels great, looks awesome, and is nothing like anything else I have.  Since this piece is new to me, I'm still experimenting with my favorite ways to wear it, so you'll likely see this one pop back up in outfit posts down the road!
The blanket jacket is available on Alala's website in two colors (remember to use AA15 for 15% off!).  If you prefer to shop at Carbon38, they stock this style in black and poseidon as well.
P.S. This jacket may or may not inspire you to do ridiculous bat poses.