Time for one more review to round out the week!  One of my favorite brands, Alala, recently announced a new project called Alala Carte, where you can customize your own pair of workout leggings.  Although customization exists for other kinds of clothing or shoes (like my custom Nikes), the whole custom thing is new for the world of workout clothes.  Since I already love Alala, and since I love the idea of custom gear, this project was right up my alley.
P.S. Exciting newness coming to the blog next week!  I've been working on a project behind the scenes with another talented lady for something like 4 months.  I finally get to reveal what we've been brewing, so be sure to check back soon! :)
Disclosure: Alala gifted me my pair of custom tights.  The opinions in this post are my own honest experience.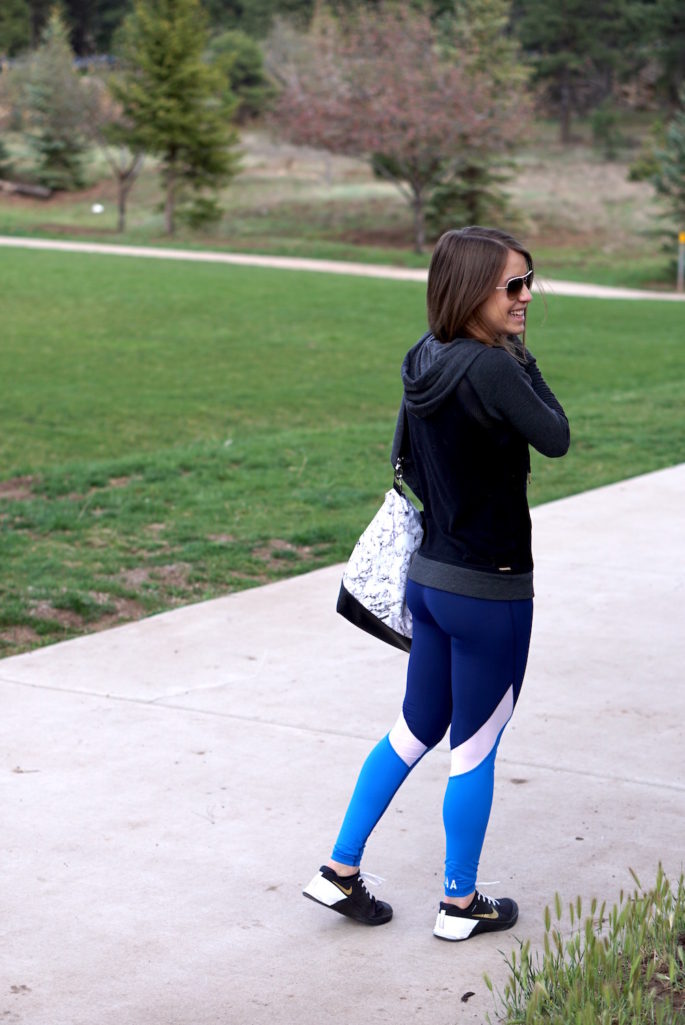 It was tough to decide on a design, but in the end I settled on this tone-on-tone look.  I love all things blue, and doing two shades of it meant this would match well with lots of other colors in my wardrobe.  I was a little nervous to see how the navy and skydiver shades would go together, but I'm really happy with how it turned out.  To keep things light, I picked white for the mesh insert.  Nude or red would look sharp, too.
The skydiver fabric has that same soft, silky feel as most other pieces in Alala's collection.  That said, the navy is noticeably different.  It's not quite as soft and is a bit thinner.  It's not totally opaque, so I recommend nude underthings.  I'm guessing the difference in the fabric has something to do with the fact that it's not a color they've offered in their normal collection before.  The navy fabric not being as good as Alala's usual fabric is the one critique I have of my custom pair.  So, that's something to keep in mind if you've got your eye on the navy option.  I mentioned it to Alala and they said they're working on improving it.
Another potential critique of the custom option is, of course, the price tag.  At $185, yes, it's definitely not cheap.  But, getting anything made-to-order always comes with a premium price tag–I paid $170 for my custom Nikes.  With that in mind, the price is about what I would've expected.  Not to mention, you can get 15% off with my code to soften the blow–see below. :)
One thing to note is that if you choose two different colors for the top and bottom panel, the inner seam will match the top panel.  So, if you get one color that's a lot darker than the other, the inner seam will contrast with the lower leg, which you can see in the pic above.  If you click the side view on the customization page, you'll be able to preview what this will look like on your specific pair.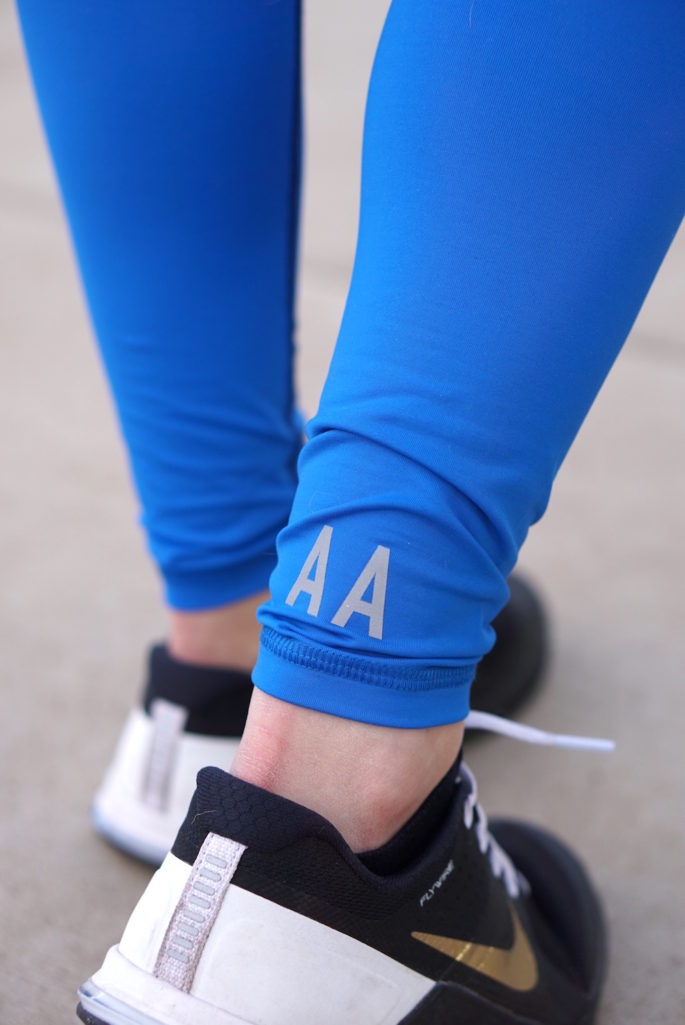 The customization option also includes a reflective monogram at the bottom.  You've got up to 3 letters to play with to spell out your initials or even a little mini-message.  The monogram is optional, though, so you can always leave it blank if you'd rather keep it simple.
Since custom sales are final sale, I definitely recommend knowing your size in Alala bottoms before giving these a shot.  Specifically, I would try to get your hands on a pair of regular captain tights–in my experience, the stock colors and custom bottoms fit the same.  As a general comment, I find most Alala bottoms to run pretty true to size or slightly small.  The captains in particular run a tad small through the waist, in my opinion.  I'm usually an XXS/XS, and captain tights in an XS fit me well through the hips and thighs, though they can be a touch big in the lower leg.
By the way: there's one more notable detail on the new custom tights.  Alala's gold logo is usually sewn on, but over time, a couple of the labels on some of my styles have sadly come loose on one side in the wash.  The new logo is attached without using threads; instead, there are two small gold disks on the inside.  It feels much more secure than the sewn method.  So, if loose labels is an issue you've had with Alala's styles, it looks like they've come up with something that might fix that little hiccup. (This doesn't seem to have made it in time to be incorporated into the current spring collection, though.)
I love the idea of customizing my workout clothes (everyone likes their outfit to be unique!) so I'm interested to see how Alala develops their customization program as time goes on.  I'm hoping for custom captain crops next!  In the meantime, I'm tempted to order another pair–I'm thinking skydiver on top with summer palm on the bottom would be really pretty.
And, as promised in the post title, I've got a giveaway for you!  It always makes me happy to share the love, so I'm excited that Alala has offered to give one of you a pair of your own custom tights!!  You can enter using the widget below.
This giveaway will be open to entrants worldwide(!!!), and you'll have til 5p the 19th to enter.  Good luck!!
If you can't wait and want to grab a pair of your own Alala Carte tights, you'll find 'em here.  They'll ship free, and don't forget that AA15 will get you 15% off your order. :)
P.S. I'm also wearing the everyday hoodie and crossback bra.  Marble gym bag is Balsa 201.