Electric stone was Alala's first print released this season and it was immediately a favorite.  There have been quite a few marble-inspired prints out there, but I like that this one has a blue-purple color scheme, since those colors are plentiful in my wardrobe.  I knew I wanted at least one piece in this print, and luckily I ended up with two! (So far…)
Disclosure: I purchased the swell crop and cardigan in this post on my own, however, Alala gifted me the captain tights.  As always, the opinions in this post are my own.
Photos by Kylie Pond Photography
The swell crop is somewhere in the middle ground between a sports bra and a crop top.
You can wear it alone as a sports bra, however, there is no additional shaping or slots for cups inside.  As a result, it has only light support when worn alone.  Fortunately, the fabric is double-layered, which helps with coverage.  If you need more support, I like the zip it up bra, which offers medium/medium-high support.  I wish the swell crop had a little bit more support, but it's still really cute.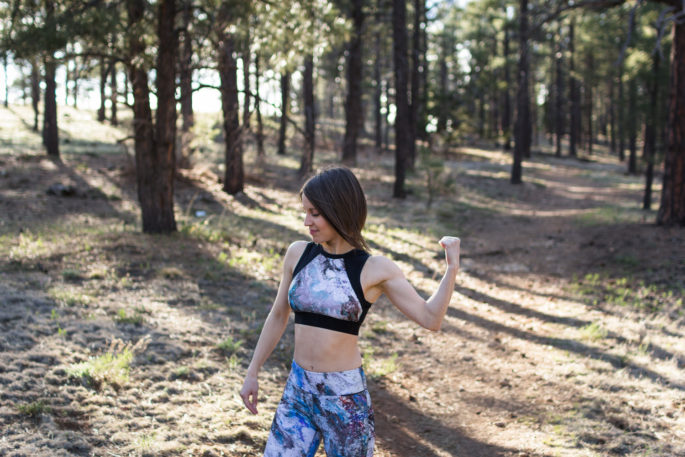 That said, since the swell crop is high coverage in both the front and back, you could potentially layer it over another sports bra and wear it as a crop top.  Since the bra underneath would be covered, it might not look too odd to layer.  According to Alala's site, it's also suitable for water activities, too.  This would be a good option for sportier water endeavors since you don't have to worry about wardrobe malfunctions like you might with a more traditional bikini top.
The other day, I wore this under my Carbon38 atom tank, which was a combo I ended up really liking.  Any muscle tank will be a good match for the swell crop, though.  Obviously I decided to keep this one!  It's also a great piece for the high neck, high waist combo I talked about before.
Moving on to the bottom half of this matchy-matchy set: the electric stone captain tights.
I'm really impressed by the electric stone fabric.  It feels supple and silky to the touch.  In previous seasons, Alala's printed fabrics seemed to lag a bit behind their solid fabrics in terms of quality.  The electric stone fabric is actually even better than their solid fabrics, in my opinion.  It's noticeably thicker, smoother, and softer, but definitely isn't heavy.  I'm not sure if this is true of the other prints this season (as of this moment, this is the only one I have), but whatever they did with this fabric, I hope they keep doing it because I love it!
Despite the light color, I found these to be opaque, even in a squat.  Note that pattern placement does vary, but I hope this is true regardless of placement.
The electric stone tights run the same as my other captain tights.  They fit slim through the waist, but are otherwise generally true to size (mine are a size XS).  The rise is on the higher side of medium.  The material has light compression.
Also, to reiterate what I've mentioned in a previous review, keep in mind that the front seam angles down more steeply on the captain tights than it does on the captain crops.  This means that, depending on your height, the front seam may cross over your knee a bit.
These captain tights were definitely a winner, too.  I love the fabric and the print, and captain tights are always flattering.
Shop this post
Swell crop in electric stone (more sizes in stock at Six02)
More swell crop colors:
Fiery red | Neon green | Dapple grey | Summer palm
Captain tights in electric stone
Captain tights in citrus stone
For Agent Athletica readers: use code AA15 for 15% off your order at Alala!