Thank you to Alala for sponsoring this photoshoot + post.  As always, all opinions are my own.
One of the fun things about having a blog is that it gives you excuses to go out and do things you might not normally do.
This spot is a long drive from my house, but for reasons that are probably obvious, it's one of my favorites.  I wanted to snap some pictures at a cool place, so this post was the perfect excuse to haul myself out to this remote location in the middle of national forest land.  It was a challenge shoot with difficult lighting, high wind, and a surprisingly high number of campers for a weeknight (including about a zillion at my preferred photo spot), but I managed to come up with a few pics I really love.
If you've followed my blog for a while, you already know that Alala is one of my favorite active fashion brands.  The other day, a couple of us had a brief conversation in the comment thread about why we like to support smaller or lesser-known fashion brands.  I really liked the insight that reader and frequent commenter WA shared, which was basically that it's more exciting and satisfying to support brands where you feel connected to the people behind the brand.  To rephrase her point more broadly, we like to find brands that connect with us on a personal level.
Of course, that personal connection looks different for everyone, since every person is different.  Perhaps their customer service or store associates always make you feel appreciated and taken care of.  Perhaps you like that you know all the members of their team by name.  Perhaps you like that they have a transparent supply chain or that they handmake their goods.  Or, maybe you just feel their marketing and aesthetic really resonates with you.  And of course, it maybe a little bit of everything.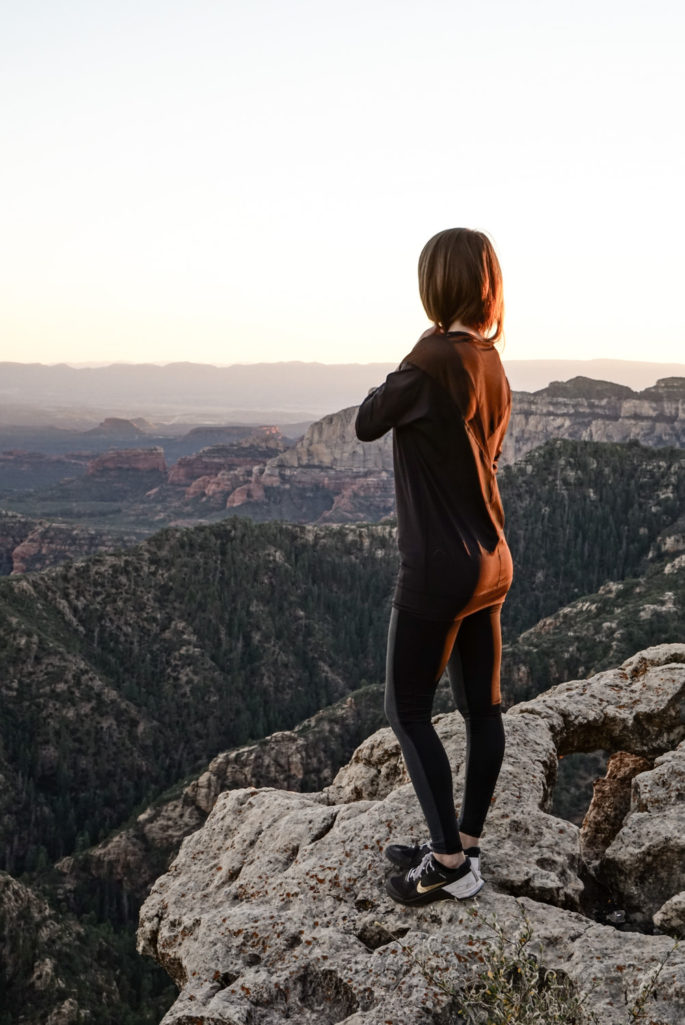 There are a few brands that really strike that chord for me, and Alala is definitely one of them.  Since I first discovered them, I've always felt like Alala's brand really resonates with me, and it's been awesome to see how they've grown and evolved over the seasons.  So, naturally, with every new collection, I love to see what they have up their sleeve.  Based on all the lovelies I'm seeing in the fall/winter lookbook, you can bet I'll be sharing lots of Alala this season.
Here's a whole heap of fresh finds to kick off the fall season.
Fall collection reviews
One new change this season that I love: Alala updated the way they attach their signature gold label.  I have a couple dozen Alala styles in my closet from previous seasons, but sadly the thread on some of the labels had come loose and fallen off.  Starting this season, the label is not sewn on.  Instead, the plate is very firmly attached via two round gold plates on the inside.  Problem solved!
The storm poncho was definitely the style that came out of left field for me this season.  I've never owned a poncho before this one, but I actually love it.  It's thick cotton with a fleecy inside.  It's like wearing a blanket.  Fits loose, so you could easily size down if you want a slightly closer (but not form-fitting) fit.
The seamless material is a relatively new addition to Alala's lineup.  The material is a tight, thick knit that feels sturdy on.  The mesh is also thick and doesn't feel like it would easily tear.  The seamless long sleeve runs small: I usually wear an XS in Alala and the S in this one is still fitted on me.  I recommend going up a size, and even after that, expect it to be form-fitting.
I've talked about the captain tights many times on the blog before; they're always a rock-solid standby.  The new liquid fabric makes them better than ever.  The liquid finish is actually part of the fabric itself, rather than a coating.  This means the shine finish does not have a rubbery feel, nor will it crack or peel.  It's also more flexible and comfortable.  The liquid fabric feels just a hair tighter than my usual captain tights, but not so much that I would recommend going up a size.  The fabric is fully opaque.  These are definitely one of my favorite new styles from fall so far.
The bolt stripe are another new addition to this season's captain lineup.  Just like last season's printed fabric, it feels soft and slick to the touch, plus is fully opaque.  And, I never say no to the magical leg-lengthening effect the captain tights always seems to have for me.
The bond vest is made of thick, supple neoprene.  It fits a little bit on the looser side, particularly through the waist.  You may be able to pull off a size down if you want it tighter.  The vest has army green accents (including an army lining), which goes perfectly with the army green accents in the bolt stripe print.  Perhaps this will sound like a "no duh" to some of you, but I only recently discovered how nice vests are for bringing extra warmth without limiting your arms at all, which is especially important if you're outside doing something active.  So, I foresee this little number getting tons of wear as the weather has already cooled off considerably here.
The crusade bra is made of the same seamless fabric and mesh.  It has a wide band and a clasp back for support.  That said, I have a very small band size, so the support is still low for me.  I recommend sticking with your usual size.  There are no slots for cups, but the fabric is thick enough that it provides good coverage.  Also, it's an incredibly comfortable style that will be ideal for my upcoming (very long!) travel days.
The woven jacket is a loose-fitting, lightweight little number with a high-low hem.  I love the way it looks with tights like these.  It's a unique silhouette that exudes cool vibes.  Despite the loose fit, the fabric does not have stretch.  If you have broad shoulders, you may need to size up.
The all day tights are an all-new style with a no-nonsense construction.  The side shine panel is curved in a way that really accentuates the feminine figure.  The main fabric of these leggings is incredibly soft and comfortable.  It has a smooth, plush feel, a matte finish, and plenty of stretch.  They're cozy without being heavy.  The only downside of the fabric is that, for me, coverage was iffy in a bend, so I recommend you check yourself if you're heading out to yoga or squat day.  They fit true to size with a rise just under the belly button.
The tranquility tunic is one of my new favorites.  The fine mesh at the back is gorgeous, and the solid fabric is soft and drapey.  This style is a relaxed cut and looks great worn loose, so I recommend sticking with your true size.  Besides being a pretty layer for casual wear, this would be a great companion for barre class.  Being petite, it's tough for me to find 3/4 sleeve tops that work for me, but the length on these sleeves are perfect.  This is another one of my top picks from the season so far.
The alpine tights are a cozier option for colder weather, as the name suggests.  The heather grey fabric in front is brushed and fuzzy on the inside for warmth.  The back panel is the same as the all day tights above.  The alpine tights have a handy pindot mesh side pocket that's just large enough for my iPhone 6 to fit.  The alpine tights don't have quite as much warmth factor as last year's chill tights, but are a little warmer than your standard workout tights.  Since these have the same rear fabric as the all day tights, the same coverage caveat applies in my experience.  Fits true to size, high rise just under the belly button.
Shop this post
Outfit 1: tranquility tunic in black | crusade bra in black | alpine tights in charcoal
Outfit 2: bond vest | seamless LS in black | captain tights in bolt stripe
Outfit 3: woven jacket in bolt stripe | all day tights
Outfit 4: storm poncho in black | seamless LS in black | captain tights in liquid black
More of the latest fall arrivals
AA readers get 15% off when you enter AA15 at checkout!