Alala's next product drop is here!  I had been really looking forward to this month's drop based on sneak peeks I'd seen elsewhere, and it did not disappoint.  A new color, magenta, debuts this month as well as a new texture, plus a generous helping of heathered grey.  Outerwear is a big focus this month, which is part of what makes this product drop so good–Alala's layers are generally one of the strongest facets of their collection.  Here are some highlights from this month's drop:
First up: this blanket jacket is EVERYTHING.  The blanket jacket made its debut in poseidon as part of September's product drop and drew a lot of attention.  I love the style but held out for a neutral color, and I'm so glad I did.  The black with heathered grey is just perfect.  Alala was kind enough to gift me this jacket so this one has already made itself at home in my closet.  I will be posting a review with more info on this tomorrow!
Here's the new shade of magenta in the clutch tank.  If I had to guess, it looks like it's somewhere between lululemon's shades of ultra violet and regal plum, with a dash more saturation.  It also looks nice on the cut bra.
In addition to magenta, Alala rolled out a new textured pique fabric this month on the frontrunner jacket.  To clarify, this is actually textured, it's not just a print.  I'm very curious to try this fabric on something–I'm a sucker for textures–but this is the only item so far.
Another new style this month: the open back tunic.  The longer length and scoopneck has a little bit of a ballet-inspired feel to me.  The mesh insert in the open back is good if you prefer a more subtle open back look.
Some more heathered goodness: the flyweight tee.  The flyweight tee has been a recurring style for Alala, but unless this model is on the petite side, it looks like they may have lengthened the pattern a bit this season–it ran a bit short before.  I also like the shadow hoodie, which was uploaded in heathered grey today.
This new racer turtleneck plays with some interesting geometry, with a subtle mesh accent and a pop of magenta on the other sleeve.  This is made from a brushed nylon, so it'll be on the cozier side.  Also, impatient to see more of whatever those pants are!
The weekender dress is back!!!  I purchased this dress last fall in 2 colors and have loved it since.  It ended up being a popular buy for many AA readers, too.  This year's model uses a slightly darker heather than the previous version, and there have been some tweaks to refine the fit as well.  So far, there's only heathered grey this year–not sure if black will be returning in a later drop or not.  This was one of my best buys last year so I'm really happy to see Alala has brought it back.  If you'd like a little more detail, I have a review from last year here, as well as a few pics of last year's heathered grey here.  I definitely recommend this dress.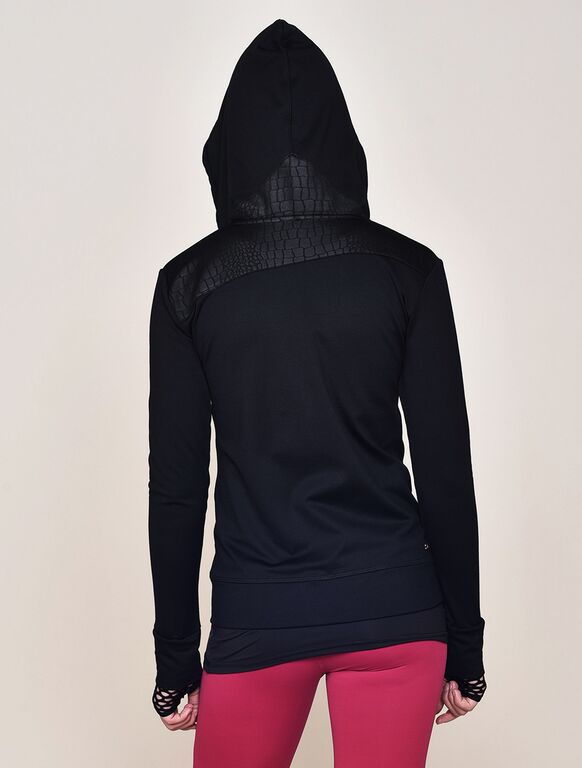 Another piece from last fall that Alala has revamped for this year: the neutron zip-up hoodie.  I love all the details here: reptile embossed faux leather, mesh-lined hood, gold zipper, and the mesh thumbholes.  Black is very practical for matching, but this style is anything but plain.  The tech fleece makes this is a more expensive piece, but it also means superior warmth.  I've been needing a looser-fitting zip jacket, so this one's going in my cart.  I hope it fits!
Another outerwear piece: the neoprene bomber jacket.  This one incorporates the same reptile faux leather motif as the pieces above, but the bomber style gives it a very different feel.  There's also new neoprene shorts and sweats with a similar style.
Rounding out the list with one last outerwear option: new vegan leather sherpa-lined vest.  I like the way Carbon38 layered it over one of Alala's heathered grey tops.
Browse all of Alala's new arrivals →
Don't forget: Agent Athletica readers get 15% off your order, just enter AA15 at checkout.