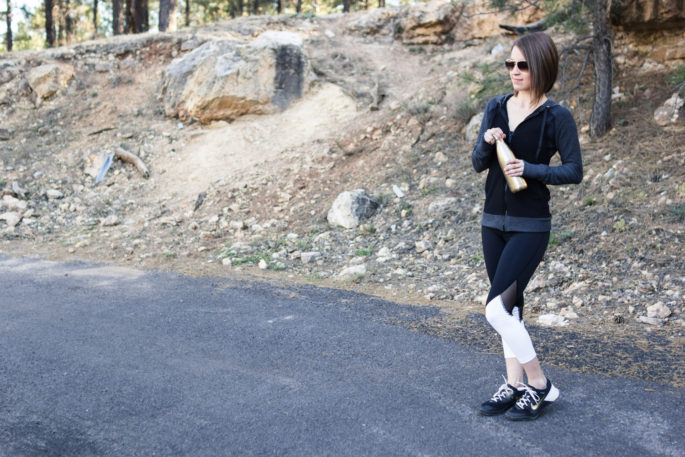 This outfit is a whole lot of my favorite things right now all at once.  These were some of my top picks from Alala's current spring/summer collection, and I love that they all go together perfectly.  Although I do love dressing in bold colors, there's a certain allure about black and white.  Even better when there's hints of gold in the mix!
Disclosure: this outfit was complimentary from Alala.  The opinions in this post are my own honest experience.
Photos by Kylie Pond Photography
These black and white colorblocked captain crops were one of the styles previewed in Alala's spring lookbook several months ago.  I've been impatiently waiting to get a pair since I first saw them.  So, I was really excited when Alala sent me a gifted pair ahead of the official drop.  Double win!  I love black and white, and the white only being on the lower leg is a little more practical since I only have to keep half a pair of pants clean. :)
I have 3 other pairs of captain crops already, so it's safe to say I love the look.  It's a simple but sophisticated design.  The crops have a front slit pocket in the waistband plus a back zip pocket.
The fabric is slick and silky to the touch, like my other Alala bottoms.  In a squat, my pair does show through a little bit of color, so make sure you check yourself.  In my experience, the coverage in Alala's black fabric tends to vary.  These are my usual XS, and they fit pretty true to size overall.  I've found all my captain crops to be a little smaller through the waist while the legs are cut a little more generously.  The rise is on the higher side of medium.
And they go so perfectly with my black and gold Nikes.  They were made for each other.
The everyday hoodie is one of my favorite pieces from Alala's spring collection so far–maybe even my absolute most favorite!  In the couple of weeks I've had it, I've been wearing it everywhere.  It's as comfortable as the nasty old hoodies I secretly wear at home (you know what I'm talking about).
The fabric is extra-soft and stretchy soft, and has a little bit of a fleecy finish on the inside.  It's definitely a lighter, spring/summer weight.  Although it's not paper-thin, don't expect a heavy-duty layer either.
I got my usual XS, and it's a slightly relaxed fit, but not oversized.  Many of Alala's long sleeve styles run tight through the arms, but these have a more relaxed cut that leaves room for layers underneath.  The fabric is also quite stretchy, which helps too.
The only issue I have with this hoodie is that it shows dog hair–hah.  I would definitely buy this hoodie in more colors.
The cut bra is one of Alala's core styles, but it was redesigned this season.  In my opinion, the cut bra is one of Alala's prettiest designs.  I love the cutout back, feminine scoop, and extra-wide band.  I have one from a couple seasons back, so I was really curious to see how the new design compares.
The biggest and most obvious change is that it now has adjustable straps, making it friendly to taller and more petite ladies alike.  Also, the strap material is more of a ribbon material now, which doesn't have any seams.  The new material plus the adjustable length means this won't dig into your traps.
In previous seasons this bra ran small.  That's been adjusted, and now I would say it fits true to size.  I laid it out next to my older the cut bra and the difference was nearly an inch!  If you have one of these from previous seasons, definitely don't buy the same size again.
Another functional plus: slots for cups were added last season and stuck around for the redesign.  This bra was pretty from the start, but they've definitely amped up the functionality of this bra since its initial release.
The bra is on the lighter side of support, which is the only thing that detracts from the functional aspect, at least for me.  I would put it in the same category as lululemon's flow y bra in terms of support.
Shop this post
P.S. AA readers get 15% off with code AA15!