Alala is a new brand to the luxury activewear realm–their first collection was this past spring, and their second collection for fall '14 is slowly trickling in.  I love to try new brands, and their aesthetic really resonates with me, so I keep a close eye on their new releases.  Cobalt is one of my favorite colors ever, so when I saw their captain crops in this color they had to be mine.  Their first dress, the weekender dress, started seriously calling my name too.
From a functional perspective, I'm drawn to Alala's collection because most of their bottoms are made of slick, friction-resistant nylon, like lululemon's luxtreme.  Yoga brands and supplex are all over the place, but stylish bottoms in this type of fabric are a little less common.
Alala's orders come thoughtfully packaged in a custom mailer, tissue paper, and even included a hand-written note.
---
Captain Crop in Cobalt
I was drawn to these pants mostly for the color, which is a true cobalt.  It's a little lighter than lululemon's pigment blue, but ultra-saturated and doesn't have any purple/red undertones to speak of.  I'm in love with this color, it's seriously so gorgeous.
My pair is a size XS–I usually wear an XXS, but when that's not an option, XS sometimes works for me too.  These fit beautifully through the waist and hips, but the legs felt a little more generous.  If your legs are muscular, you definitely will not feel constricted in these crops.  The length on mine lines up perfectly with my wunder under crops, measuring 20″.  Overall, I would say these fit true to size, maybe with slightly bigger legs than most.
Although the waistband doesn't have a drawstring, it's lined with powermesh, so these did not budge AT ALL when I put them through the paces of squats, running, and double unders.
Seaming details in the back hook you up with booty flattery.
In terms of coverage, you'll definitely need to be mindful of the color of your underpants.  Standing up, all is well, it's just the deep squats and bends where you'll need to check yourself.  Darker colors will show through, but with light colors/nude, you'll get enough coverage.
The fabric is lightweight–definitely lighter than lululemon's fullux/iplux, but probably about the same as regular luxtreme.  The plus side of this is that it's very cool and performs extremely well in super-sweaty workouts (I'm lookin' at YOU, crossfit gyms with no AC).  The downside is that, if you're looking for serious compression, these may not fit the bill.
The mesh details in the back wrap around the back of the knee, so they're not just a style feature, but also functional for sweat minimization.  My one concern with the mesh (it's your garden variety mesh, not the thicker funky kind you see on lulu's inspire crops, etc) is that it's thin, and I'm a little wary of it getting snagged on a bush/branch, dog claw, or really anything pointy.  To be fair, though, snags are a perpetual concern with just about any of my delicate activewear, and I haven't had any major incidents yet.
Design details: reflective trim at the waistband, signature matte gold brand plate, mesh-lined zip pocket at back waistband, and a mesh-lined front key pocket wide enough for a credit card.  Worth noting: they are made in Canada.
Overall, I am loving these crops and I'm sure they will be in heavy rotation through the fall.  The only slight negatives are the delicate nature of the mesh and the slightly thin fabric (which is both a positive and a negative), which are outweighed by all the things I love.  In the future, I'd love to see Alala experiment with different fabric weights.
You can find a bunch of different colors of Alala's captain crops and full-length captain tights here.  And if the sneak peeks are any indication, there should be more colors coming soon!
---
Weekender Dress in Black
Ok, the weekender dress isn't exactly activewear, but it's from an activewear brand and I do what I want.
Since I am particularly small through my shoulders and waist, I emailed Alala to ask for measurements on the XS dress before jumping the gun, and they got back to me very promptly with helpful answers to my questions (+1 for customer service!).  Sure enough, I was in luck!  The dress is meant to be slightly relaxed as opposed to skin-tight anyway, which allows for some sizing wiggle room, and the proportions worked out really well for me.
The brushed jersey fabric (poly/lycra blend) is seriously to die for.  It's soft, thick, cozy, generally luscious, and–bonus–the dog hair doesn't stick nearly as aggressively as I thought it would.  You don't need to worry about a slip, either–no show-through here.
The drawstring at the waist gives you options to play with the length and structure.  With the drawstring loose, it sits just below my belly button, and the hem of the dress falls to my lower mid-thigh (I am 5'3″).  As I tighten the drawstring and bring it up towards my natural waist, it becomes more of a tunic–a little too short for polite company if you go the bare legs route.  The length options will work really well with my smorgasbord of leggings.
And I foresee some variation of this outfit getting a lot of abuse this fall.
The dress has mesh inserts at the front shoulders…
…cozy thumbholes…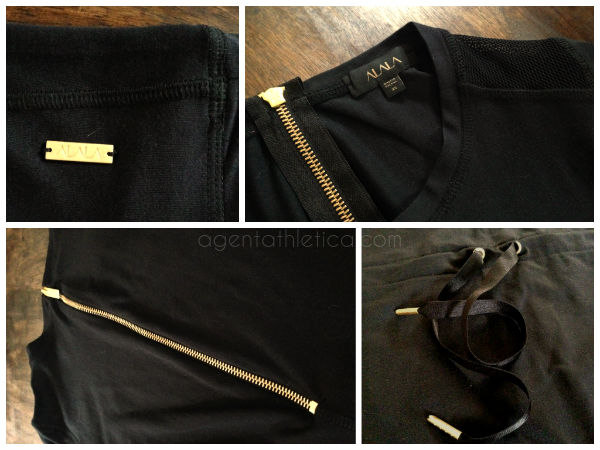 …made-in-USA style, and Alala's signature matte gold hardware details.
Overall, I am certifiably obsessed with this dress.  I have no critiques at all, and I got tons of compliments when I wore it out.  It's versatile, comfortable, and so freakin' easy for those of us who sometimes struggle to dress ourselves.  It would probably be trite to call it "effortlessly stylish", but it is.
You can find the weekender dress on Alala's website right here.
---
P.S. Leopard booties are by Sam Edelman, bag is the Jet Set Tote by Foley + Corinna (currently out of production), and figs and dahlias by Arizona farmers.
---
*Disclosure: I may receive a referral bonus for purchases made through some links in this post, although this does not change the price you pay.