Alala had a nice promo running for Memorial Day, so I jumped on the opportunity to scoop up a couple items I'd had my eye on for a while, since I didn't know when another promo this good was going to come up!  I bought the fast track pants, rolldown sweats, and sweat shorts.  Here's a quick review of each:
Sweat Shorts
These are the first shorts (that I recall) that Alala has made, and since I pretty much live in fitness shorts all summer, I wanted to give these a go.  They are made of a thicker promodal fabric, and in case the name wasn't enough to tip you off, these are definitely not a lightweight running shorts.  If you want the lightest of lightweight, you might want to avoid these.
The design elements are very practical: there are pockets in front, vents in the back, a built-in liner, and a functional drawstring waist.  The drawstring is a bit long, so in my opinion it basically has to be tied, otherwise it just looks a bit odd.  The front and back is accented with mesh overlays to infuse these with a bit of Alala's urban style.
Unfortunately, these were just too big on me.  The body of the shorts was quite loose, and the liner bagged out a lot, too, so they were clearly the wrong size for me.  Since I usually wear an XXS in shorts, this wasn't really a shock.  In terms of length, these actually have a pretty similar rise and inseam to speed shorts.  I would say the size XS sweat shorts would be better suited to a lulu 4, or maybe even 6.
Compared with how I usually like my shorts to fit, the fit on these was definitely not a win, so these are going back.
Rolldown Sweats
These sweatpants have a tailored fit and a tapered leg.  I was drawn to these because I felt the more slim fit would be flattering on my petite frame compared to more slouchy, oversized styles–it looks more polished and elongates the leg a bit.  These are the kind of sweatpants you could wear out of the house without looking sloppy.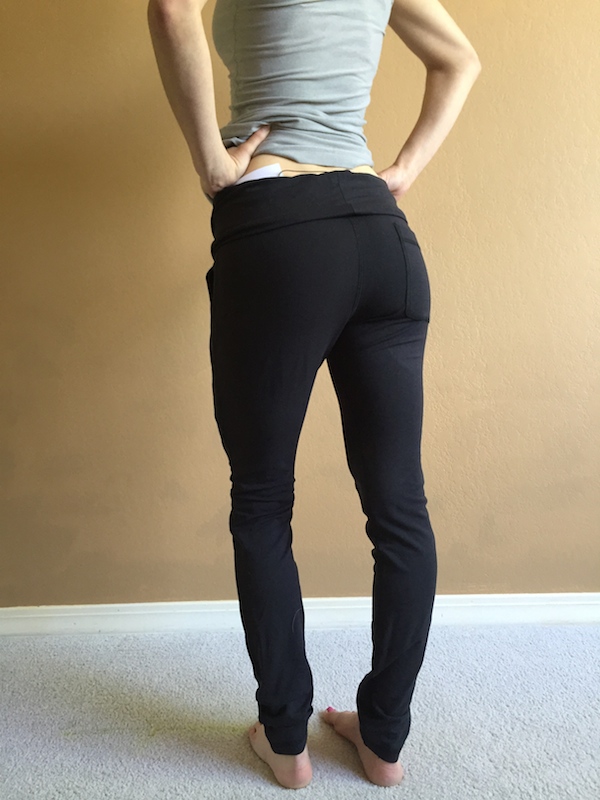 The pants are made of promodal french terry, which is soft like butter.  It's a somewhat thicker, warmer fabric–these are sweatpants after all–but don't seem quite as heavy-duty as thick cotton sweatpants.
Overall, the fit was a little tighter than I expected.  Since I often wear an XXS (lulu size 2), I was expecting the XS to be pretty relaxed, but that didn't end up being the case.  They definitely aren't as tight as a pair of leggings on me, but they are somewhat fitted all over.  If you want a looser fit, I'd recommend taking a size up.
The front pockets are a double-layered situation, and both layers are functional.  The larger pockets are plenty deep for whatever you need to stash.  The butt pocket in the back is a nice touch for both style and function, too.
That said, the waist seems to run a bit big compared to the rest of my Alala bottoms.  They're not falling off me or anything, but they definitely felt looser by comparison.  There's no way I could've worn the waist folded up, as this photo shows.  Like the shorts, the drawstring seemed a little long on these, which you can also see in this pic.  In the other pics, I have it partially tied underneath the folded down waistband.
The inseam is a bit shorter on these, measuring at 29″.  They seem to be designed as more of an ankle-length pant.  These also look nice pulled up to the calf, like they're shown in the stock pics.
Overall, these are a super-comfy pair of pants that would be ideal for colder lifting days and lounging.  As far as sweatpants go, these look pretty sharp while still being as comfy as you expect sweatpants to be.
Fast Track Pants
I've wanted these pants for ages, ever since they I first saw them in Alala's debut collection last spring.  I'd been trigger-shy for so long because I was worried they would be too long and would be difficult/impossible to hem because of the zipper at the leg.  Armed with the 30% off deal, I decided to take my chances!
The length actually turned out to be great.  I was so surprised!  I measured the inseam at 30″, and even though I usually need an inseam of about 29″, these don't drag since the leg taper makes them effectively ankle length anyway.  I have to say, one of the reasons I keep coming back to Alala is that I have found their XS to be consistently very petite-friendly, which is so refreshing compared to the comically long leg, arm, and torso lengths I usually encounter.  Of course, I realize this obviously isn't a plus for everyone.  I'm also not sure if this holds true for other sizes.
Another surprise: much like the rolldown sweats, these seem to run a bit small.  The fit turned out to look almost exactly the same on me as it does in the stock pics.  The butt/hips are fairly fitted, but the legs have a little bit of extra room.  If you want a tighter fit, stick with your normal size, but those looking for a more relaxed fit should definitely go up a size.
I was expecting the tighter fit to preclude layering options and make things lump and bunch, but I was pleasantly surprised to find that a pair of speed shorts underneath actually laid pretty flat and was hardly noticeable.  There's only a subtle line where the vent trim is and the outline of the zipper pull.  Crops or leggings would work well under these, too, though you'd obviously be able to see them through the mesh side panels.  Also: if I wanted to wear these pants alone, which is probably what will end up happening most often, these aren't see-through in a deep squat or bend.
The front pockets are plenty large enough for my iPhone 6 or whatever other odds and ends.  They zip closed if you need to secure things a bit better.  The drawstring is functional, though I doubt I would ever use it, and the strings aren't as long as the other two bottoms above, so I don't feel the need to tie it off, though it's long enough to do so.
The fabric on these is lightweight and breathable.  It's listed as meryl jersey, which is a nylon/spandex blend.  It is slick rather than cottony, similar to luxtreme or other similar run crop materials, but more soft and supple.  I spent a few minutes petting my dogs while wearing these and was pleased to find that the fur they left behind (which is a lot) brushed off with just a few vigorous swipes, no need for a lint roller.  Since my dogs shed white, this is a huge plus for black pants.
The tapered leg and zipper mean you can wear them 3 ways: zipped and pulled up to the calf, full length and zipped, or full length and unzipped.
I especially like them pulled up to the calf.
Of course, the one downside of these pants is that they're pretty pricey, retailing at $145.  The promo price I paid was much easier to justify.  That said, these pants (and the other 2 things in this post) are made in the USA, and I'm generally willing to pay a premium for that.  Having now tried them out, I would probably still pay full price if that was my only option, but I'm generally willing to pay pretty steep prices for things I set my heart on when that's what it takes, so take that how you may. :)
Overall, I really love the fast track pants so these are definite keepers!  I had originally ordered the rolldown sweats as a backup plan in case the fast tracks didn't work out, but I ended up liking both!  I'm still debating whether I can justify keeping the rolldowns in addition to the fast tracks or if I'll have to limit myself to just one as I originally planned.  I have a few more days in the return period to make up my mind.
In this post:
Get 15% off anytime at Alala with code AA15!