Alala had quite a few enticing additions to their website in their most recent product drop, and I wound up ordering the chill tight and neutron hoodie.  The neutron hoodie was out last year, and I regretted missing out on it then, so I was happy to get a second chance!  The chill tights are new this year, and since I can't seem to stop buying cold-weather tights, these were calling my name, too.
Chill tights
Update: be sure to read my updated review of the chill tights here.

I've had my eye on the chill tights since they came out in black, but I was holding out for another color.  My patience was rewarded with this pique version.  Oddly, these aren't listed in the new arrivals section along, so I missed them the first time around.
This pique fabric is Alala's first venture into textured fabric.  It's quite thick and sturdy, so it doesn't feel as soft and supple on the outside as some other textures I've encountered.  It's fleecy on the inside and totally opaque.  Although I didn't work out in these, they feel pretty thick and warm and would be very cold weather-appropriate.
The tights have silky inserts on the sides and feature a medium-sized zip pocket on either side.  The inside of the inserts is not brushed, only the pique panels.  This might detract from the warmth factor, but I'm not sure since I didn't wear them outside.
I got these tights in XS, which is my usual size from Alala.  They fit very small!  When I lined them up with my lululemon size 2s, the pants appeared to be cut pretty much the same size, but Alala's pique fabric doesn't seem to very much give.  The legs fit me pretty well, but the hips were very tight.  The length was good on me, but may be on the shorter side for taller ladies.  The XS inseam measured 26″.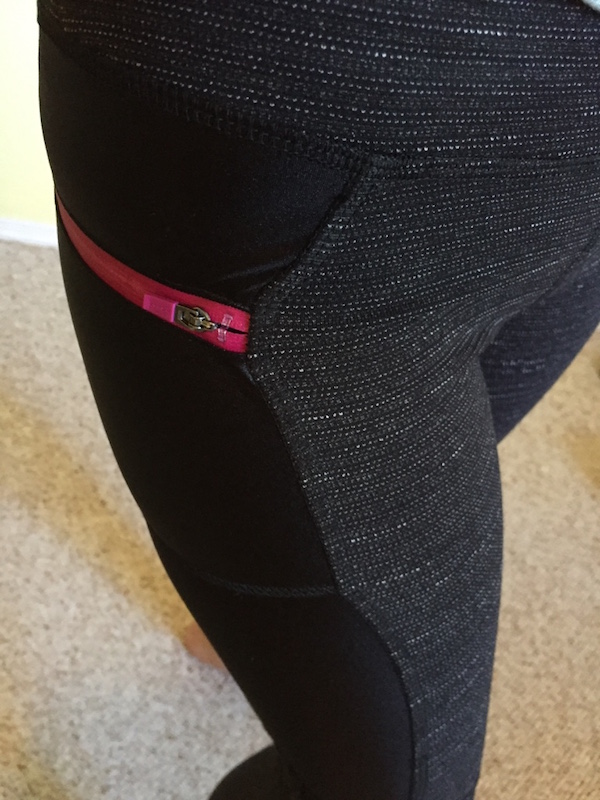 As you can see in this pic and some of the others above, a major issue with the sizing is that the zipper and seams did not stretch with the rest of the pants, which resulted in some very unattractive pulling and "sausage-ing".  Besides that, they also just felt too tight for me to comfortably work out in them.
I'm not sure if this sizing issue is limited to the pique fabric, or if the solid black version would be the same story.  The pique is actually a supplex blend, while the black is tactel, which makes me think the black would have a lot more stretch to it than the pique.  Although I had to send these back, I'm considering re-ordering them in a size up to see if that works out better for me, because I do like these tights!  My hope is that a size up will still have a nice supportive fit, but will be more comfortable to move around in, and won't pull so badly at the zippers and seams.
Neutron hoodie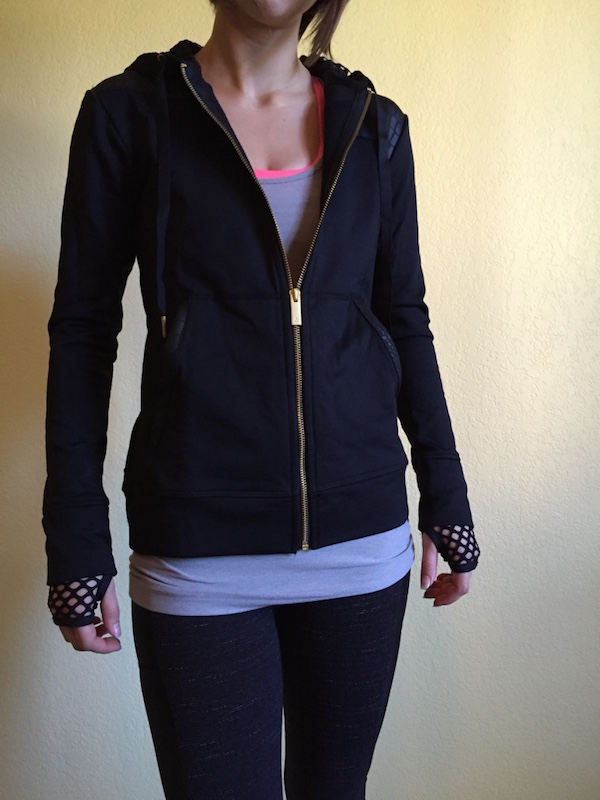 I've been looking for a looser-fitting, neutral zip-up jacket, so the neutron hoodie seemed to fit the bill perfectly.  It's a medium weight zip-up made from tech fleece.  The fabric is great.  It's smooth on the outside, but fleecy and cozy on the inside.  Although it's not thick enough to wear on its own in particularly cold weather, it's definitely more of a fall/winter jacket than something to throw on in the summer.
I love all the details that Alala has added: mesh lining in the hood, reptile details, mesh thumbholes, and of course their signature gold hardware.  The mesh is sewn in all the way back into the cuff seam you see, so I felt like I had to be very careful getting my hands in and out of the sleeves–I keep my nails long, and I was afraid I was going to snag them!
Although this jacket was really comfortable and is a cool design, I felt like it left something to be desired on me.  The torso was a bit boxy-looking, and I think the shoulders seem a hair too wide as well.  I'm pretty small for an XS, so I'm not too shocked by this.  Sometimes the looser fit works, but in this case, it missed the mark.  I'd say it runs pretty true to size overall, though slightly on the short side in the torso.
I think one of the reasons the proportions didn't turn out right on me is that the pocket seam is higher on my waist than most hoodies.  This seemed to de-emphasize my waist, creating a shorter torso and more boxy silhouette on me.
Overall, while I did like the neutron hoodie in theory, in practice it didn't work as well on me as I hoped.  For the price, it had to be a "LOVE", not just a like.  Back it goes!  There's plenty else on my wishlist to take its place, though a nice zip-up jacket still eludes me.
Even though I struck out with this order, I had success elsewhere…
Flyweight tee
I actually first tried the flyweight tee a long time ago, as part of Alala's very first collection in the spring of last year.  I had loved the fabric and the design, but the fit was pretty wonky on me, so I shied away from ordering it again, despite how cute it looked in stock photos.   But then a couple weeks ago, I saw one pop up on eBay with a $0.99 starting bid.  The pictures were terrible, so I ended up getting it for $28 shipped.  How could I resist?
When the package arrived, I was horrified to find that the seller had literally rolled it up in a garbage bag and half-heartedly taped it up.  It wasn't even IN the garbage bag, the bag was just rolled up AROUND it, so part of the hoodie was actually exposed during shipping.  What the hell?!  Ebayers, man.  I'm lucky that the hoodie arrived without any tears or stains.  I usually have perfectly good experiences on eBay and other resale sites, but this was definitely an exception.
Anyway, the auction was actually for a size S, instead of my usual XS, but I thought the S might work out well since it being a little loose wouldn't necessarily be bad.  Sure enough, the S is great!  It's loose, but cute loose, not frumpy loose.  It's on the shorter side compared to most of my tops, but I think the proportions work well.  If I'd gotten my normal XS, I think it probably still would've worked, it would just be a different look.
The heather grey here is actually from last year's fall collection, so it's a bit lighter than the current heather grey, which looks more like a darker space dye.  Also, I'm not sure if the cut has been updated again since last fall.
The fabric is lusciously soft and comfortable.  If you have other pieces made from Alala's jersey fabric (e.g., the weekender dress), it's like that.  It's not too thick or warm, plus it has the mesh inserts, so it would be suitable for warmer climates, too.  This time of year, I'm layering it over tanks for my colder workouts, or just wearing it on its own.  It looks great with just about anything, and I'm sure I'll get a lot of miles out of it.
Overall, I love this tee, and it's another Alala style I would recommend!
In this post
See also: chill tights in black
Don't forget: AA readers get 15% off with code AA15!