Two things are constant in my life: I am always out of clean sports bras, and I am always doing laundry.  I find I always wear through sports bras faster than I like, so it feels like I'm always adding new styles to my closet.  Here are 3 of Alala's spring collection bras and some thoughts on each one.  You might've noticed a couple of these bras making an appearance in my Alala bike shorts feature.
For reference, my typical bra size is 30D/DD and I'm wearing size XS in all 3 of these bras.
Disclosure: these sports bras were complimentary from Alala.  All opinions are my own.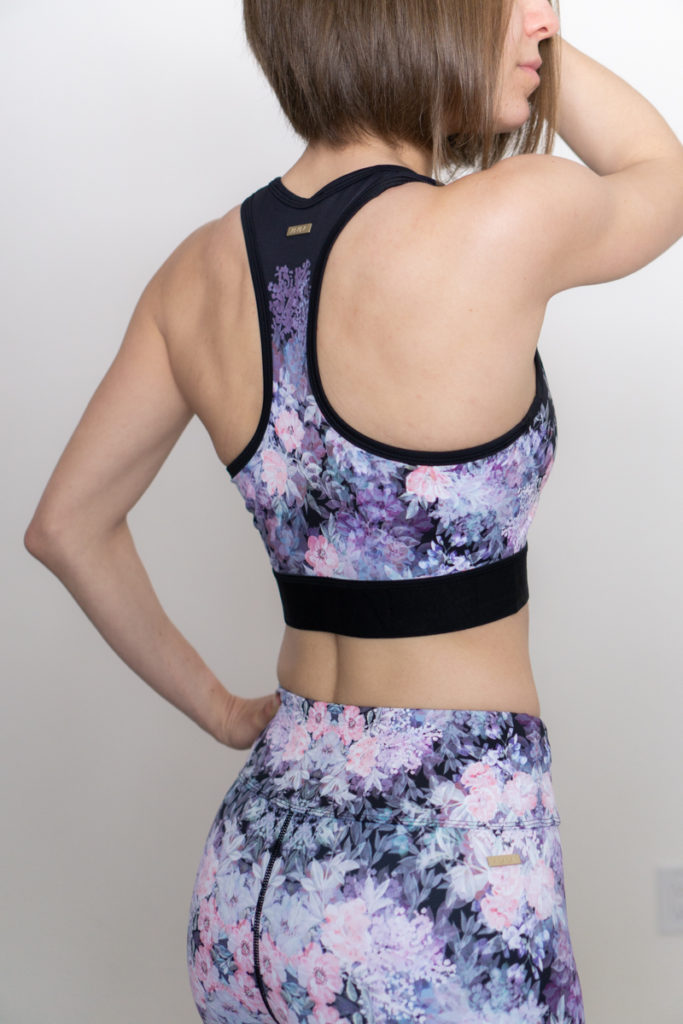 Long bra
Sizing: runs slightly large
Support: low
Slots for cups? no
What I love: vibrant print, silky fabric
First on deck: the long bra.  This is a simple, high coverage silhouette that lets the print do the talking.  The fabric is silky, smooth, and cool against the skin.  It's the same fabric used in Alala's printed captain crops and tights.  The entire inside of the bra is double-layered (black on the inside) for extra coverage and support.  The princess seams add shape, but there's no other additional structure on the inside of the bra.  The band is exposed elastic that's sturdy but flexible.
Note that the band sits low on me, about an inch lower than my bust.  Depending on your torso length and cup size, it could fall in a different spot on you.  Many of the photos I've seen of others wearing it make it look like it fits a lot of people similar to how it looks on me, though.  Because of its high coverage cut, you could wear another bra underneath and wear this as a crop top.  Since I often need high support, that's how I prefer to wear this style.  The high coverage also means this can accommodate a wide range of cup sizes.  There's plenty of coverage under the arms, too–no spillage in sight.
Overall, the bra runs just a little bit big in my opinion.  Even though I have a somewhat larger cup size, the size XS doesn't fit tight against my bust.  To illustrate this, you can see a tiny bit of wrinkling just above the band, indicating there isn't 100% compression.  For that reason, I recommend considering a size down for a more locked in fit, especially if you have a small cup size, you want more support, or you're between sizes.  If you plan to wear this as a crop top, your true size will fit just fine.
I absolutely love the future floral print, it's so vibrant and detailed.  I like to match it with my future floral coda shorts. (You can find a review of the shorts in this post.)
If you're not feeling the floral print, the long bra also comes in colorblocked ice blue and embroidered palm (note: the embroidered palm does not feature princess seams).  The harley bra, moto bra, and frame bra also look like they may be the same as the long bra.
Love bra
Sizing: true to size with room to size down
Support: low to medium
Slots for cups? yes
What I love: unique silhouette, extra wide band
The love bra caught my eye immediately and I was about to buy it myself, so I was so excited when Alala offered to send it to me.  It's quintessential Alala: a sharp, unique design with just a hint of feminine flair.
All 3 of the bras in this post have a long line silhouette, and this one is no exception.  The bra has an extra wide, 2.5″ covered elastic band that sits very comfortably.  Since this bra has somewhat higher coverage and a long band, you could easily wear it on its own and still get a good amount of coverage.
Mesh fabric lines the outside edge of both the front and back.  The wispy mesh fabric flutters against my narrow shoulders rather than sitting tight and flush like the rest of the bra.  Note that due to the low-cut, angled armholes, larger cup sizes should pay extra attention to whether you're getting enough coverage in that area.  The mesh accent provides a little more visual coverage, but note that it doesn't actively hold you in.
In size XS, this bra fits me but doesn't provide a ton of support.  For extra support or for those between sizes, you may prefer a size down.  For smaller cup sizes that size down, you can likely expect medium support.  The band is more snug than the long bra above, but is still stretchy.
In addition to the liquid black shown here, the love bra is also available in ballet pink.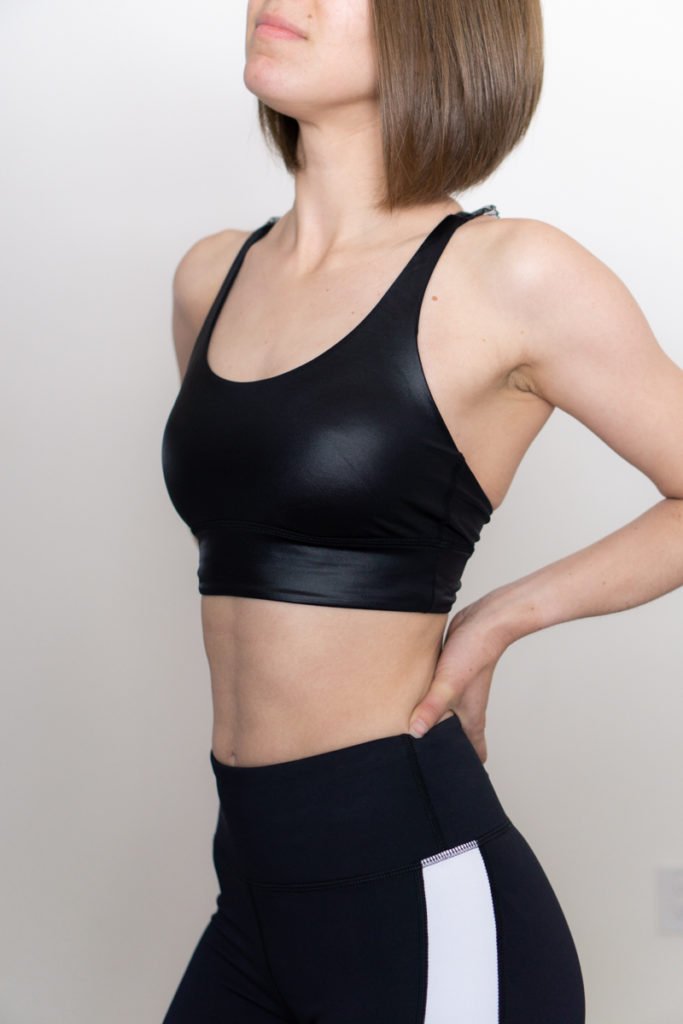 Ribbon bra
Sizing: true to size
Support: low to medium
Slots for cups? yes
What I love: flattering fit, feminine details
Out of the 3 bras I tried here, this ribbon bra fits me the best.  It's got enough coverage in the front to avoid the dreaded "quad boob" and covers the underarm area well to avoid spillage issues.  In my opinion, it fits true to size.  The bra is fully lined and has slots to add cups for plenty of coverage.
The straps in the back are thin and stretchy, so they don't offer a lot of support.  Fortunately, this style features a wide band, about 2″, which helps stabilize the bra and provide a little extra support.  Overall, I'd classify it as medium support for smaller cup sizes and low for larger.  It can accommodate up to a C or D cup.
I love the liquid fabric paired with the ruffle accents and strappy back: it's sleek and modern balanced with feminine and delicate.  The ruffle accents make this style ideal for tops with low/open backs, narrow racerbacks, or wearing it on its own.  I like to wear it with my vamp tights or liquid captain tights.
Shop the post
Enter AA15 at checkout to score 15% off full priced items at Alala, including these bras.
Long bra in future floral
Love bra in liquid black
Ribbon bra in liquid black