One of the things I love about the athleisure trend is the push toward making clothes that bridge the gap between fitness and everyday life.  Although I have a lot of workout clothes, I have a pretty minimalist approach to my "regular" clothes–it's a sort of accidental capsule wardrobe.  From that perspective, I always gravitate toward styles that do double duty and integrate seamlessly with my active wardrobe.
On that note, Sweaty Betty recently dropped a new collection, Sports Luxe, with this exact purpose in mind.  The collection focuses on neutral colors and fashion forward silhouettes while still maintaining a decidedly sporty vibe.  You can imagine my excitement when Sweaty Betty offered to send me a couple of pieces, since this capsule is right up my alley!  Plus, I've been liking Sweaty Betty more and more in general, so I was happy to add more to my little collection.
Disclosure: the sweater and sweatpants in this post were complimentary from Sweaty Betty.  As usual, everything written here is my own opinion and experience.
Photos by: Julia Romano Photography
I love the look of an oversized, grey knit sweater.  That silhouette is becoming a wardrobe staple for me, so I was pretty stoked to pull this one out of the package.  This resto luxe jumper is a soft wool/cashmere blend (92%/8%).  The knit is tight and thick, making this is one of my heaviest and warmest sweaters.  I like to layer this over a long sleeve tee for ultimate warmth. (My skin is also a little sensitive to wool, so it helps with that too!) I'm actually wearing a bright coral tee underneath in these pics (see below), and the sweater's plenty thick so that you can't see the color come through at all.
And of course, the turtleneck helps fend off the cold, too. :)
The sweater comes in two sizes: S/M and M/L.  Depending on your normal size what kind of fit you're going for, either of those sizes could work.  Mine is an S/M, and it's a pretty oversized fit on me.  If you're a size XS or S, you'll get a similar oversized look in this size.
The vertically textured knit elongates the silhouette, plus makes it a bit more sporty than your standard issue cable knit.  The longer length and drop hem in the back is perfect for wearing this off-duty, since it covers the bum if you want to throw it on over leggings.  I actually wore this exact outfit to work the day we took these photos.
I really like the horizontal slit the thumbholes, since it means they can disappear without a trace when you want to dress this piece up a bit, but you still get the cozy benefits of thumbholes when you want 'em.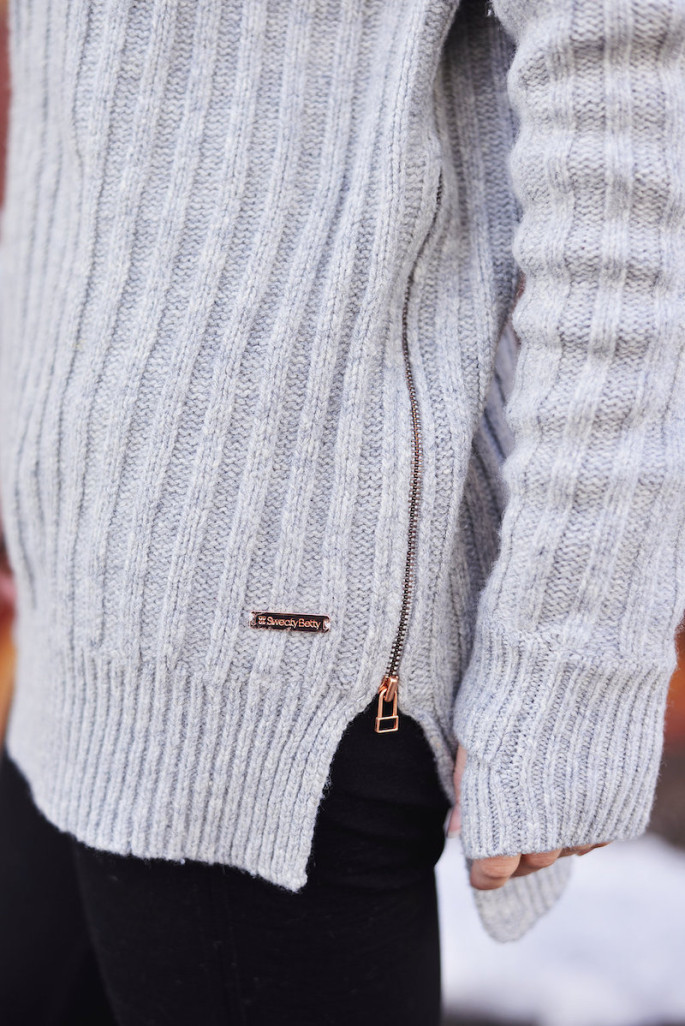 The rose gold accents are gorgeous and bring up the luxe factor.  Rose gold hardware always makes me happy.  The side zips are functional as well as pretty, so if things get a little too warm, you've got options.
Although this piece comes with a high price tag, pretty much anything that's warm and made of a quality fabric will not be cheap; the price seems fairly comparable to other similar styles out there.  I love how this new sweater fits in perfectly with the rest of my closet, and brings style, luxury, and function with it.
P.S. Ankle boots are Franco Sarto "Linden" (on sale!)
Now for the bottom half!
These liberty luxe pants are heavenly.  They've got excellent reviews on Sweaty Betty's website, and for good reason!  They're made of Italian fleece, which feels lusciously soft.  It's not the fluffy fleece you might be used to, but smoother.  The fabric isn't actually that heavy, but feels just as warm as my heavier, thicker cotton sweats.  I haven't had these long, but I've already worn them quite a few times.  They're ideal for pulling on over leggings for extra warmth, but are great on their own, too.
The pants have deep zip pockets and a drawstring at the waist, all accented with pewter details.  There's reflective piping down both sides, so if you wear these running or out and about, you'll get a little extra visibility out of the deal.
On top I'm wearing the hypo glisten LS, which I recently purchased during their end of season sale since I like my regular glisten LS so much.  I like to balance loose-fitting pieces like these pants with a tighter-fitting top, since the loose + loose combo can be a bit dangerous for someone petite like me.  I can go into more detail on this top and my other sale buys in an upcoming post.
Back to the pants: my pair is a size XS short.  It's awesome that these are available in two lengths, since it really helps out us shorties.  If an XXS was made in these, that probably would've worked for me too, since these are still fairly relaxed on me.  So, I would go for your true size, which will probably turn out close to what the fit looks like on the Sweaty Betty model (mine are looser since they're the larger of my usual sizes).  So, as you probably gathered, lean toward a larger size for a more relaxed fit, or smaller for a more tailored fit.
Overall, these pants are anything but your standard issue terry sweats.  They take all the great things about sweats and make them ten times better.
Also, this bridge walkway was just asking for that split pose you see yoga girls doing everywhere:
Bahaha, I just had to try my hand at it. #outtakes
By the way…
Speaking of Sweaty Betty, on the 26th (1 week from today!) they're launching a new workout video with Brit fitness studio 1Rebel as part of Sweaty Betty's Get Fit 4 Free program.  Boxing workouts have been really catching on, so if you've wanted to give it a try, this online workout makes it much more easily accessible.  This is especially nice if you travel, like to work out at home, or if you're like me and live in a small town that's probably 3823 miles from the nearest boutique fitness studio–hah.  If you live near a Sweaty Betty store, you can check out the class in person, also for free.  The details and a preview of the workout are on their website.
Shop this post
Resto luxe jumper | Liberty luxe pants
Hypo glisten LS (similar color)
All the latest newness from Sweaty Betty
Sign up for Sweaty Betty's email list and get 10% off your first purchase!