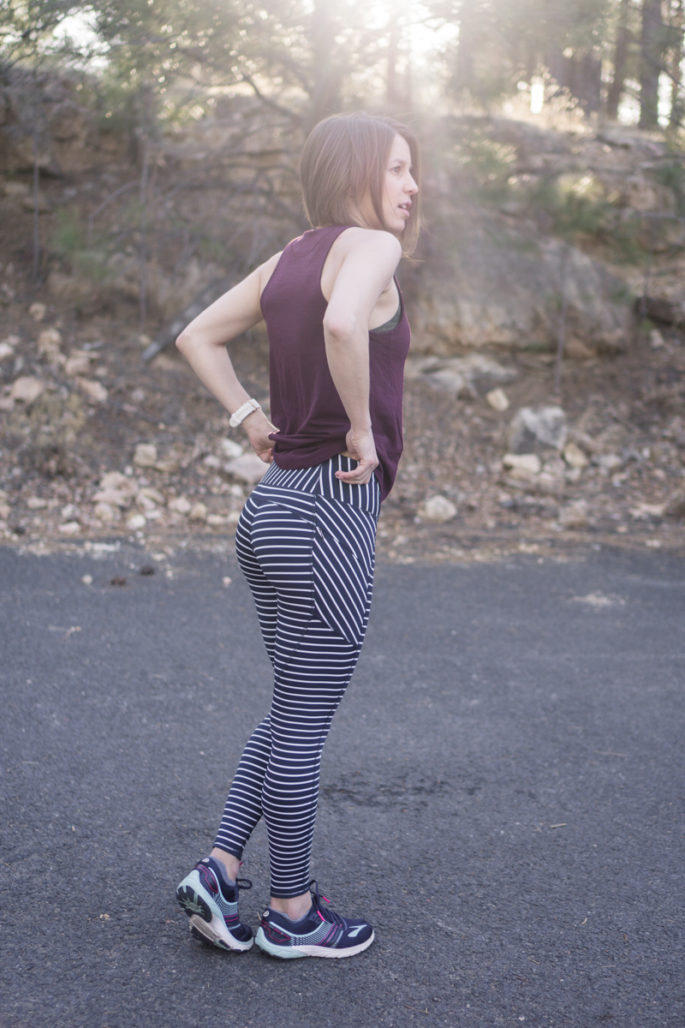 Stripes are one of my all-time favorite patterns for workout pants.  When I saw these contender tights from Athleta, they had my name written all over them.
I purchased these in XXS, my usual size in Athleta.  In my opinion, they fit true to size.  The fabric is mid-weight with good compression.  The compression feels similar to lululemon's luxtreme.  The fabric feels slightly thicker than luxtreme; I wouldn't wear these on hot summer days.  The feel is slick and smooth, not cotton-like.  The stripes are a deep navy blue, not black.
The rise is on the high side with plenty of coverage.  The front sits just a little bit below my belly button.  They hit at the perfect spot above my hips so the waistband sits totally smoothly–no squishy bits.
These are billed as 7/8 tights and they sit exactly at my ankle with no bunching at all (I am 5'3″).  On top of that, the leg opening fits snugly around my ankle.  Baggy ankles are a huge pet peeve of mine (and very common due to my height), so I absolutely love how cleanly these fit through the lower leg.  Note that my tights are the regular length, not petite as my size is not available in petite length.
Unlike a lot of printed fabrics, these stripes do not fade to white when stretched.  The inside of the pants is the same fabric as the outside, which makes the color come through strongly.  They are completely opaque even in a full squat.  Hooray!!
Both sides are equipped with a zippered thigh pocket.  I have a slight preference toward simple slit pockets for ease of access, but the zip isn't a big deal.  Note that the pocket extends upward above the zip, too, so if you have a large phone, you can tuck the top flap over it for extra security.  My iPhone 7 fits perfectly inside.
I took these for a couple of runs around town and they performed perfectly.  They stayed right in place and held everything in (including my phone!) perfectly.
These pants have everything you want in a pair of high-impact workout tights: comfortable fit, supportive, opaque, and flattering.  Adding to all that, at $89, they're priced a little bit less than similar tights from other brands like lululemon.  They are absolutely worth the price.  One of my best buys in a long time!  These earned my highest recommendation.  You can pick up a pair online from Athleta or pop into your local store.  If you're not a stripes fan, there's a whole bunch of other colors and prints in the contender tight!
Outfit details
Athleta stripe contender 7/8 tights
Tracksmith harrier tank in wine
Garmin Fenix 5s
Brooks PureCadence 6 in evening blue (on sale! review here)