As a distance runner, tights that really feel good and go the distance are harder to find than they should be. As I've worn through some of my older pairs, I've especially been looking for running tights with good pocket options.
When I tried Athleta's original ultimate stash tight, I was not impressed at all. The pockets were very awkward and it didn't fit me well. I was bummed because most of the time Athleta makes great run tights. So, when they revamped this style and released the second generation ultimate stash, I decided to give them another go. Good news: with the design improvements, I love the new version!
Ultimate stash tight fabric and performance
The tights are made of Athleta's SuperSonic fabric, their running-specific material. I also don't hate that it's made from recycled materials, unlike most activewear out there. It has a slick feel, but manages to be a bit more soft and supple than other running fabrics. To date, I haven't had any issues with pilling after quite a few rounds in the wash. I did have one seam pop loose at the lower portion of the waistband. While I was able to manage it without it creating issues, keep an eye on your seams!
I took these out for many runs over the last few weeks, and they've quickly become some of my favorite lightweight running tights. They perform extremely well and feel great to run in. The fabric is lightweight enough that I can get away with wearing these on warmer days. They are much too light for winter, in my opinion, making these a good 3-season tight. The compression comfortably keeps everything in place without feeling constricting. I'd give these a medium rating on the compression scale.
The opacity in this color is almost perfect, but not quite. If I'm wearing dark underwear, I can see it in a bend or squat, but not while standing upright. The darker colors should be a bit better. In any case, them being about 90% opaque is good enough for my purposes.
Be warned that the eucalyptus olive color I'm wearing in this post will show sweat in hot conditions. While I am undeterred by a lil butt sweat, if you're not a fan of sweat marks, I recommend choosing a darker color.
The ultimate stash tights are very comparable to lululemon's fast and free tights, but for me, Athleta's version has the advantage. I think the ultimate stash tights fit better and feel more substantial than the fast and frees while still being lightweight and breezy.
Ultimate stash tight sizing and features
I'm wearing these tights in size XS, regular length. In my opinion, these fit true to size and the same as my other Athleta bottoms. Generally, with Athleta, if you're between sizes you can size down. I am 5'3″, and the 7/8 are just a bit above the ankle, effectively full length. Usually, 7/8 tights in regular length have a slight bit of excess fabric, so these seem just a touch shorter than most 7/8 styles.
The pockets are a major design change between the original ultimate stash tights and the second generation I'm wearing here. The thigh pockets on both sides are plenty large enough for a phone–my iPhone 11 Pro fits with plenty of room to spare. There's also a slit pocket in the extra-wide waistband that's large enough for a phone too. In other words: you have loads of storage here, which I love.
Summary
The ultimate stash tight is available in a wide range of inseam lengths, colors, and sizes. The exact style I'm wearing in this post (along with the exotic fuschia colorway) is actually on sale for $70, down from $109. I think these are solid tights even at full price, so the sale price is a fabulous deal. Overall, I'm a huge fan of these tights and they've gotten heavy rotation in my running wardrobe. Definitely recommend!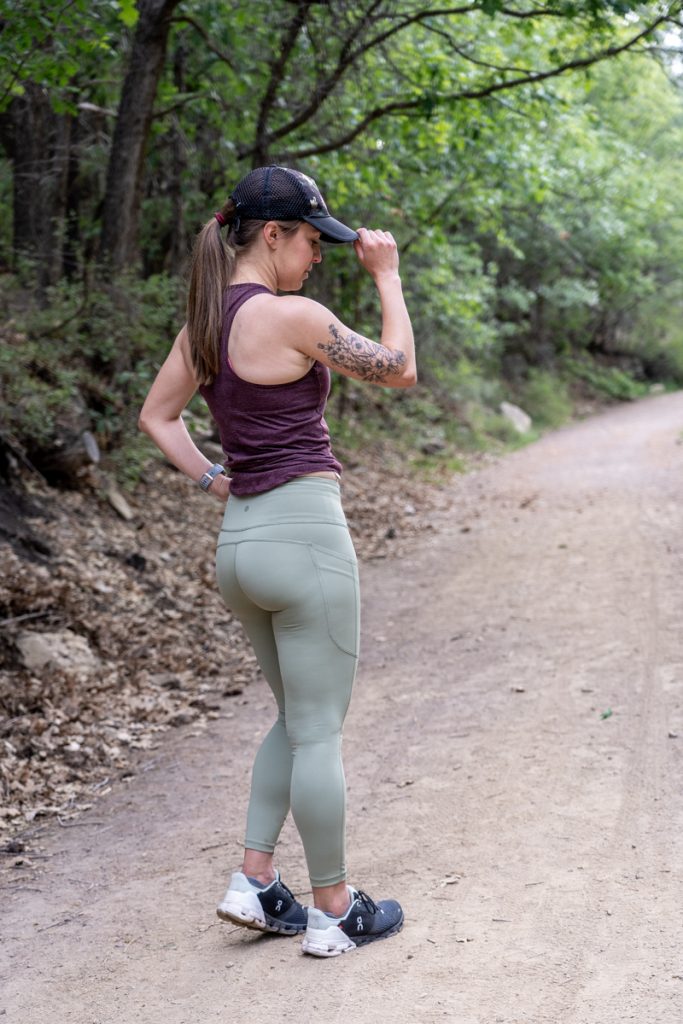 Outfit details
Athleta ultimate stash ii 7/8 tight – eucalyptus olive
Tracksmith horizon tank – wine
Oiselle runner trucker hat
Garmin Fenix 6S
On Cloudflyer