Every winter, I add a couple new cold weather training pieces to my stash and this winter was no different. I've had trouble finding really good, warm winter tops the last couple years, so I decided to try Athleta's Whittier Peak Half Zip this year. This style recently went on sale, so it's the perfect time to pick one up if it's been on your mind. Before you do, here are some details to help you decide.
First off: fit. I bought this top in XXS, my usual Athleta size. As you can see, it's fitted, but not totally skin-tight. Keep in mind that while the fabric does stretch, this is a tight knit, which means it doesn't stretch as easily as other fabrics. For that reason, if you're between sizes, you might find a size down a little tight. The length strikes a nice balance: long enough to help lock in warmth, but not so long that it bunches up or gets in the way.
The fabric is a bit different compared to most of my other winter tops. The outer face of the fabric is tight knit and smooth, almost like a soft shell jacket. The inside is lined with a soft, fuzzy material to keep it comfy and cozy. Compared to lululemon's winter fabric, rulu, the Whittier Peak is not quite as soft or flexible, at least on the outside. The stiffer fabric means it doesn't drape quite as smoothly as other styles I own, especially around the lower hemline (purely an aesthetic gripe). That said, the thick, tightly knit fabric does make it very warm, which is ultimately the most important element.
[ezcol_1half]
[/ezcol_1half] [ezcol_1half_end]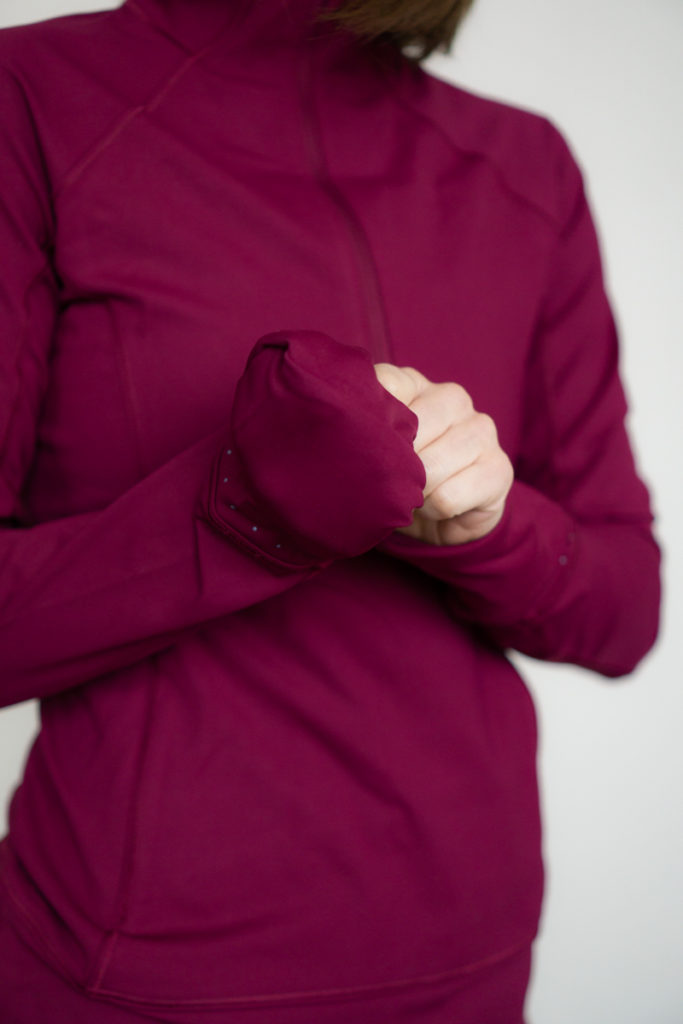 [/ezcol_1half_end]This top has quite a few nice features. There are two zip-pockets at the front. It's almost a kangaroo pocket, but it's actually two separate pockets on either side. The separation can help keep the contents of your pockets from bouncing around too much as you're moving. The pockets fit even a large a phone with room to spare. This is my only winter running top that can fit my phone, which gives me options for storage, especially as weather warms up and I don't need a jacket. The top also has thumbholes and fold-over cuffs, which is so helpful for cold weather since the cuffs can substitute for or supplement wearing gloves.
The front zipper has a protective cover at the top to prevent chafing. There's a zipper on either end for whatever your ventilation preferences are. Reflective details are pretty minimal, with just a few dots on the cuffs plus the reflective logo at the left waist.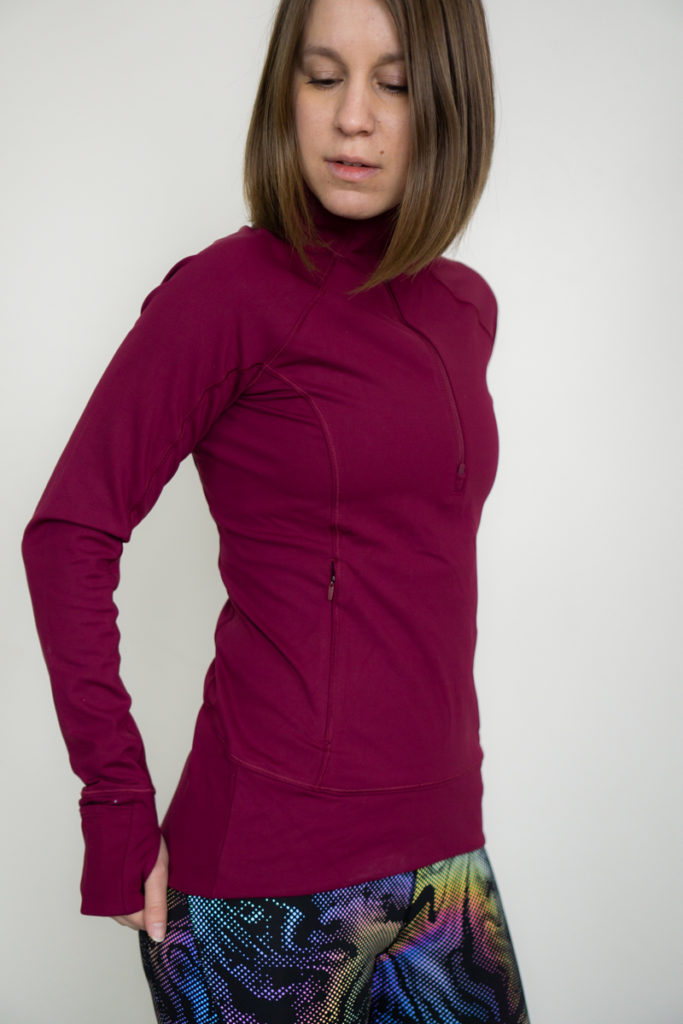 I took this top out for a test on my runs and it performed exactly as a winter training top should. A lot of winter tops are not up to the challenge of cold weather, but this one definitely meets the need. Despite a couple minor flaws, it's ultimately a great choice for cold weather training–I bought two colors. It serves well as a true winter mid-layer that can easily be layered with heavier outerwear or worn on its own.
Currently, the Whittier Peak top is available in 6 colors. All but black and white are significantly marked down, and almost all sizes are available as of this writing.
P.S. Also wearing: Athleta swirl reflective tights