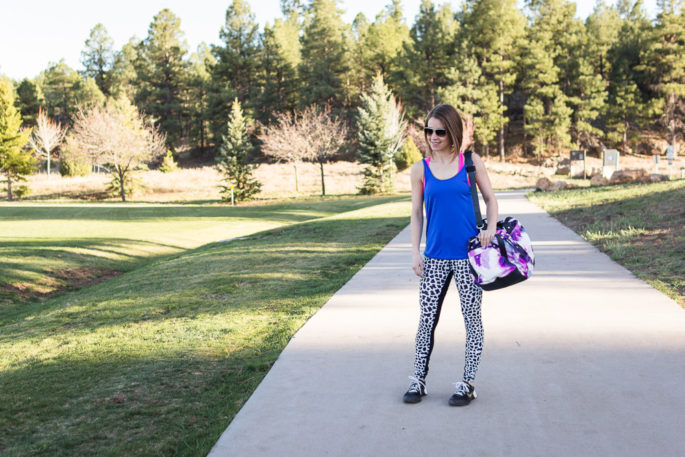 Outfit details
Splits59 devon tank – tidal blue (old style)
Lululemon energy bra – raspberry glo light
L'urv atomic kitten leggings
Lululemon urban warrior duffel – blooming pixie
Photos: Kylie Pond Photography
Most of the outfits around here lately have been a bit more low-key in the color department, so I figured it was time to punch it up with something a little more zany.
This outfit is the perfect demonstration of why I love black and white prints.  A monochrome pattern looks amazing with bright colors but still has its own special appeal.  There isn't any part of this outfit that fades into the background.  Depending on my mood, I tend to go back and forth between sleek, subtle outfits and totally playful, colorful looks.  This one definitely falls into the latter category!  I also feel like I can get a little more workout mojo out of bold, crazy outfits when I'm feeling a little sluggish.
My atomic kitten leggings have quickly become one of my most-worn styles this season.  I love the feel of the fabric and the animal print that's just wild enough.  You can read more details about them here.  I still wish they didn't have the fading issue at the bum when stretched (e.g., in a bend/squat), but I love so much else about them that I rarely think about it.
I've been a little gym bag crazy this year, and I managed to find this blooming pixie duffel for a steal on Poshmark.  My deep zinfandel weekend warrior from a couple years ago is starting to show a little wear and tear, which makes me sad since I love it so much.  I got the pixie in part so I don't have to use my WW for things like travel.  Plus, pixie is such a cute print!  I'm still bummed lulu didn't make speed shorts in it…
Happy Friday, enjoy your weekend!!