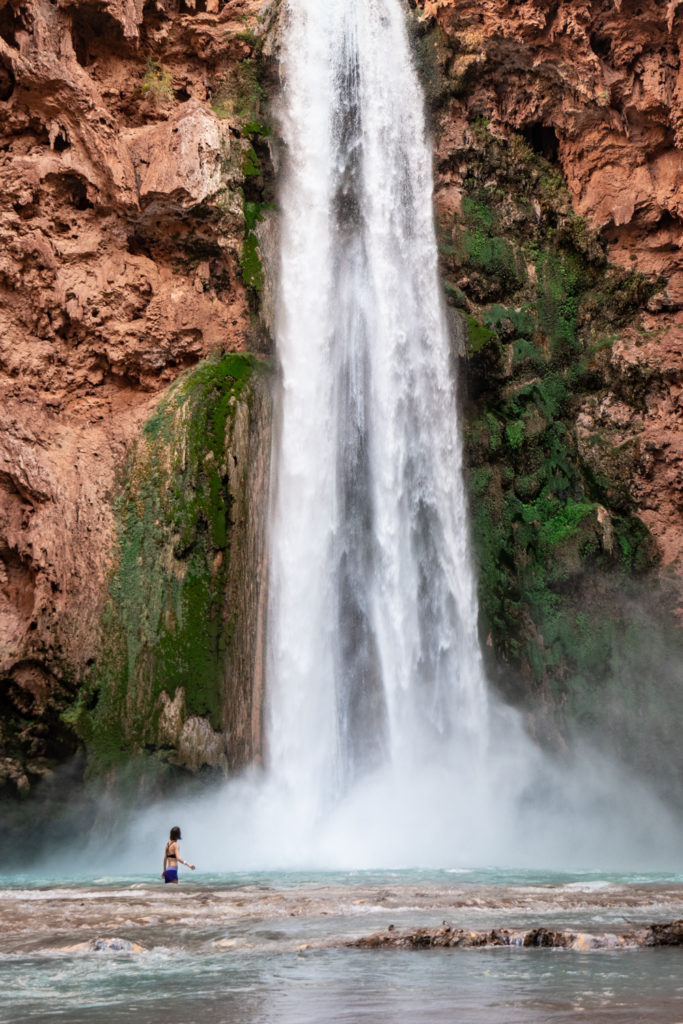 Havasupai is an incredible destination and no longer just a local northern Arizona secret.  Thanks to social media, its amazing waterfalls and beautiful waters are now a bucket list destination for travelers around the world.  Permits are incredibly competitive, so I was thrilled to snag permits during what I think is one of the best months here: October.  My trip was October 28-30.
This post covers seasonally specific info and notes from my trip.  For general info about the logistics planning a trip to Havasupai, take a look at this post.
Weather in October
October is after monsoon season has ended, so unlike the summer, the risk of flash flooding is extremely low.  October is usually a fairly dry month, with the occasional rain shower.  The day we left, rain came in the late afternoon after we had finished hiking out.
The reported average high/low in October is 79/57, but October can actually be quite variable.  You should not expect particularly hot days except in unusual circumstances.  Slightly warmer temps are possible early in the month, but there's virtually zero chance of breaking 80 degrees in the second half of October.  In fact, even breaking 70 in late October is a lucky break.  More likely, weather will be mild or even chilly.  This past October, there was a cold snap early in the month with temperatures peaking in the 50s in Supai.  Fortunately, it was slightly warmer again in the latter half of the month.
During the day of our trip, temperatures topped out in the mid 70s.  The canyon walls tower high enough that there's only sun to warm up the camp for a few hours out of the day, which is particularly noticeable in the cool fall weather.  The protection of the canyon walls also means it warms up slowly in the morning and gets cold very quickly in the evenings.
That meant at night, it dipped into the 40s or 30s.  Bring a warm sleeping bag, insulated sleeping pad, and layers for wearing around camp.  By nightfall, I was wearing full length leggings, wool socks, and a light insulated jacket.  I run cold, so I slept in a 0-degree bag with an insulated pad underneath and it was perfect for me.
Other seasonal notes
One unusual thing about Havasupai is that there are vendors (frybread huts) that set up business along the side of the trail.  Although these are probably very busy in the high season, all but one was closed by late October.  All other services such as helicopter, mule services, and the business in town all seemed to be operating normally, though.
Since the village of Supai is such a low elevation, that means that in October, you'll still see a bit of fall colors.  Arizona isn't known for its colors, but it was a nice surprise to see a couple patches of color.
One thing I love about late in the season is the beautiful fall sunsets.  As the sun sinks south for the season, it changes the character of the sky, casting a look across the canyon that's distinct from the high summer sun.
My itinerary
Day 1: hike in
We left Flagstaff somewhat early the morning of our hike and drove to the trailhead as the sun rose.  The drive was long and tedious in the groggy early hours.  We parked and got our gear situated, finally hitting the trail around 10.  There's no need to start at extremely early hours in the fall, since temperatures tend to be mild.
The hike down was smooth sailing and an overall enjoyable experience.  I know from hiking the Grand Canyon how punishing a descent can be, especially with a fully loaded pack, so I was careful to take my time to save my legs.  The weather was totally mild and perfect for hiking.  The canyon shielded us from direct sun most of the time, which kept the hike from getting too hot.
I wore my EVER Sweatflow leggings for the hike in and out.
One of the best parts of the hike in is arriving at this footbridge, where you see Havasu Creek for the first time.  The water is shallow, appearing clearer and bluer here, becoming milkier as you proceed downstream.  After a couple hours of hiking, seeing the creek gave me a big burst of energy and excitement.  The water really is mesmerizing.
We wandered up and down the campground for at least half an hour, eventually settling for a campsite about 3/4 of the way to the end across this sketchy footbridge.  Although it wouldn't exactly make my list of "best footbridges ever", I got used to it quickly.
That evening was the perfect opportunity to sit at Mooney Falls.  There was almost no one out, so I sat alone for a long while, taking a few photos, but mostly just watching and listening to the falls as the sun began to set.  I was a bit scared to go any further since I wanted to save that for the hike the next day.  In retrospect, I regret not having explored a little further down.  It would've been the perfect opportunity to get photos without the crowds.  Plus, I later discovered I had stopped well before the truly sketchy bits.
Day 2: hike to Mooney and Beaver Falls
We got a late start because I was tired from the hike before and wanted to sleep in.  By the time we got on our way, the infamous climb down Mooney Falls was slammed.  We queued for nearly an hour!  It was hard to stay patient as we would spend 10 minutes at a time barely moving.  It really made me appreciate the solitude at Mooney the evening before.
As I mentioned in my last post, the descent from Mooney requires some focus and determination, but isn't too bad.  The only really scary bit is very short.  To reiterate every Havasupai advice post ever: start early if you can!
The trail to Beaver Falls meanders alongside Havasu Creek, traveling downstream.  Thanks to recent flash floods, some of the improvised bridges for the creek crossings had washed out.  This made a couple crossings a little deeper and trickier, but still very passable.  Crossings were a bit nerve-wracking at times since I had my camera, but I escaped unscathed!
The trail isn't flat, rolling up and down all along the way.  Right before you reach Beaver Falls, there are even some ladders that climb up and down some particularly steep and rocky sections.
The falls were one of the busier areas of the hike, but not too crowded.  Quite a few people lingered or swam in the water, including us.  The weather was just warm enough for me to tolerate getting in the water for a few photos.  That said, it was NOT warm; I made a beeline back to dry land as soon as I had the photos I wanted.  The water temperature is slightly cool year round, about 72.  I'm sure this temperature is very refreshing on hot days, but on a milder shoulder season day, it's more appealing just to look at.
The hike back to the bottom of Mooney took about an hour and a half.  Almost no one was getting in the water at Mooney, so I didn't have to wait to get plenty of good photos with just me in the frame.
I opted against packing a bathing suit and instead opted for more versatile, hiking-friendly clothing.  I wore my lululemon free to be serene bra and a pair of speed shorts (newer version linked) since they're both lightweight, quick-drying, and comfortable for hikes.
By the time we returned to camp, we still had quite a bit of daylight left.  After refueling and changing clothes for the cooling weather, we hiked up the hill to Navajo Falls.  In the evenings, I liked to wear my Athleta elation tights for a longer layer and an older insulated lululemon jacket.
We didn't have a ton of luck exploring the Navajo Falls area, so we didn't stay long.  On the way back, we stopped at a frybread hut and I slathered mine with Nutella.  The fresh, hot, calorie-dense food was soooooo tasty and satisfying after a very active couple of days.
Before heading back to camp, we descended to Havasu Falls, talking and taking photos til we completely lost the light.
Day 3: hike out
We had originally planned to stay for 3 nights and use the extra day to hike to the confluence.  That said, the hike to Beaver Falls was not the easy cruise I expected.  The idea of doing that section again plus another 10+ miles was a tall order.  After getting some hot spots from my hiking sandals, I didn't trust my gear not to make me miserable.
We elected to cut things short by a day and hike out.  We started getting ready around when the sun came up, and made it out of camp around 8:30.  Since the weather continued to be mild, the hike was pleasant almost the entire time.  The only crappy part was the last hour and a half.  We ascended the final grueling switchbacks in full sun.  I sweat more in the last hour than the entire trip.  Although the heat wasn't ideal, it was manageable since it didn't last too long.
Overall, we had a very positive experience in Havasupai.  October is a great month to visit, especially if you're not a fan of the heat.