Marble has been having quite the fashion moment of late.  The simple but oh-so-luxe look is pretty much everywhere these days.  So, it was inevitable that a marble print made its way onto a gym bag.  I'll admit I'm pretty much head over heels for the marble trend, so the sight of this boxing bag by Balsa 201 was pretty much giving me heart palpitations.
Prior to ordering this one, my go-to gym bag had been my weekend warrior duffel from lululemon.  While I love to use that bag for travel (and for packing for photoshoots!), it's a bit too large for everyday gym use.  When I hit the gym after work, all I need is a change of clothes and a handful of accessories, so I was looking for an alternative bag that was a little bit smaller but still undeniably stylish.  Here's what I thought of Balsa's bag.
The boxing bag is a bit smaller than your usual duffel.  It's too small for me to use as a bag for a weekend trip, but would be large enough as an overnight bag for me.  It will fit approximately 2-3 changes of clothes, a pair of gym shoes, and a smattering of smaller workout accoutrements.  It's more the size of an oversized purse, rather than a duffel.  According to the measurements provided, this bag has almost exactly 50% of the volume versus my lululemon weekend warrior (17.0 liter capacity vs 33.7 liters, if you wanted to know).
Despite the fact that this bag is predominately white, the marble pattern is actually decent for hiding small marks.  The polyester material feels thick and sturdy, and would wipe clean easily.  The black accents are faux leather.  When I was debating between this bag and a similar tote from Bandier, a helpful commenter pointed out that the black bottom would be better for keeping the bag clean.  Considering my bag usually ends up on the less-than-pristine floor of my CrossFit gym, I decided that she was totally right, and the extra layer of protection was a big plus for my purposes.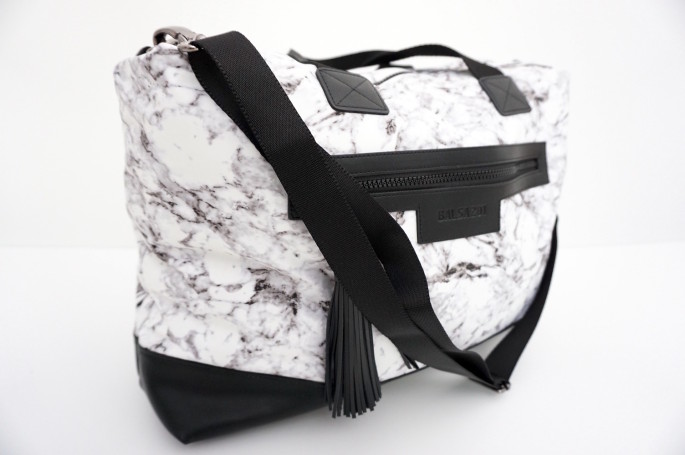 The bag has the option to use the short shoulder straps or clip on the longer, adjustable crossbody strap.
On the inside, there are two slit pockets on one side and one zip pocket on the other.  Unfortunately, none of these pockets are very large.  Even my jump rope is a tight squeeze into the zip pocket.  The inner pockets are best for wrangling small accessories like headbands, sunglasses, deodorant, etc.
The outer zip pocket is the largest pocket.  It's about the height of my iPhone, as you can see in the above photo.  The little tassel is one of my favorite details, and the pewter hardware detail is a lovely accent as well.
Unfortunately, this bag fell a bit short in terms of organization options.  Yes, it does have 4 pockets, which is more than some bags.  However, my lululemon bags pretty much blow this one out of the water in storage, since they have both more pockets and a better mix of small and large pockets.  If this bag had an additional large zip pocket on the inside, I would be much happier.  Instead, all 4 of the pockets are somewhat similar in size.  Also, there is no shoe bag, which is a bit of a let down considering the premium price.
Still, this bag has such a lovely, unique style.  I love the fusion of sporty, chic, and sophisticated.  At $196, it's admittedly not the best value.  If you're looking for a bag with maximum functionality and organization, you might not be happy with this one.  But considering I just toss in a change of clothes before I head out to work, its shortcomings are still workable for me.  I've been using it for a couple of weeks and it's been a great size for me.  And I absolutely love marble, so at the end of the day, I kept this one.
Shop Balsa
Marble shopper bag set – Carbon38
Marble boxing bag – Hemm (Canadian stockist)