With the year winding down, that means it's time for one of my favorite posts of the year: the best workout clothes (and accessories!) of 2016!  I had a lot of fun putting together my 2015 activewear hall of fame post, so I'm continuing the tradition this year.
Some important factors I considered are overall design fit, quality, and price.  But probably the most important thing when choosing the items on this list is what I wear the most.  This is the true test for me, since sometimes I like an item initially, but then fall out of love and never take it out of my closet.  All the styles on this list have stood the test of time.
Without further ado, here are my absolute favorites this year, in no particular order.
Koral mystic capris
These are some of the softest, most luscious leggings my legs have ever had the privilege of wearing.  The fabric is thick and opaque, but incredibly cushy and flexible.  The length hits at a perfectly flattering length on me and the fit is perfect on me.  The simple but chic look make these a wardrobe workhorse for all 4 seasons.  And at $85, these are a lot cheaper than a lot of comparable high-end leggings out there.  Worth every penny.
Alala city puffer jacket
I loved this jacket so much I bought both colors.  It's pretty rare that I buy multiple colors for anything other than the most basic pieces (especially at this price!), so this is a sure sign this jacket is something special.  I reach for this jacket almost every single day before I head out for work, errands, or the gym.  It's warm, stylish, and incredibly practical.  The city puffer is now my go-to winter jacket for just about everything.  Between black and silver, I have a slight bias toward the silver, since the color is more unusual.  But, I wear the black just as often, so you really can't go wrong!
P.S. Use code AA15 for 15% off at Alala.
Nike metcon 2 in black/bronze
I bought 3 pairs of metcons this year, but these came out on top.  They're incredibly sleek, and the metallic details bring that touch of luxe.  Metcons are a fantastic shoe for those who need a firm platform for lifting, but still want adequate support for other cross-training movements.  They have just the right amount of support without being too squishy nor too hard, and they're easy on the eyes to boot.  These are the shoes I reach for almost every time I head out to the gym.
Besides the metallic details, I love the bronze/rose gold design for its the sleek black upper and the creamy white contrast.  Although I love all 3 of my metallic metcons, I like these a little better than my custom black and gold metcons since these have more metallic details on them (which wasn't an option when I customized mine).  I also like them a tad better than my white and silver pair because these are a little more practical since they aren't white.
Sweaty Betty lava print power leggings
The power leggings were Sweaty Betty's hot legging of the season, and for good reason.  The 7/8 length is flattering for just about any height, and I love the bright colors of the lava print.  The fabric is thick and soft; it feels great against the skin.  These leggings are ideal for just about any workout you like.  Although I received these as a gift from Sweaty Betty, I would've had no problem paying full price.
Lava print is no longer available, but you can find black power leggings here →
Werkshop tentacle crops
I don't think I've ever been out in these without getting comments.  Werkshop consistently delivers incredibly high quality fabric and a great fit.  The tentacle design is unique, playful, and just a little bit edgy without going totally into crazy prints land (although I've been known to venture into crazy prints land, ahem).  The neutral color scheme also means they're versatile enough to wear with anything.  If you're uncertain about loud, bold prints, the neutral palette and comparatively simple design make these a nice compromise.
Persu Collection Jessica bag
This well-designed duffel has quickly established itself as my go-to gym bag.  It's full of thoughtful features like a washable zip liner, two shoe bags, and an expandable water bottle pocket.  This is easily one of the most functional gym bags on the market, and the design looks great, too.  In the ~6 months I've been using it, it hasn't shown any signs of wear, so I have high hopes about its longevity, too.
Do Lyfe black and white leggings
These leggings make the list for being one of the best values of the year.  Even though they're only $54, these hold their own against tights that are twice the price.  The fabric is opaque and comfortable, and the design is flattering as well as functional.  Although I was gifted this pair of leggings, I still think they're well worth full price.
Lululemon dottie tribe speed shorts
Speed shorts were the first lululemon item I fell in love with, and every year I add a few pairs to my stash.  The dottie tribes were a standout this year.  The fit on me was perfect, and the black and white pattern strikes just the right balance of feminine and sleek.  I wore them on repeat all summer.  This pattern was one of the more underrated speed shorts of the year as far as I'm concerned.
Although dottie tribe has sold out, current colors of speed shorts are here →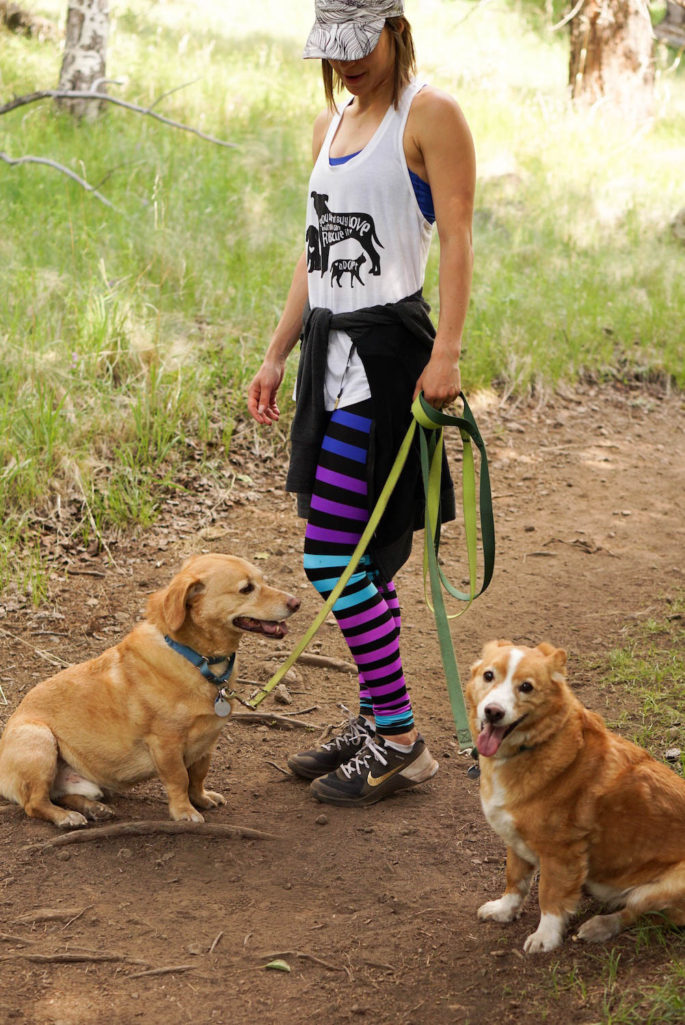 K-Deer Jamie stripe leggings
I got my first pair of K-Deer stripes early this year and fell in love.  My collection quickly blew up to about 5 pairs of stripes!  The Jamies win the prize for this year's favorite pair.  I wear lots of blues, purples, pinks, and teals, so this color scheme was love at first sight.  Putting on this pair never fails to perk up my mood, not to mention bring out some comments, too.
Alala liquid captain tights
Alala's liquid leggings are ridiculously sleek and so flattering, too.  The captain design has a way of visually lengthening my not-so-long legs, which I always appreciate.  Although the shine fabric doesn't have as much stretch as normal fabrics, it still feels flexible, breathable, and comfortable.  The black were a gift from Alala, but I liked them so much that I couldn't resist buying a pair in burgundy, too.
What made your best of 2016 list?