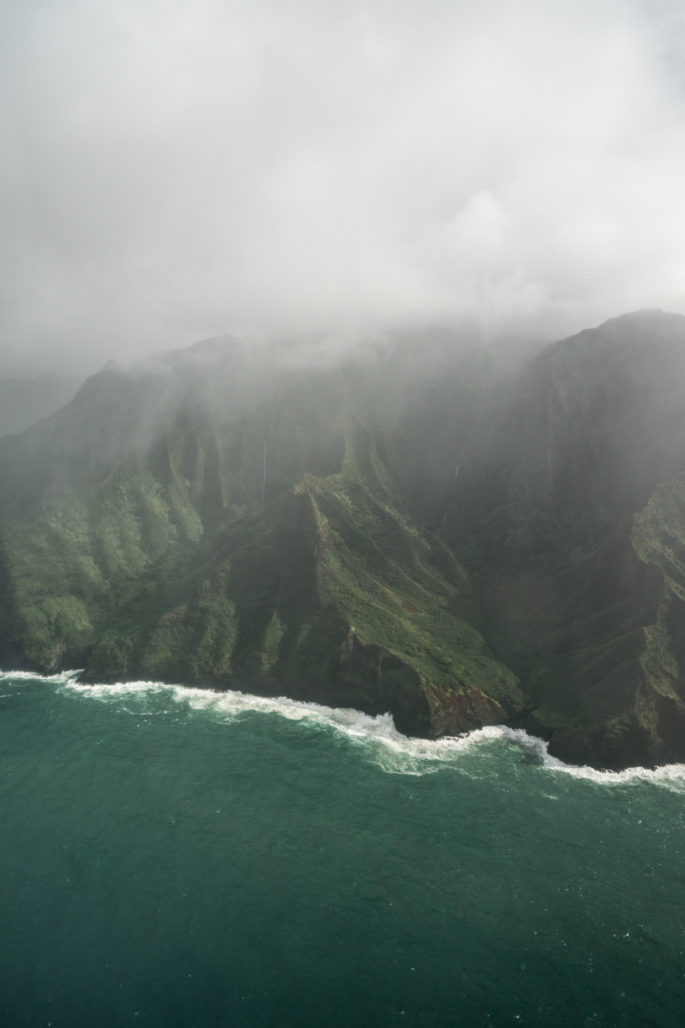 About half of my time in Kauai was spent backpacking the Na Pali coast, but when I wasn't there, I spent a good bit of time touristing around the rest of the island.  We didn't manage any other hikes during the trip partially because we were pretty beat up from Kalalau, and partially because weather wasn't on our side.  Here's the things to do and see that made the top of my list.
[ezcol_1half]
[/ezcol_1half] [ezcol_1half_end]
[/ezcol_1half_end]
Kauai Juice Co
File this one under one of Kauai's most Instagrammable stops that isn't the views.  They have 3 locations around the island, so no matter where you're staying, you're probably not too far from one.  I stopped for a juice refill at virtually every opportunity.  Their juices are pricey (about $10 a bottle), but if you're looking for a more economical option, their kombuchas on tap are delicious and much less expensive.  If they have the dragonfruit kombucha on tap, give it a try.  It's delicious and a beautiful color (it's the fluorescent pink bottle above), which totally makes it taste better. ;)
I tried a bunch of different juices, but my favorite was the Omega This, hands down.  On our way to the airport, I bought another bottle and transferred it into my S'well bottle as one last hurrah.  Yummm.
Kilauea Lighthouse
The lighthouse was a short jaunt but provided some beautiful views of the north shore coastline.  If you have an America the Beautiful pass, this is the one place on the island where you can use it and save yourself a little $$ (admission is normally $5 per person).  It's a small area and there isn't much to do aside from walk around and read a few exhibit signs, but the views make it worth a stop.  Be sure to stop at the juice shop (see above) on the way out. ;)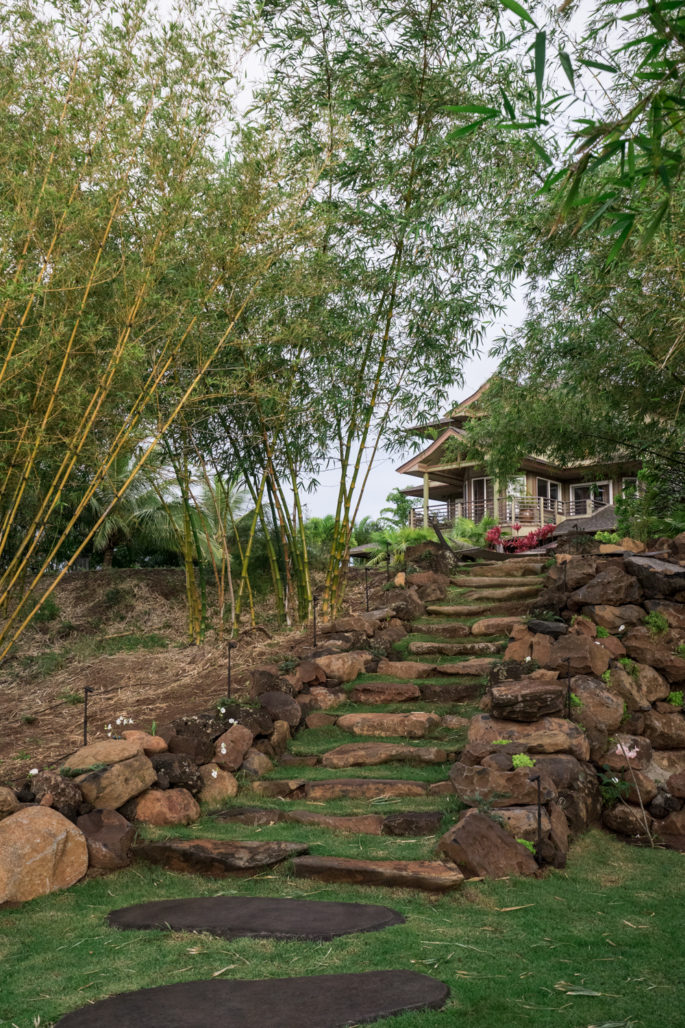 Staying at the Palmwood
I don't remember how I found the Palmwood, but I'm so glad I did.  It's nestled away in a quiet neighborhood on the northeast corner of the island, perched atop a hill and surrounded by lush green forest.  I was looking for something other than the typical resort vibe, and the Palmwood fit the bill perfectly.
The rooms are beautifully styled with strong Japanese influences.  We stayed in the east room, which was stocked with thoughtful extras like a guidebook and hot-tub-friendly wine glasses.  It had its own private entrance, outdoor shower, patio for lounging, and hot tub.  We barely saw anyone during our stay.
To top it off, you can expect an incredibly delicious, house-made breakfast each morning.  We were only here for a couple of nights, but I would've been more than happy to stay much longer.
More Food!
We stopped at Tiki Tacos right after we got off the plane.  It's an unassuming, inexpensive shop not too far from the airport, but oh man was it delicious, especially after spending all day in airports.
If you're the kind of person who loves the fruit + meat combo, you will find delicious food aplenty.  Another example of that: Puka Dog.  It's a simple hot dog stand with just a few options.  Don't expect gourmet, but do expect a delicious Hawaiian spin on classic American junk food.
While we were on the south side, we made quite a few visits to Lappert's.  Besides downright delicious ice cream, they have a drool-worthy array of pastries.  If you go late at night, the pastries are discounted.  Grab a discount pastry and you've got breakfast for the morning!
Kenji Burger was our first stop after getting off the Kalalau Trail.  It was an incredibly satisfying and flavorful burger without being too greasy.  Just what I needed after a few days off the grid.  Try their furikake fries–a unique and very tasty take on loaded fries.
Waimea Canyon
Waimea is famously called the "Grand Canyon of the Pacific", so being from Arizona, obviously I had to see how it compared.  The colors of Waimea are absolutely striking.  Spotting waterfalls flowing down the canyon walls is another thing you won't find much of in Arizona.
If you've been to Arizona's Grand Canyon, Waimea is much, much smaller in depth, length, and overall area.  It's a relatively small area, but as photos demonstrate, it's plenty to feast your eyes on.
There are a few viewpoints along the road where you can check out the views, and a few short trails sprinkled around if you'd like to spend extra time exploring the canyon.
We also kept driving up the road toward some viewpoints overlooking Na Pali, but unfortunately we got rained out both times and couldn't see much.
Helicopter Flight
I saved the best for last.  I'd heard from quite a few places that a heli tour is one of the best things to do in Kauai, and I have to agree.  The flights are pretty expensive considering they're only about an hour, but it was definitely worth it!
We actually hadn't been planning a heli tour–it was totally spontaneous.  We booked our tour with Blue Hawaiian about 4 hours in advance.  One thing I appreciated about Blue Hawaiian (or our pilot at the very least) is that they kept a nice distance from the hiking trails.  Having just spent 4 days on Kalalau Trail listening to the constant whir of helicopters from sunrise to sunset, it was nice to know that our pilot wasn't adding to that.  Blue Hawaiian had great reviews, and I have to agree with them.  They were very professional start to finish.  They definitely get my recommendation.
I hadn't been on a helicopter before, but it was smoother than I expected.  We were lucky enough to have beautifully clear weather, aside from a few rainy patches scattered across the island.  The variations in weather only made the tour more visually interesting.
I spent virtually the entire flight looking through my viewfinder to the point where I made myself a little nauseated, but the photos I captured were 100% worth feeling temporarily queasy.
[ezcol_1half]
[/ezcol_1half] [ezcol_1half_end]
[/ezcol_1half_end]We soared past new sights as well as familiar views from unfamiliar angles.
[ezcol_1half]
[/ezcol_1half] [ezcol_1half_end]
[/ezcol_1half_end]We got to see Kalalau Beach from the air, our temporary home just a few nights before.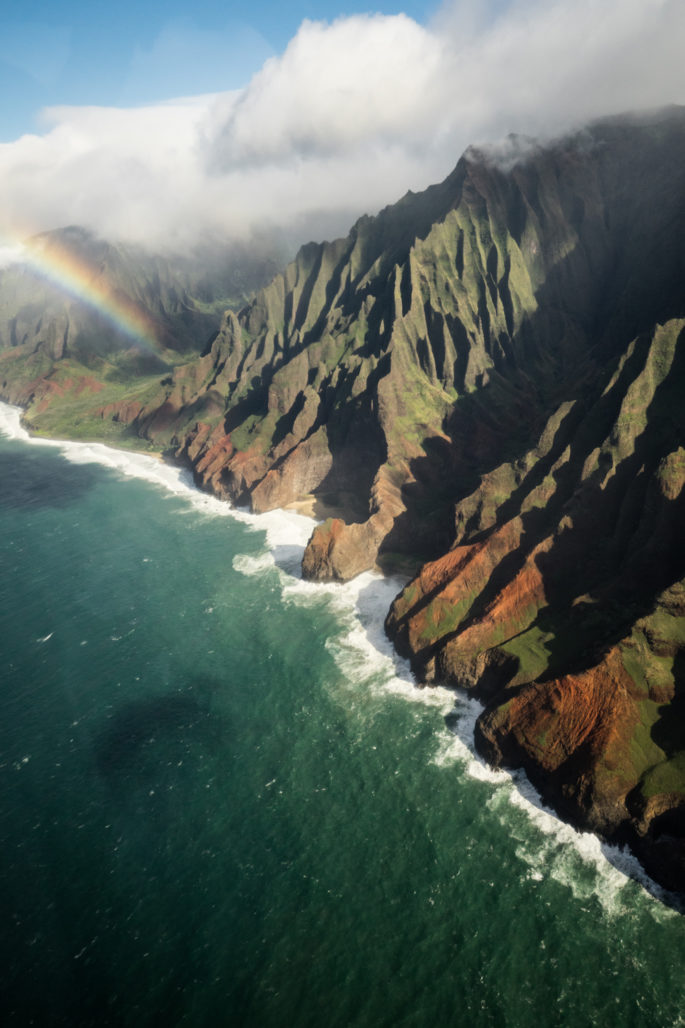 The view of Honopu Beach was my absolute favorite.  It looks every bit as beautiful as in photos.  I was so glad I got to see it before leaving the island.
If I go back to Kauai, I'd definitely take a sailboat and/or kayaks along the Na Pali coast, too.
[ezcol_1half]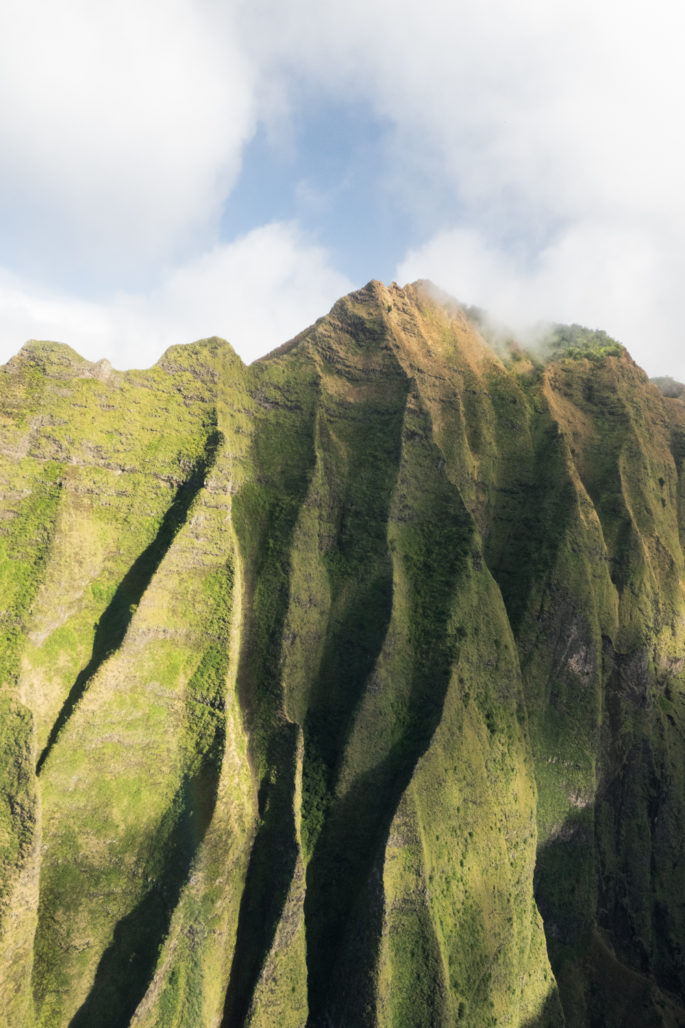 [/ezcol_1half] [ezcol_1half_end]
[/ezcol_1half_end][ezcol_1half]
[/ezcol_1half] [ezcol_1half_end]
[/ezcol_1half_end]
Quick tips for heli tours: wear dark colors and long sleeves to prevent your reflection from showing up in the window and getting in your photos.  If you're using a DSLR, be sure to bring a polarizing filter for your lens, it makes all the difference for glare!