Sale time has come around again! Y'all know the drill! I've included a summary of brands' Black Friday and Cyber Week deals below, plus a couple of my top picks at the end of the post. With supply chains a bit topsy turvy, you may want to place orders earlier than later to avoid the dreaded "out of stock" notice. I will update this post periodically over the next few days as sales are updated.
Of note: this isn't a sale per se, but this year industry-leading cash-back site Rakuten is running an unusually high deal. With my referral link, new Rakuten members can score a $40 bonus (normally it's $25). If you're not familiar, anytime you shop through supported retailers, you can get a percent of your order value as cash back. This works by Rakuten negotiating affiliate deals with the retailer. Basically, the brand pays Rakuten a "commission", and Rakuten passes some of that commission onto the user. You can join Rakuten here.
Have a very happy Thanskgiving to all of my readers who are celebrating!!
Alala | buy more save more: 30-50% off | code: BLACKOUT
Alo Yoga | 20% off sitewide and up to 70% off select styles
Athleta | 20% off sitewide
Bandier | 30% off sitewide
Caraa Sport | 20% off sitewide | code: GIFTED
Carbon38 | 30% off sitewide + daily deals at deeper discounts | code: ENJOY30
Girlfriend Collective | 30% off sitewide
Glyder | 40% off sitewide | code: BF40
K-Deer | 30% off your order | code: BF30
Lululemon | select styles on sale
Outdoor Voices | 25% off sitewide
SheFit | 30% off sitewide | code: 30FORYOU
Splits59 | 30% off sitewide
Sweaty Betty | 25% off sitewide | code: CHEERS
Tracksmith | receive a discount code for your next purchase
Werkshop | buy more save more: 20-30% off sitewide | codes: HOLIDAZE / HOLIDAZE30
My Picks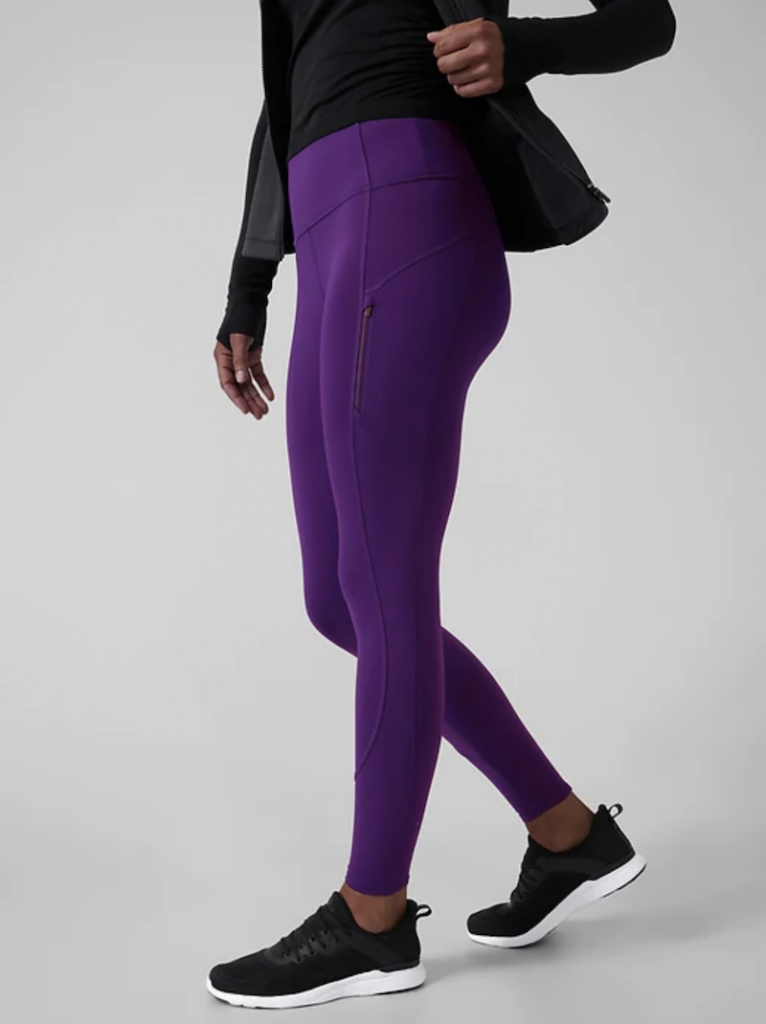 I'm picking up my third pair of these in the gorgeous shade of basalt violet. These tights perform best in cold, but not frigid temps (for me, that means 35-50 F or so). Read the full review for fit/function details.
Athleta altitude Polartec tight
A step up from the Rainier tight, Athleta's Polartec tights are ridiculously warm. I can wear mine comfortably for runs/hikes in temps in the 20s with no sunshine.
Lululemon free to be elevated bra
It's incredibly difficult to find cute bras for small bands and large cups. This one fits the bill. Lucky for me, it's not very popular, because even the best colors usually end up on sale. Snagging the gorgeous maldives green version today. Read the full review here.
SheFit is my ride-or-die for running. They are the most supportive bras I've ever owned! They also stay supportive for a long time because of the adjustability, making the lifespan longer than most sports bras. I have about 8 of them. Markdowns are hard to come by from this brand, so now is the perfect time to scoop one up. I wrote a review on both this one and the flex bra here.
Honestly? It would be difficult to overstate my obsession with Tracksmith's running tops. I haven't tried the downeaster yet, so I'm gonna scoop one up, get a discount code, and then snag a fells waffle crew and another brighton base layer with the code.