Arizona has got to be one of the most misunderstood states in the US.  When most people picture Arizona, they picture something like Phoenix: lumpy, dry, brown, and unbearably hot.  I get comments all the time about how it must be nice that it's warm all the time, or some other off-hand comment about being in the desert.  That couldn't be further from the truth.  Today's post will take you on a little tour all the way up to the frozen alpine tundra.  Yes, the tundra in Arizona.
Mt Humphreys is the highest point in the state of Arizona, rising up to 12,633 feet above sea level.  It's part of the San Francisco Peaks, a small cluster of mountains that used to be volcanic about 2 million years ago.  Getting to the top of Humphreys is a definite Arizona bucket list item, especially for me, since it's basically in my back yard.  It's the perfect hike for someone (like me!) who wants a somewhat challenging hike to the top of a big mountain, but doesn't have any technical mountaineering experience.  It's one of the more popular hikes in the area, as evidenced by the fact that we still had plenty of company on the trail even on a day with less-than-stellar weather.
The most direct route to the Humphreys summit is to take Humphreys Trail.  You drive a few miles outside of town to the trailhead, which starts you off at about 9,300 feet (keep in mind, the city of Flagstaff is already elevated about 7,000 feet).  The trail is a little under 10 miles round trip, and gains over 3000 feet in elevation.
We started our hike early, arriving at the trailhead around 6:30 AM.  It's still monsoon season here in northern AZ, which means rain and possible thunderstorms in the afternoons.  Believe me, the LAST place you want to be during a storm is at the top of a barren mountain, lest you want to become a human lightning rod.  By starting early, we'd be in and out before any potential storms rolled in.
Setting off on our hike, we walked for just a few minutes through a meadow filled with wildflowers backed by sweeping views.  I assume this area was cleared for the purposes of the ski resort that's situated right by the trailhead.
We reached the edge of the forest pretty abruptly, and the scenery transformed into a dense wonderland of spruces, firs, aspens, rocks, and green brush.  I absolutely love forests, and this was no exception.  It was so lovely and serene.
For the first half of the hike, the climb wasn't too bad.  Rather than huffing and puffing up punishing switchbacks, the ascent was more gradual, and it wasn't too noticeable that I was chipping away at the long climb.  I could keep up a steady pace with almost no breaks.
As you work your way up and back around the mountain, you get the occasional glimpse through the trees of the landscape that falls away beneath you.
3 miles in, you reach a saddle point (the first of several false summits).  Tremendous views stretch out in both directions (because, well, it's a saddle point).  You're now about 11,800 feet up, and you've pretty much cleared the tree line.  It's a great stopping point for a snack, some pictures, and a little rest.  This point also connects with a couple of other trails.
After the saddle point, the trail starts to get rockier and rockier as the environment transitions from conifer forest to alpine tundra.
As you move closer to the summit, there are so many rocks that at many points, the trail isn't clear and has to be marked by guideposts.  The mixture of dirt and rock also makes the trail very loose, so regardless of whether you're traversing a large rock or the dirt trail, you have to be careful not to slide or turn an ankle (especially on the way back down).
At this point, I'm really feeling the elevation.  Although my body is adapted to living at 7000 ft, which has about 78% of the availability of oxygen compared to sea level, that drops to only about 65% at 12,000 feet.  I took it slow, and paused for short rests at the faintest sign of light-headedness.  I've been slightly altitude sick before, and that was definitely not something I wanted to repeat here.
It was also cold.  Real freakin' cold.
In the last half mile or so, clouds swirled around, shrouding the trail ahead.  It was both menacing and magical.  I was actually glad the weather wasn't sunny and clear; hiking through the cloudy, grey weather over barren, rocky tundra was an indescribably surreal and unique experience.  Here you can also see one of the only signs of life in this alpine tundra: the San Francisco Peaks groundsel, an endangered species with quaint little yellow flowers springing up among the ancient volcanic debris.
Like the rest of the hike, the summit wasn't your average summit experience.  A low cloud completely obscured the view on the north side of the mountain.  By the way, ever stood in a cloud?  It must've been, I don't know, 20 or 30 degrees?  There's a reason I went for full-length bottoms and a winter weight top…
I snapped the obligatory pics and re-fueled with another snack, but we didn't linger at the summit for long.  There wasn't much to see, and the cold got pretty uncomfortable pretty fast.  I was so grateful for my thumbholes and cuffins on my pullover.  Since I only needed them for a few minutes here and there, they were the perfect substitute for gloves.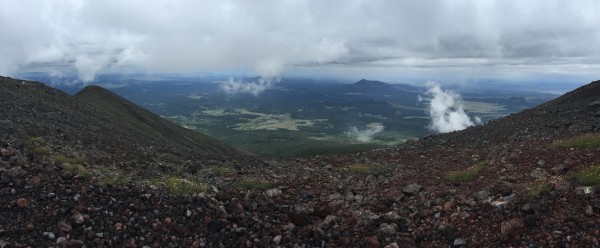 Shortly after leaving the summit, a couple breaks in the clouds revealed some clearer vistas.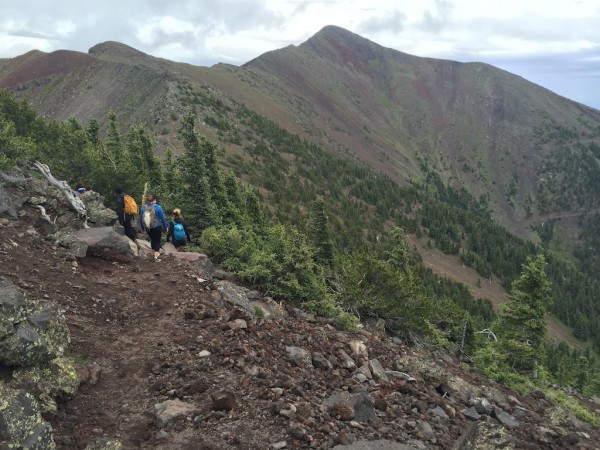 We trekked our way back toward the forest, making good time.  Despite slowing considerably on the last bits of the ascent, I felt refreshed and much better going down.  All told, it took us 5.5 hours round trip.
Overall, this was definitely one of the more memorable hikes I've done, and one I would certainly repeat.  The elevation gain and total elevation make this hike pretty strenuous for a day hike, and the unsteady terrain near the top make this best suited for those who are at least somewhat experienced hikers (or who are with someone who is).  If you take it slow, it's doable for those who aren't necessarily all that fit.  I wouldn't recommend this hike for families with young children.  It's especially important on this hike to be cognizant of the whole altitude issue and not be afraid to take ample rest as needed, since again, altitude sickness sucks and is a very real concern.  For those who are less experienced, aren't so sure-footed, are with children, or don't want something quite as extreme, hiking to the saddle point and back is a great destination and worthwhile trek that still delivers amazing views and soaring heights.
P.S. I wore:
Lululemon race your pace 1/2 zip – coco pique/black
Vie Active rockell tights – blue satellite orchid
Osprey tempest 9 – tourmaline green