As I promised in my cold weather tops rundown, I'm back with the bottom half of my cold weather gear investigating.  I plan to continue testing more cold weather styles as winter wears on (including some of lululemon's recent releases), so these first two posts are just a start!  Keep your eye out.
This post features a lot of pockets, so for reference, the phone I'm using in these photos is my iPhone 7.
Patagonia Borderless Tights
The fabric on these pants feels quite cozy.  It's plush and just slightly fleecy, but still maintains a nice stretch.  I'd classify these as medium thermal weight: noticeably warm but not heavy duty.
They feature somewhat shallow side slash pockets that fit most of my phone, but not the entire thing.  The pocket goes down to the point you can see in the photo.
Another unusual note is that the hem is not sewn, but bonded instead, which made the ankles a bit tight going around my heels.
These are one of the few tights I've seen that have an actual drawstring on the inside.  Most drawstrings like this are placed on the outside, and most inner drawstrings are infinite drawcords.  This drawstring is a bit bulky.  I'm not a huge fan of this feature since it could've easily been done differently.
These tights have a noticeably lower rise than any other tights featured here.  The rise is medium on these, similar to a standard, non-high-rise pair of leggings.  Normally, a higher rise is advantageous for cold weather because that extra inch or two goes a long way toward warming your core.
Unfortunately, I had two main problems with these tights.
First: sizing.  I purchased these in an XS and they are most definitely too big.  They feel like they're sliding off me as soon as I take a step.  As a slight aside, in general, I find traditional outdoor brands don't fit me at all, which is a big reason I choose to wear active fashion brands for my outdoor endeavors.
The second problem: these are sheer in a bend.  Considering these fit big on me, sheerness would likely be even more obvious if they were fitted.
Although the fabric felt nice, this pair was a definite return.
Oiselle Flyout Tights
The only cold weather run tights that seem to be available this season is black, black, and more black, so I was excited to find a pair in a nice blue.  This color, curfew, looks like a true blue on the website, but in real life it has a very slight teal tone to it.  Although these are made with Polartec, they are actually not fleecy.  They're quite thick and feel warm, but don't have the usual cozy, fuzzy feel you might be used to.
Note that even though Oiselle follows a 2-12 sizing scheme, their size 2 is not necessarily the same as a lululemon size 2.  A Oiselle 2 is billed as equivalent to XS, not XXS.  Obviously I can't speak from experience for the other sizes, but don't assume you will take the same size in Oiselle as you do in lululemon just because the numbers are the same.
I would say these size 2 Oiselle tights fit in between a 2 and 4 in lululemon.  They're not quite as much of a dead-on fit as lulu's tights (as you can see in the photos, these tights have a few wrinkly areas), but they're pretty darn close.
The fabric is a tight weave and moderately compressive.  They're not sheer at all, even in a full squat.  Generously sized thigh pockets on either side fit my phone easily.
The design has a wide waistband that fits high, just a little below the belly button.  If you look closely, you'll see that the hem features a high-low design, with the back scooping down a little lower toward the heel.  The length is actually fairly short, which may be a bad thing for tall ladies, since you don't want to bare your ankles in freezing weather.  I'm only 5'3″, and I barely have any of the usual scrunching at the hem.  There are also no reflective details on these if that is important to you.
I decided to keep these.  They're something different from my usual repertoire and should come in handy this winter.  We'll see how they hold up as I put them through the paces.
Oiselle Pocket Jogger Tights
Technically, these aren't cold weather tights, but since they're full length running tights, I decided to throw them in with my recent Oiselle order (and this post).
The pocket jogger tights are made of a slick, moderately compressive running fabric.  The fabric has a bit of a sheen to it as you can see.  Like the pair of Oiselles above, these are also a size 2.  These pants fit slightly tighter than the flyouts.  The size 2 pocket jogger is pretty close to a lulu 2 (or a size XXS).
The big selling point on these pants, as the name suggests, is the many pockets.
The first is a large zip pocket on the wide waistband.  It fits an entire phone inside easily. (Side note: for some reason the gusset comes up quite high up the back on these pants, which you can see in this photo.)
You can also put your phone or other goods in the mesh overlay pocket at the sides of the waistband.  There's one of these on both sides.
Lastly, you've got your slit thigh pocket, which also fits my entire phone inside.  Note that there is only a thigh pocket on the right side.  If you're a leftie, you might not find these particularly ergonomic.
The tights also feature reflective dot detailing at the waistband, right thigh pocket, and left lower leg.  I was concerned the decorative seaming might be uncomfortable, but it actually feels just fine.  They're a high rise fit, landing just below the belly button (same rise as the flyout tights).
Unfortunately, they're see-through in a bend.  Yes, these are running tights, and running doesn't generally involve a lot of squatting and bending.  However, if I'm stretching by my car after a run or squatting down to get something out of my backpack, I'd rather avoid any embarrassing moments.  I decided to return this pair.
And now back to your regularly scheduled thermal programming…
Athleta Radiant Grid High Traverse Tights
These tights fit true to size.  I purchased a size XXS and they fit quite well.  The fit is smooth and flattering across the hips and thighs, and they're fully opaque in a bend.  The material is slick on the outside but slightly fleecy on the inside.  They're only a tiny bit bulkier than your standard tights, but noticeably cozier and warmer.  These would be best for moderately cold temperatures, but not severe cold unless you used these as a base with another pair on top.
As the name suggest, these are a high rise that hit right at the bottom of my belly button.
With these tights, you have the option for not one but two side pockets on both legs: a slash pocket and a zip.  Both are generous, full-sized pockets.  They do sit right on top of each other, so if you're carrying anything thick, using both at the same time would get bulky fast.  Both pockets fit my phone easily.  In the first photo, I'm pointing to my phone, which is totally inside the slash pocket.  The zip pocket also goes down all the way to the lower seam.
One downside is that you'll notice the side slit pockets do pucker out a little bit.  This is a very small gripe, but something that might bother some people, so it's worth pointing out.
In addition to the prominent grid pattern reflectivity, there's also a small stripe of reflective material on the lower leg.  You can't really see it on me since there's a lot of scrunching in that area.
These are a solid pair of tights that definitely get the job done.  Although these were mostly a thumbs up for me, I decided to return these in favor of keeping the sculptek thermals below.  After all, there are only so many black thermal leggings a girl needs, so I didn't want to keep both.  If these were available in another color I liked (purple? blue?), I would probably buy them.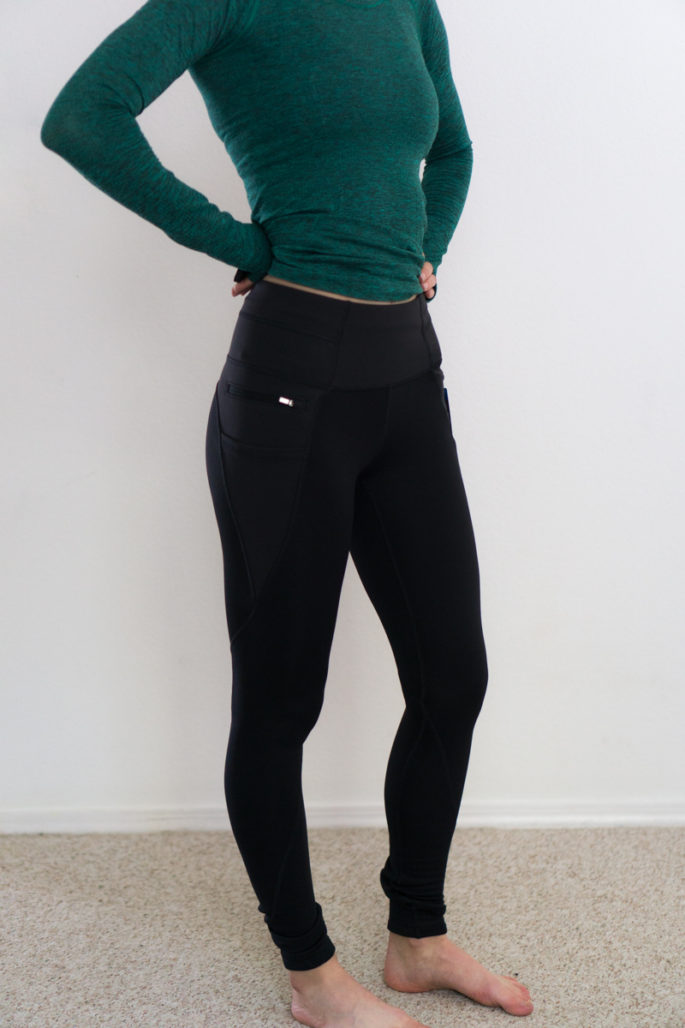 Athleta Sculptek Polartec Tights
As above, I purchased size XXS.  They fit mostly true to size with a firm fit, with the exception of the waist, which runs a bit tight.  I had to shimmy them over my hips a bit, and the waist still feels firm (though not pinchy) once on.  If you need more room in the waist, you may need to size up.  In my opinion, the fit and fabric makes these the most flattering tights on the list.  The thicker material holds everything in, does not cling and, true to its name, creates a nicely sculpted look.  Note there is no reflectivity on these pants, so if you are a night runner, you'll need something else to keep you visible.
The material has a little bit less flexibility to it compared to the traverse tights above, but it's still stretchy enough for exercise.  It feels a bit more plush and "spongy", and the outside is not quite as slick.
But let me tell you, if you're looking for ultimate warmth, these are the tights for you.  I tried these on with the stowe hoodie reviewed in my last post, and the combination of the two had me nearly sweating in my house. (Trust me, that's saying a lot for this cold-natured gal.) These are the thickest thermal leggings I own.  I would wear these for outdoor activities in the 40s or below.
As far as storage goes, these are a little less roomy compared to some of the others on this list, but still decent.  There's a zip and slash pocket, but the aren't super-deep.  They fit my phone most of the way inside, but not as securely as you might like.  The shallow pockets are the only negative for this pair of tights.  That said, if it's cold enough for me to be wearing these tights, chances are I'll be wearing a jacket anyway.
The verdict: keep.  These are significantly warmer than other tights I own and will surely come in handy this winter.
Recap + warmth scale
Note: these are my best estimates based on personal experience.  Your mileage may vary.
1 | Mild to chilly weather: Oiselle pocket jogger tights
2 | Chilly to moderate cold: Patagonia borderless tights and Oiselle flyout tights
3 | Moderate cold: Athleta radiant grid traverse tights
4 | Moderate to serious cold: Athleta polartec sculptek tights