FYI: next week, there will be 2 uploads again, one Tuesday and one Thursday.
Here's the new stuff on this week's Britt's picks:
Like we saw in the UK this week, the movement jacket in atomic flower silver spoon will be coming to North America.  Blah.
Also another lightweight running top, the turn it up LS.  More blah.
The run away tee is back in more colors.  Pretty sure the orange is a new shade called duck sauce.
Yes.  Duck sauce.  I'm 100% serious.
More new run staples: animal swirl inspire tights and textured wave print speed tights.
The mesh with me crops, first seen in Australia, will be in North America.  Not sure if it'll come in the Australian colors, too.  Animal swirl embossed black is pictured.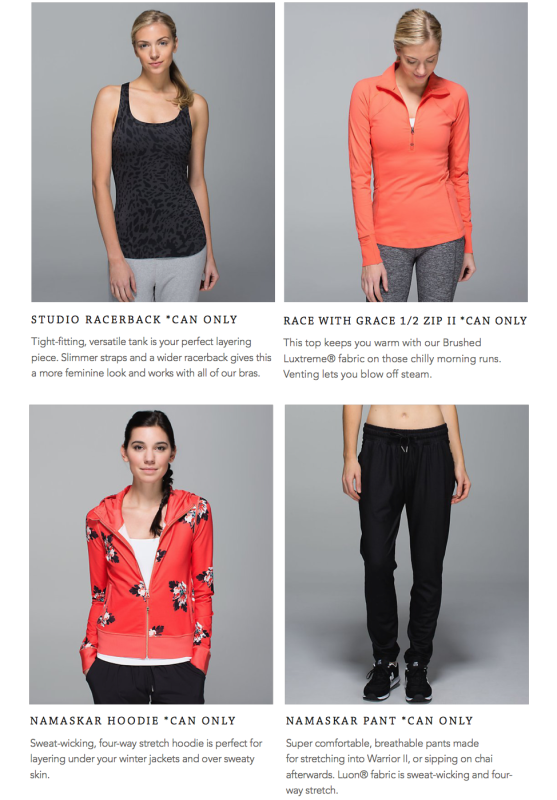 The studio racerback looks like it might be a redux of the refresh racer.  It says it has thin straps and a wider racerback, so I'm not sure how this iteration will be different.
The race with grace 1/2 zip, which first appeared last January, is back for another round in the new "duck sauce" orange.  Seriously lulu WTF is up with duck sauce.
More atomic floral in atomic red via the new namaskar hoodie.
The namaskar pants are already up in the US but will be in Canada too next week.
The spring fling puffy windbreaker is another thing from last winter that will be re-appearing.  Looks like oil slick camo will start trickling to North America.
The yogi muscle tee is another thing in Australia and is another giant meh. (Edit: there's one color of this already in the US.)
The take 2 bra is a new reversible bra that looks like it has some ability to adjust the band tightness.  This would be nice for those of us with small bands and fuller busts except that the white lower band is kind of ugly.
Another FTBW color coming: the prism petal print that's in the UK.  I think the straps are duck sauce but they might be atomic red.  I really hate the prism petal print.  Almost as much as I hate the name "duck sauce".