I've been wanting to give Crane and Lion a try for a while, and I'm happy to be able to share a review today!  Crane and Lion is a new and growing brand only just coming up on their first birthday.  Based out of Boston, their styles are geared toward the sophisticated woman looking for a simple yet feminine active look.  The styling has a more casual vibe, as opposed to the aggressive, ultra-sporty look you'll find from some other brands.  This aesthetic echoes through not only their fitness pieces, but their casual lifestyle layers as well.
Disclosure: these pieces were complimentary from Crane and Lion.  All opinions in my reviews are always honest, no matter where the products come from.
Long sleeve tee
The long sleeve tee is made of a blend of cotton, modal, and spandex that makes it very soft and comfortable.  It's a medium weight that will do well in the fall layered over a tank or worn on its own.
My tee is Crane and Lion's size 0 (XXS).  In my opinion, the sizing on this tee runs on the loose side.  My true size here is fitted, but not tight.  If you prefer a more skin-tight fit, size down.  If you're between sizes, I also suggest going with the smaller of your two sizes.  The length hits just in the right spot for me.  It's long enough to hit the hip and keep everything covered, but not so long that it scrunches at the waist.  I also like that the side seams wrap around the front–it's a nice detail.
The tee has comfy thumbholes for added warmth, but unlike many tops, I have enough room at the cuffs to slide this back and up my arm if I need the cuffs out of the way.  The shoulder detail widens the neckline slightly to accentuate the neck and shoulders.
The back also has ruching to give it some more feminine flair.  The styling makes this a great option for transitioning out of the gym, unlike many technical long sleeves out there.  This tee is a great basic-but-not-TOO-basic addition to my wardrobe.  I expect to wear this most often on fall hikes, over a tank before my workouts heat up, or just over jeans while I'm out and about.
Original tights
The fabric on the leggings is a nylon/spandex blend.  It's a bit fuzzy/cottony to the touch (*not* slick), though not as soft and supple as blends like supplex.  I didn't find it scratchy or uncomfortable, it just has a different feel.  It's not a very thick fabric, but because of the cottony feel, it also doesn't feel extra-lightweight.  As with most fabrics that have the more cottony touch, these feel quite fitted, but aren't necessarily compressive.  The fabric is pretty all-purpose and will be suitable for a wide variety of fitness pursuits.  I'll be interested to see how the fabric breaks in and holds up over time through more workouts and washings.  I'm curious whether it'll soften up at all as well as if it will pill over time or stay looking sharp–time will tell!  Also, an important note: if you're going to be squatting and bending in these tights, though, I'd recommend nude-colored underwear since colors/prints/etc will likely show through.  I've heard that the coverage on the black tights is excellent, so that color might be a better option for you if you want superior coverage.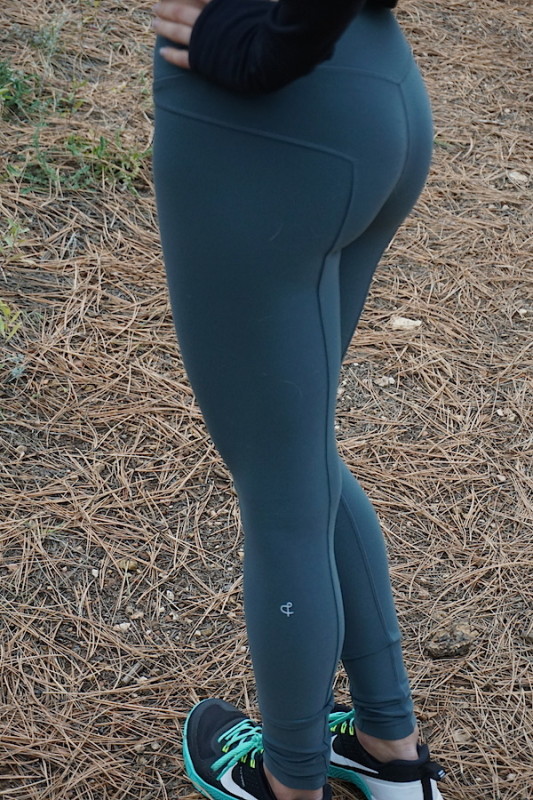 Compared to the pictures online, dark slate isn't quite as saturated in real life.  The blue tones aren't as strong as the stock photos show, and overall it's not as teal.  I'd say my photos here are pretty close to the true color.  It's a unique shade that adds some color while still being understated.
I love the back detailing on these tights.  The seaming helps to elongate the leg, and the angle of that same seam, complemented by the angle of the waistband, really flatters the booty.  I also like that the logo, a stylized ampersand, is subtle and elegant and both these tights as well as the top.
There's also a waistband slit pocket with a fun contrast lining.
Although they don't have a drawstring in the waist, these didn't migrate at all when I worked out in them.  The rise is your typical medium rise, and the waistband sits quite comfortably without cutting in.  For length, they're one of the longer full-length pants I own–I have plenty of ankle scrunch to spare on my short legs (you could tuck them under your heels for yoga easily if you like to do that).  As a point of comparison, they're only about an inch shorter than lululemon's wunder under pants.
The fit on these is spot on.  I really like that Crane and Lion offers 7 different sizes from 0 to 12.  That attention to sizing detail really makes a difference.  My tights are a size 0 (XXS), which is my usual size (when available).  This is definitely the right size for me–they fit perfectly!  Given the fit of these tights and the tee, I'd say the brand runs somewhere between true and slightly large, depending on what you're comparing it with.  Whatever your usual letter size is (i.e., S, M, L), I would suggest taking a look at the size chart and go with the coordinating number size.
Overall, these are a versatile, flattering, and nicely fitted pair of tights for the gym or with sweaters and boots.
Shop this review
Original tights | Long sleeve tee
More from Crane and Lion
Wrap sweater | Keyhole sports bra | Jogger pants
Sign up for Crane and Lion's email list on their website for 20% off your order!