Breaking news: catstronaut workout pants are now officially a thing.  But not just any catstronaut pants: Werkshop catstronauts!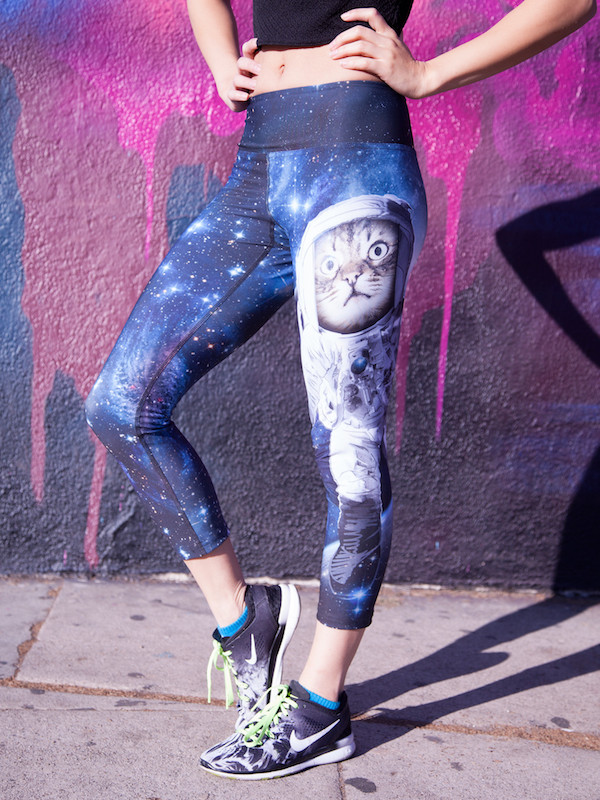 Behold their majesty!!
I have to admit, I have a soft spot for space and a soft spot for the occasional oddball piece like this.  I also happen to think that Werkshop makes one of the highest quality and best value printed bottoms on the market right now, and I'm excited that these are not only cool and fun, but also functional since they have Werkshop's crafts(wo)manship behind 'em.  Basically, these are pushing all kinds of "need" buttons in my brain.
These crops are a special collaboration with online boutique Ghost and Stars.  They're being sold exclusively on Ghost and Stars' site, so even if you're a serious Werkshop fan, you might not've known these existed.
If the cat isn't your thing, there's also special edition galaxy crops rendered in beautiful cool tones and featuring all sorts of rad space things.
Currently, both of these crops are available for pre-order (no ship date has been announced just yet).  Get catstronaut here, or galaxy over here.  And of course, you can always opt for Werkshop's classic galaxy print crops on their site.  I caved and ended up scooping up both special edition pairs!  If you want them, you should probably act sooner rather than later, because I get the impression that there's not a ton of these out there!
Btw, prepare for an onslaught of reviews from my Black Friday haul!  Besides these, I also got some Titika, yet more Alala, a little Albion, and some Nesh too!  Basically none of it is here yet, but once it starts rolling in, I'll be plugging away at taking pics and writing posts. :)