Major new stuff preview in Europe today!
First up, the weird stuff.  New exquisite onesie in black grape.  Wut r dis??
Exquisite trouser crops in black grape.  Don't ask me wtf is going on here because I have no idea.  I guess lulu was due for another pants catastrophe.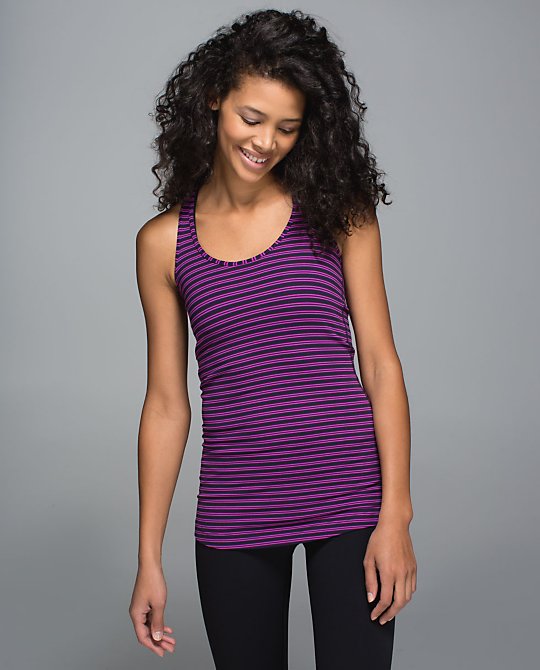 New CRB colors.  Sadly, nothing super-exciting (where the hell did our berry yum yum CRB go? #sad panda), just new mini prisma nightfall print (meh.) and double trouble stripe black grape/ultra violet.
The new color on the yogi crew sweater is called aged moss (with nightfall here).  Yuckkkkk, no thanks.
New emerged renewed jacket, with giant herringbone accents.  Made of luon.
New stained glass love white neutral blush scuba hoodie.
New arsenal ambient grey print.  It's swirly and reminds me a bit of, like, Van Gogh.
New in the flow crops: black grape and pigment blue.  I know pigment was released somewhere else before, but can't remember if it got to North America.  It's been a while since we've seen new ITF colors.
Pigment and black grape ebb to street pants showed up to the party too.
Black petal camo printed rolldown wunder under crops.
Reversible ultra violet wunder under crops.
Majestic cotton rolldown wunder under crops.  Majestic is right.  Damn.
Seamlessly plunge bras are back in ultra violet and pigment blue.
Reversible twice as nice skirt in the new bead envy silver spoon print.  Reverses to black, and also comes in a neutral blush/silver spoon combo.  It's made of that swim fabric and has a handy waistband pocket.