Ivy Park is here!
Beyonce and the designers didn't take a typical feminine approach with this fitness fashion collection.  Instead, it's an unapologetically strong look.  Instead of girly neons and florals, you get blocked text, angular patterns, and lots of neutrals.  Ivy Park definitely occupies its own clear aesthetic in the fitness fashion space.
For the most part, prices are pretty palatable compared to other high-end activewear labels.  For example, in the bottoms category, crops go as low as $52, while a pair of reflective tights top out at $165.  One of the things I was happiest to see is that Ivy Park carries sizes all the way from XXS to XL in most styles.  A full six sizes is pretty rare with new labels.
Here in the US, Ivy Park is available at Nordstrom and Topshop.  Note Topshop ships from the UK and the prices are a tad higher versus Nordstrom.  Stockists outside the US are listed on the Ivy Park website.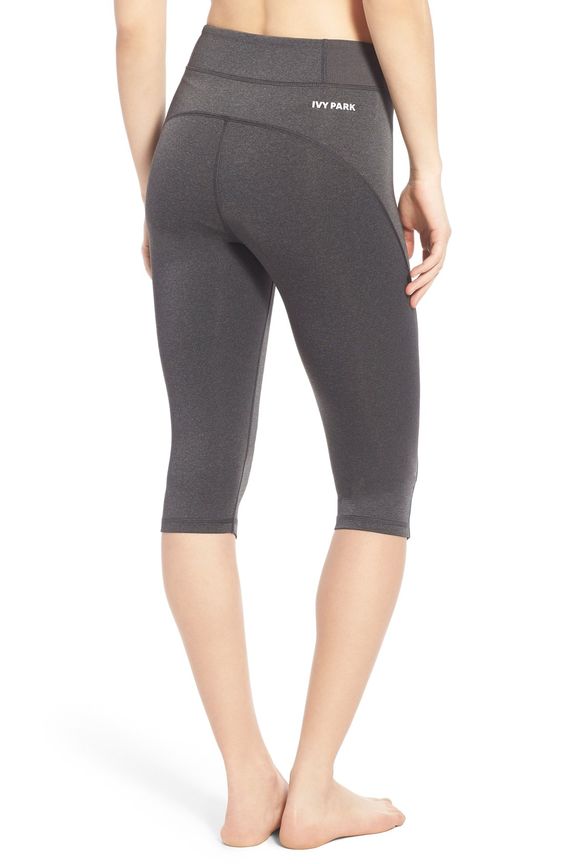 The tights are divided into 3 fits: I for low rise, V for mid rise, and Y for high rise.  Between that, the varied lengths, and the size range, you've got great odds of getting a fit that suits your body type and personal preference.  Also important: with the exception of the seamless fabrications, leggings have built-in brief liners for opacity.
I'm a little bit obsessed with cobalt, so I love that it (along with a couple of other shades of blue) provides the main source of color in the collection.  That said, the overwhelming majority of the collection is neutral.  These short shorts are pretty cute.
There are also just a couple items in this shade of coral.  I'm curious about these shorts, but they look like they're cut pretty big through the hips and leg.
One of the only prints is this geometric pattern appropriately named "linear".  A few pieces, like the leggings above, feature a pretty cool-looking reflective version of the print.
The designers played with a broader range of shapes compared to most activewear lines.  You'll see everything from voluminous or even androgynous silhouettes…
…to bodysuits like this one that play up the female figure.  Likewise, there's a broad range of fabrics, from figure-hugging seamless to structured neoprene to cotton sweats.
The tops and bras don't standout to me as much as the other pieces in the lineup.  That said, this reflective bra is pretty awesome.  There's also a non-reflective version that's almost half the price ($52 versus $100).
The tops and other layers mostly fall into the three categories above: fitted technical pieces, jersey-inspired looks, or sweats.
On the other hand, this backless, sleeveless hoodie is pretty unique.
Overall, I get the feeling Ivy Park will be a love or hate kind of thing.  It's definitely not the sort of look the luxury activewear space has gotten used to seeing, but that's not necessarily a bad thing.  You can peruse the whole Ivy Park collection to see for yourself at Nordstrom or Topshop.  Just in the time I spent writing this post, sizes were already disappearing here and there–looks like this collection will be going quick!
Did any of you nab some Ivy Park gear?  I decided to try out the low rise 3/4 leggings in cobalt and the reflective bra before they disappeared.