I am SO excited to share a little bit about our wedding day in Yosemite National Park with all of you.
I hope you're on a decent internet connection because I couldn't bring myself to narrow down the number of pics any more than I did!  Sorry not sorry. :)
[ezcol_1half]
[/ezcol_1half] [ezcol_1half_end]
[/ezcol_1half_end]
Planning our wedding
I first got the idea to have an intimate wedding/elopement many years ago.  The idea immediately felt right to me, and the more weddings I attended, the more sure I was that the traditional American wedding just wasn't my cup of tea.  Thankfully, Mr. AA isn't much for fanfare either, so he was immediately on board with the idea of opting out.
We ended up with just 7 guests.  We spent a few days in Yosemite, so we were able to spend a lot of time with our families hiking around the park and just spending time together.  Although it was a little sad not to have all of our close family and friends attend, we ultimately decided that the financial and logistical strain on our (extremely!) spread out loved ones would have been somewhere between "ridiculously stressful" and "insurmountable."  Thankfully, our loved ones were understanding and supportive of our decision.
Surprisingly, one of the most common responses I got when I told people our wedding plans was "if I went back and did it again, that's how I'd do it."  I can certainly see why–I have no regrets about choosing an intimate wedding.
The idea to marry in Yosemite was also something I'd had in mind for a long time.  It was first sparked by seeing this video one day while I was hanging out with my brothers.  I love the mountains, and the scenery in Yosemite is unlike any other.  We'd also talked about a wedding at Moraine Lake in Alberta or Big Sur in California, but Yosemite ultimately won out.
The next piece to fall into place was our photographer.  I discovered Carl a couple of years ago through his work for another couple who eloped in Yosemite.  The photos he created for them gave me actual chills.  More of his work showed that he'd shot numerous wilderness-oriented elopements and could expertly leverage the scenery around his subjects, both of which were important to me.  So, when wedding planning came around, he was #1 on my list, and I was understandably pretty stoked that everything worked out.  I think these photos prove exactly why.
My look
Since this is a style-oriented blog, I'd be remiss if I didn't mention my thought process for my bridal look.
Shopping for a bridal gown was tricky since I had a short timeline (about 5 months) and a modest budget.  I knew I'd be hiking a lot, so I needed something that was neither heavy nor stiff.  You know me–I want style, but I also want comfort and function.  Turns out, that's pretty hard to find in the bridal world.  On top of that, I was quite particular about the style and fit I was looking for, which made my quest all the more challenging.
I've talked a lot on this blog about how much I love the resale market, and I was not kidding.  After trying on a couple dozen dresses, I ultimately purchased my gown from a secondhand website.  It was admittedly nerve-wracking, but I went with my gut, and the gamble totally paid off!  It was unquestionably my favorite dress out of all I tried on and was one of the least expensive to boot, coming in at well under $1000.  You'd never guess it was a "bargain" buy–it looked and felt so much nicer than the dresses that were several times the price.
Despite its delicate appearance, the dress was a trooper.  Throughout the day, I hiked about 5 miles(!!) and literally climbed onto boulders, but the lace still doesn't have a single tear.
Since nature kindly provided most of the wedding day decor, flowers were one of the only decorative elements I had to pick myself.  I chose a deep berry palette for my flowers to fit the season and the scenery.  My florist, Haewon, created the perfect look that was natural and wild yet elegant.  Ranunculus are one of my all-time favorite flowers, and I love what they add to the bouquet.  And those dahlias?  To die for.
Since I didn't want to wear a veil, and since I'm patently obsessed with flowers, I decided to go out on a limb and wear a flower crown.  I'm so glad I did.  It really tied the whole bridal look together without looking overdone.  Haewon made two crowns for me, one more full and one more minimal, so I switched them out halfway through the day since I loved both.
As a side note, when I told our guests they could wear anything, my mom really took it to heart.  She surprised me by wearing a pair of Werkshop New Zealand crops for our wedding day.  We honeymooned in NZ after the wedding, so this was the perfect tip of the hat to my love of workout clothes as well as my love of NZ.
[ezcol_1half]
[/ezcol_1half] [ezcol_1half_end]
[/ezcol_1half_end]
Our day
We held our ceremony at Lower Yosemite Falls.  This location was meaningful to us since the falls are below Yosemite Point, where we got engaged.  It seemed fitting to bring the whole thing full circle and marry with Yosemite Point watching over us 3000 ft above.  Keeping with our not-so-traditional theme, our officiant, Cindie, wrote us a beautiful, totally personalized ceremony.  The ceremony was the perfect match for the intimate setting.
Normally, the falls are completely dry during late summer and fall.  But, due to an unheard of 3.35″ of rainfall over the weekend, the falls went from bone dry to roaring like a freight train.  Our wedding was on Monday, so when I woke up Sunday morning and saw the falls, I nearly cried.  I honestly didn't think there would be enough rain to restart the falls, so I was stunned by the turn of events.  The rain continued to add power to the falls all day Sunday and through the night.  Much to my relief, the rain finally cleared just a couple of hours before our day began Monday morning.
After our ceremony, we originally planned to go up to Tuolomne, another section of the park, but the weekend storm meant Tioga Pass, the road to get there, was closed.  Thankfully, we had a backup plan.  Instead, we drove up Glacier Point Road.  As you'll see from the pics, plan B could not have worked out any better.
It was truly such a magical day.  Despite my many fears in the weeks leading up to it, everything worked out beautifully.
I'll let the rest of the photos speak for themselves…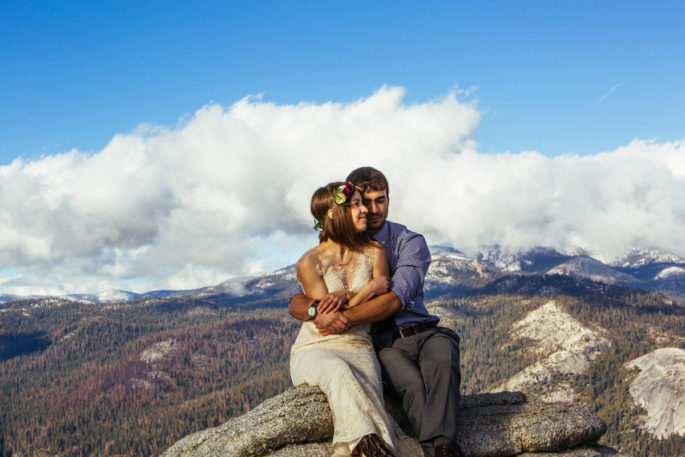 [ezcol_1half]
[/ezcol_1half] [ezcol_1half_end]
[/ezcol_1half_end]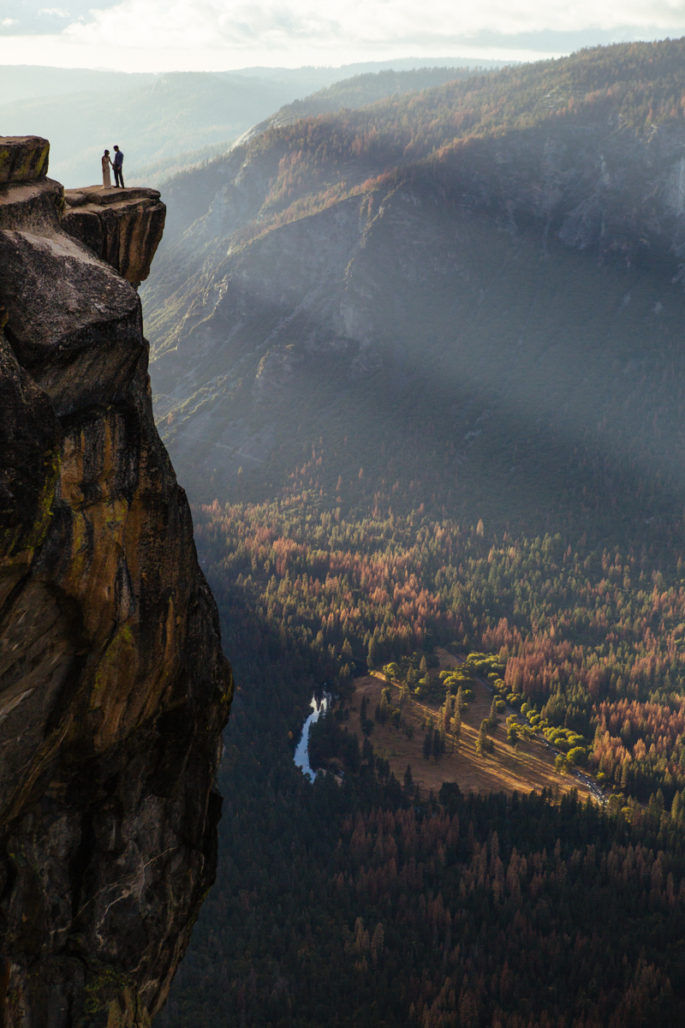 [ezcol_1half]
[/ezcol_1half] [ezcol_1half_end]
[/ezcol_1half_end]
The details
All four of these talented people did such an amazing job contributing to our wedding day.  I highly recommend all of them if you're ever looking for similar services.
Photography: Carl Zoch
Officiant: Cindie Wilding
Florals: Ha Rue Floral Designs
Rings + bridal jewelry: Olivia Ewing
Locations: El Capitan Meadow, Lower Yosemite Falls, Sentinel Dome, Taft Point
Bridal gown: BHLDN "Yasmin"
Hair + makeup: my own
Her boots: Frye Valerie lace-up boots
Groom's suit + shirt: Black Lapel
His boots: Red Wing 8111 iron rangers
Blanket: Pendleton lumberman blanket in rob roy plaid