Every December, I enjoy putting together a post that highlights the year's standouts. Everyone knows 2020 was basically a giant trash fire in almost every way, but these were a few things from the material realm that weren't disappointments this year. What I highlight in this post has been through wear after wear, and has withstood the test of time as a true favorite.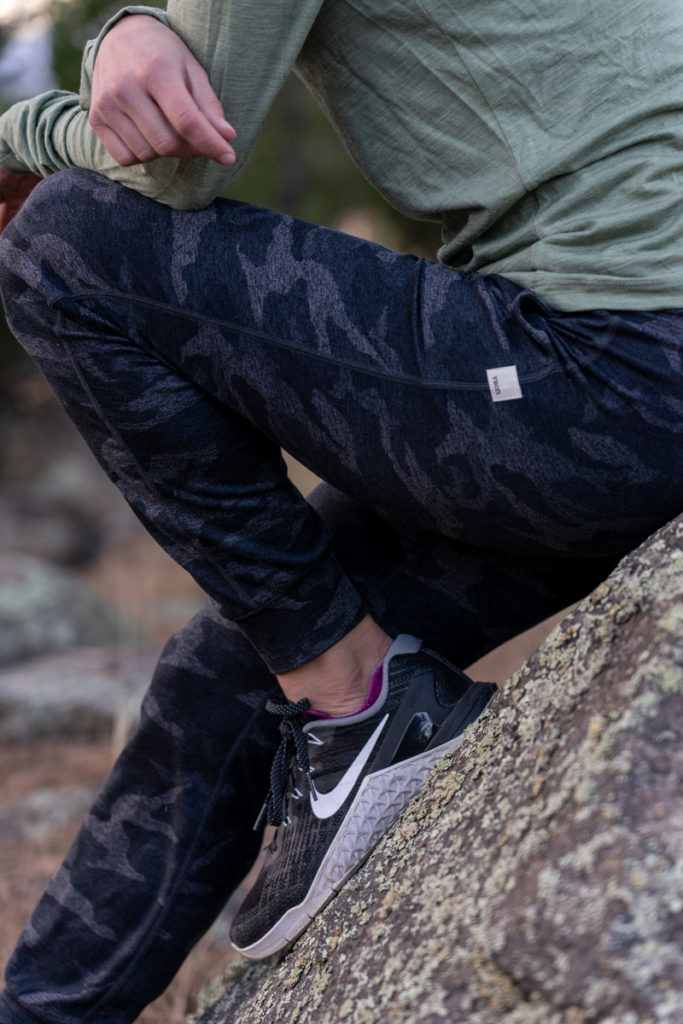 Vuori joggers
These joggers were the ultimate quarantine/WFH purchase. I bought my first pair in March, and ended up with 3 pairs–so far. I wear them constantly. Comfy, soft, and cute enough to wear outside the house. I wrote a full review here.
Machines for Freedom essential shorts
I had been waiting for ages for Machines to develop a no-bib option, and I purchased the essential shorts the moment they were released this year. They did not disappoint. I have all 4 of Machines' cycling bottoms, and these are hands down my favorite. They fit so well and feel great. Some reviews have criticized the inseam length, since it's 1″ longer than their bib shorts. I wouldn't mind if there was a slightly shorter option, but as you can see from my photos, the 8.5″ inseam still looks good even on my 5'3″ frame. You can read my full review here.
Tracksmith harrier long sleeve
My love affair with Tracksmith's running tops has remained for several years now. I've written previously about how my harrier tanks are one of my go-to's in summer, and their newly released long sleeve harrier quickly made it to the top of my list, too. I bought 3 of these and love wearing them on their own for mild runs, or under layers in colder weather. You can get away with wearing them as a basic tee for casual wear, too. A full review is forthcoming.
SheFit ultimate bras
Finding high-support, wire-free, non-hideous bras in my difficult-to-find size (30D/DD) is a perpetual headache. SheFit came through as a real winner when I tried their ultimate bra out this year. While they are a little bulkier than some other sports bras, that's a price I'm willing to pay for true full support. I've collected about 8 of them in a range of gorgeous limited edition colors, and they are my go-to for long runs. You can read my full review here.
Other Noteworthy Buys
Besides some good finds in the active fashion arena, I found some serious winners in other categories. You might love these, too.
Smith Forefront 2
Not all helmets are created equal, because not all heads are shaped the same. Finding a helmet brand that fits your personal head shape is so key for a comfortable ride! Turns out, I have a Smith head. Luckily for me, Smith's helmets also look hella cool and come in a great color selection. I currently wear the Forefront 2, but I also like the Session, which is a less expensive but very similar option.
Protekt lip balm
Not only do I spend a lot of time outside to train, I spend a lot of time at super-high altitudes. When you're above 10,000 feet where the UV rays are insanely powerful, lip protection is non-negotiable. I've been looking for high-quality sun protection for my perpetually sun-baked lips, and Protekt came through with the most perfect offering: an effective product with an excellent formulation. Note it has a herby, coconutty flavor (contains coconut oil), so if you're anti-coconut, you'll probably want to skip this one. You can find the lip balm on their site here.
I also use Protekt's sunscreen, which is reef safe, natural, and sweat-friendly. Also, when I had an issue with my order, they delivered some of the most exceptional customer service I've encountered.
Rails flannel shirts
As I embrace my true identity as a mountain town gal, I finally did it…I bought a flannel button-down. Two in fact. I found Rails' Hunter flannels at Nordstrom and loved the ultra-soft fabric and the great fit. That said, they're incredibly pricey new, so I bought mine off of Poshmark and eBay for around $30 each.
Brooklyn Candle Studio "Santa Fe"
Bury me with this candle. I wrote in a post earlier this year about a few of my favorite candles, and I've tried a few more since writing that post. This one is a new favorite. Smells like incense, desert flowers, and a mysterious, stylish boyfriend.
As an honorable mention, I adore the vessel for this Allison Kunath collab candle, and the scent is a winner too (strong oakmoss notes, very similar scent to the Brick and Mortar "Moss" I highlighted in a post earlier this year).
Books
I love to read, but I go through phases with the habit. I've never read more than I have this year. And I have the evidence: I've kept a running list of every single book I've read since 2010. This year I set a new record.
A few I really enjoyed: The Fifth Season by N.K. Jemisin, Caste by Isabel Wilkerson, The Great Alone by Kristin Hannah (hated the ending though, tbh), Three Women by Lisa Taddeo, and Bad Blood by Jon Carreyrou. Instead of buying from Amazon, consider supporting your local bookstore and/or patronizing your local library.
Original art
This year, I've gotten particularly infatuated with art purchased directly from artists. Besides finding the perfect, one-of-a-kind piece, I love supporting a small business and connecting with a real human being who poured a lot of love into their work. Artists I've purchased from this year are Deeann Rieves (pictured), Bethany Hartwick, and Beth Winterburn.
Find some of your own must-haves in 2020? Drop 'em in the comments.