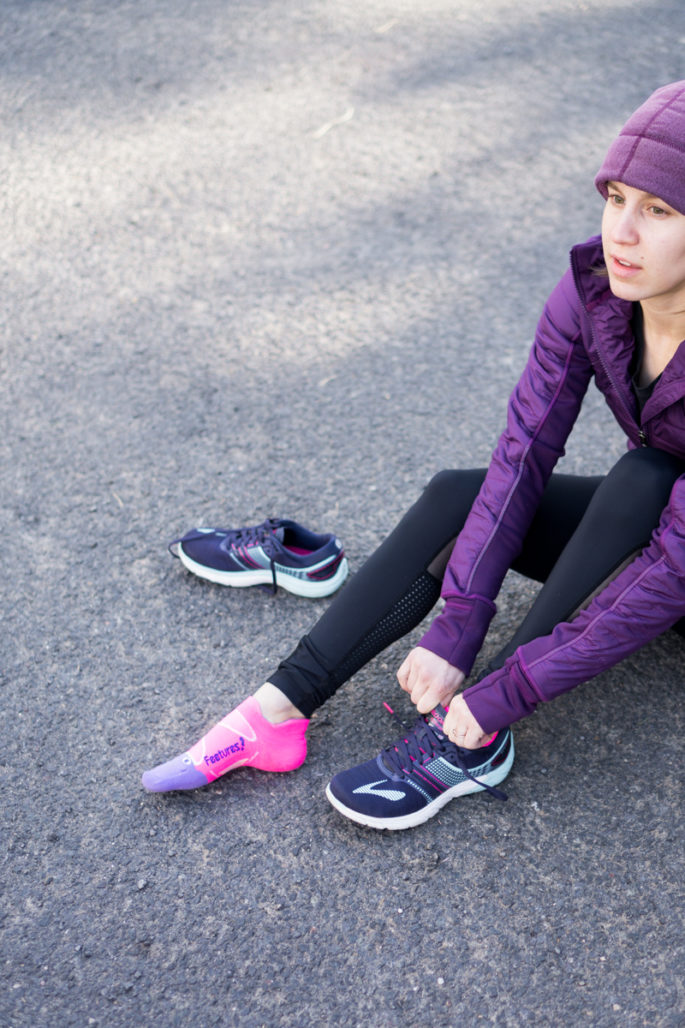 Although I hold my workout clothing and shoes to a high standard of performance and quality, there's one area I've completely neglected: socks. Despite the fact that I wear them every single day with every single active outfit, I've always settled for truly crappy socks. I've always gone and picked up a 6-pack of the cheapest thing I could find from TJMaxx and worn those wrinkly messes until they got holes in them.
Thankfully, those days are officially over.
Due to an order mix-up a few months ago, I had some store credit to burn at Zappos. On a whim, I decided to try a pair of athletic socks to see if they were really worth it. After some comparison shopping, I settled on a 3-pack of Feetures' high performance ultra light socks. Feetures had consistently good reviews compared to other socks, so they seemed like a safe bet.
Since then, I fell in love with them and bought about 20(!!) more pairs of various styles of Feetures. Although their socks are primarily designed and marketed with runners in mind, they can be worn them for any type of fitness (and normal wear). There's nothing about them that makes them exclusively running-oriented.
Now that I've used them for a while, I highly recommend Feetures socks to anyone in the market for high quality athletic socks. That said, there are quite a few styles to choose from. The information below will help you figure out which ones are best suited for your purposes.
I only wear no-show tab socks, so that's all I'll cover in this post. When needed, I wear compression sleeves separately (currently, I wear CEP) so I can mix and match. The information on fit, fabric, and cushioning should carry over to other sock heights if you prefer those styles.
Sizing
If you have small feet, rejoice! Feetures has you covered. A size small in Feetures fits a smaller foot compared to most other sock brands: the S fits sizes 4-6.5. On the other hand, Balega's small socks fit sizes 6-8 and Stance's are recommended for 5-7.5.
I wear a size 6.5 in almost all shoes, but a size 6 in sandals and a size 7 in some running shoes. The size small Feetures fit me just right. If my feet were even a half size larger, they would be too cramped, so the size guidelines seem very accurate. I recommend staying true to size.
High performance line
The high performance ultra lights were my first Feetures and they are excellent. All Feetures fit perfectly with no wrinkling or bunching. The toe seams are virtually invisible and I can't feel them at all when worn.
Unlike the elite line, the high performance socks do not have a right/left orientation. While they're still sewn to fit the anatomy of your foot, the paneling is not as extensive as the elites. They just have a simple band of more supportive material around the arch. Although they're made of a performance material, they have a soft, cotton-like feel.
I have one pair of Balega hidden comfort socks, and Feetures' high performance cushion feel quite similar to them in weight. The Balegas are just a tad bit thicker and feel slightly spongier.
Although I sometimes will wear any and all of my Feetures for daily, non-workout wear, my high performance socks are my favorite for casual use. If you're looking for a simple yet high quality, perfect-fitting pair of do-everything socks at a moderate price point, you'll love the high performance line.
Elite line
The entire elite line is thin, lightweight, but very sturdy and durable. They come at a higher price tag, but you absolutely get higher performance.
Unlike the high performance line, the elites have a more synthetic, technical feel. Feetures incorporated more detail in the design and paneling of the sock to provide a more supportive, anatomical fit.
I have all 3 variations of the elite lineup: ultra light, light cushion, and max cushion. All of them are great, but they serve different purposes depending on both my mood and my intended workout. The overall design of each style is the same, but the thickness of the bottom of the sock and the toe are different. Note that the top of the sock is the same for all 3 styles.
The Elite ultra light are, as the name implies, very minimal and light. The material is different on these compared to the high performance. It feels less cottony and more breathable and technical. If your feet run hot, you'll love the ultra lights. The ultra lights feel like they fit just slightly tighter than my other pairs, so if you're between sizes, you may want to go up in these specifically.
The max cushion are quite cushy, but a little heavy for very hot days. Although they don't get soggy, I don't care for the extra bulk when it's hot out. That said, they are excellent for long hikes and chillier days. I also reach for them when I'm expecting a lot of hills and want to save my feet from a pounding.
The light cushion is the best of both worlds. They add just a little bit of softness and a nice spongy, springy feel to the sock while still being lightweight. Even on my hottest runs, the light cushion feels good. The light cushions are my top choice for race days and long runs in all weather.
Elite merino+ line
So far, I've only tried the ultra light merino socks, not the cushioned version. The merino socks are a blend of materials that works out to about 1/3 merino. This is a slightly lower merino content than some other wool run socks, but that doesn't bother me. I don't find the material itchy or bothersome at all.
I primarily wear my other styles, but I keep a few pairs of merino socks around. I go for the merino when there's a possibility of damp conditions thanks to merino's superior thermal properties when wet. The merino socks are also the thickest overall (though not by much!), which makes them a prime candidate for cold weather use.
Weight comparison
I can talk all day about how the socks feel, but the actual weight of the socks drives home the differences between each style. All weights are for a pair of size small socks.
High performance ultra light: 28 g
High performance cushion: 38 g
Elite ultra light: 22 g
Elite light cushion: 25 g
Elite max cushion: 38 g
Elite merino+ ultra light: 34 g
Balega hidden comfort: 44 g
Final thoughts
I've been running (and living) in my Feetures for about 6 months now, and I have no complaints. I've never had a bad run or a blister in my Feetures. Besides some dirt stains, they're as good as the day I bought them. I could never go back to regular socks! (Edit: it's now been 3 years and I still wear these socks every day. None of them have worn out!)
At a retail price of $13-$17 per pair, these socks are definitely not a bargain buy. That said, if you're flexible on colors, it's not too difficult to find a deal! Not to mention, these socks will last you for years. If I'm willing to spend $100 for one pair of leggings, then I should definitely be willing to spend $100-$200 on a full sock wardrobe overhaul. After all, I wear them every single day.
You can find the most current color schemes and all styles and sizes on Feetures' website.
If you're looking to save a few bucks, here's where you can sometimes find Feetures on sale:
6pm (styles vary, check back if you don't see what you're looking for)