Confession: my fitness shoe wardrobe absolutely sucks.  It'd be great to amend this unfortunate situation (#FWP) so that like my fitness clothing, I have shoe options that excel in both style and function.  Just like with other outfits, shoes can totally change the overall look of a fitness outfit.
Enter the Nike photosynthesis pack, which features 3 different styles of special edition floral print shoes and a couple other coordinating items.  I first stumbled upon the photosynthesis pegasus 32 shoes on Instagram, and my initial reaction was simultaneously "wow those are insane" and "OMG I WANT THEM".  I was drawn to the deep, rich color palette and the fun, feminine pattern.  Although I don't usually wear prints like this in larger doses, I like using prints as accents.  These totally fit the bill.
I looked for these shoes at the Nike store while I was in Las Vegas this past weekend, but their shipment was delayed and they hadn't received them yet.  I tried on another pair of the same style in a different color to test out size.  The pegasus photosynthesis were already out of stock in my size on the Nike website, but the rep had access to inventory through their system, so she had them shipped to my house for free.  Since they were selling so fast, I decided this was one of those "buy now, decide later" situations (especially since returns would be free!).
The pegasus 32 are a more traditional, structured running shoe rather than more minimalist options like Nike frees.  They have a pretty substantial heel-to-toe drop of 9.6 mm.  And that pretty much exhausts the extent of my running shoe knowledge. :)
The purple background is accented with shades of coral, pink, blue, and teal.  The side laces are aqua, and the top laces are navy.  From the pics I've seen, it looks like the pattern placement is the same for all pairs.
I love that the insole of the shoe is the same floral print, too.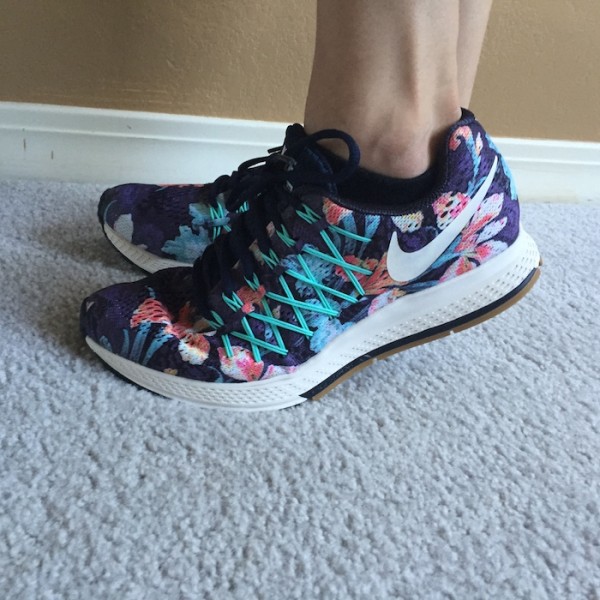 When I tried these on in store in another color, my true size felt uncomfortably tight, but a half size up felt good.  Because of that, I ordered a 7 in the photosynthesis instead of my usual 6.5.  They seem a little bit roomier than I remember, though maybe my feet were more swollen then, or my memory is just bad. :) I never buy running shoes since I'm not really a runner, so I don't know how I like/need them to fit and if the extra room on these is too much or just right.  So far, the prevailing wisdom seems to be that I'm better off in this size, but there's still a little doubt in my mind about whether I should go back for a 6.5.  So, I haven't tested them for any running or other workouts just yet.
That said, they're almost too pretty to run in.  Part of me is tempted to get one pair for running/hiking/workouts, and another back-up pair just for casual use. :)
I laid out a couple of potential speed short pairing options: inky floral, blue tropics, flash jacquard, menthol, and harbor blue.  Blue tropics is very close to the side lace accent color.
Overall, these will be keepers for me!  They are as gorgeous in real life as I hoped they would be, and they're just so unique and fun.  I can't help myself. :)
The photosynthesis pack only dropped about a week ago, but the pegasus have already sold out on the Nike website.  They were really hyped up so they've been selling like hot cakes!  Since they are a special release, I don't believe they will restocked, other than potential returns.  Fortunately, there are a couple other retailers that still have quite a bit of stock as of this writing.  I found them online at Six02, Running Warehouse (+$5 and don't ship til July), and Finish Line. (Update: they are also now available at Nordstrom!!)