What's the Grand Canyon like in the winter?  At least as amazing as the summer.
The Grand Canyon is always spectacular, but winter transforms the experience.  I've made it something of a tradition to do the rim-to-river day hike once a year.  I made it under the wire for 2017 by just a couple of weeks.  This was my 3rd time doing this hike (I wrote about the first and the second previously), but the first I've done in winter.  The previous two were both in the spring.  This time, some friends and I decided to take a day off work and steal away to the canyon. (Advantages of being a local.)
Standard disclaimer: this post isn't intended to provide detail about how to prepare for this hike.  Please don't attempt it unless you are an experienced hiker and have done your due diligence.  It is an extreme hike and should not be taken lightly.  If you have questions about hiking the canyon, feel free to ask me or contact the park service for advice.
One consideration if you're hiking in the winter is limited daylight.  Our hike was just a couple days off from the winter solstice, meaning we had basically the least amount of daylight possible.  With the sun not popping up til around 7:30 am and setting before 5:30 pm, you don't exactly have a generous window to get the miles under your belt.  I have a good sense of how long this hike takes me since I've completed it before, but I packed a headlamp just in case.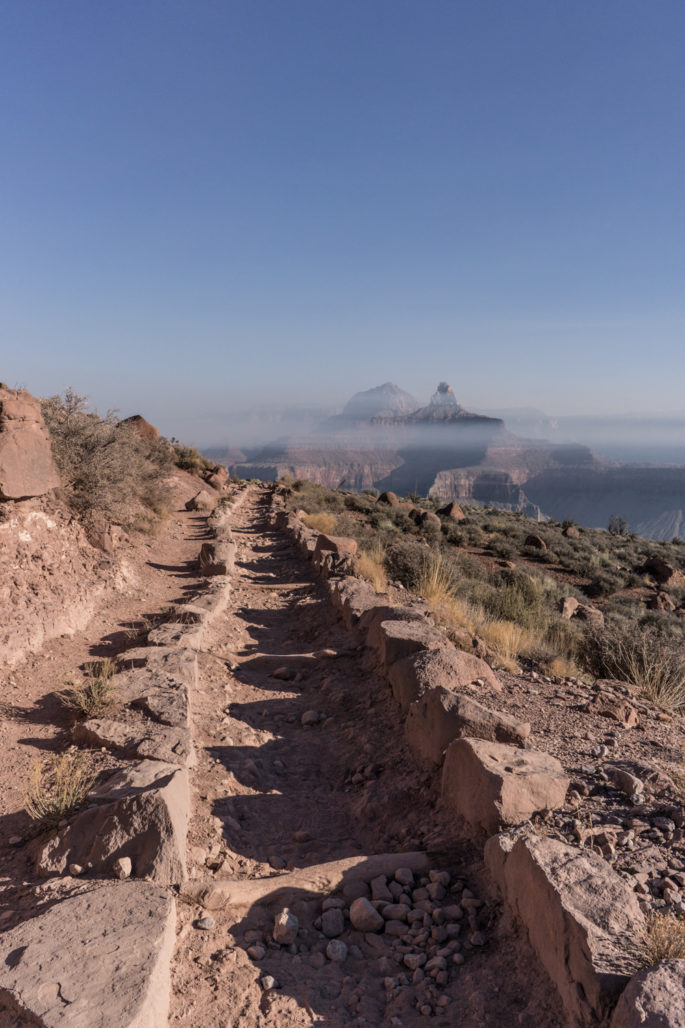 It's been one of the driest winters on record in northern AZ (so far), which meant there was no ice or snow to navigate this time.  Temperatures started out around 20, topped out somewhere in the 50s at the bottom, then dropped again to the 30s or 40s by the time we were back on the rim in the late afternoon.  Although it doesn't sound nice on paper, the weather ended up being absolutely wonderful.
The range of temperatures on this hike was much easier to plan for compared to my first two hikes.  My springtime canyon hikes started in the 30s and skyrocketed to the 90s and full sun, which is a much more challenging range.  For this hike, I wore medium weight tights (lululemon variegated knit speed tights from last year), a tank layered under a thermal long sleeve, and an insulated jacket (lululemon down for a run ii).  I also added a beanie, neck warmer, and gloves to the mix, plus I stuffed a pair of hand warmers in my gloves in the morning.  Fortunately, I nailed it with this layering strategy.  I added and subtracted my accessories and jacket as needed and was totally comfortable during the whole hike.  In contrast, the spring hikes started too cold and ended too hot, with a limited window of relief between.
As an aside, I wore this pair of Nike gloves that I bought recently.  I really like them so far and the price is not bad at all.  The XS fits my small hands well and the fleece panels are very nice when your nose is runny.  The medium weight works well for winter runs and hikes like this.  Thinking about getting another color.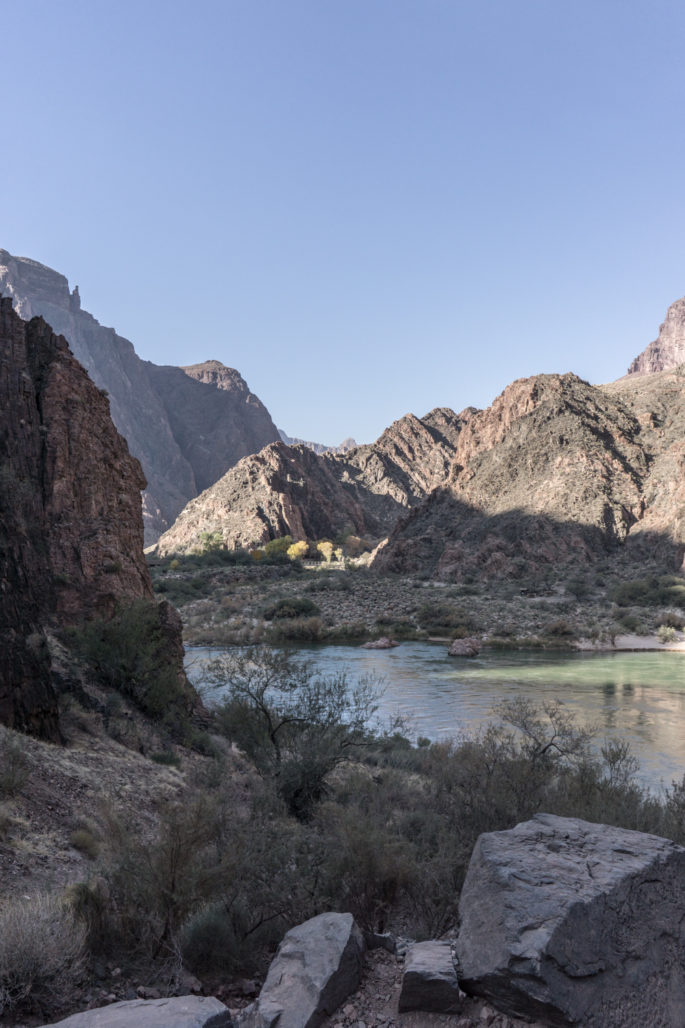 Besides the mild weather, the winter also means skipping the crowds.  Normally, South Kaibab and Bright Angel have a lot of traffic from hikers and rangers going to and from Phantom Ranch.  If you want to beat the crowds, it doesn't get much less crowded than a random Tuesday in December.  There was a tiny fraction of hikers on the trail compared to other times I've been on the trails.  We only saw a couple of people every hour.
The low winter sun illuminated the bottom of the canyon with absolutely breathtaking light rays around every turn.  Seriously, I could not get enough of the light rays.  We stopped at Pipe Creek Beach for lunch, one of my absolute favorite spots.  Much to my delight, we had the whole place to ourselves.
The bottom of the Grand Canyon is one of the most serene places I've ever been.  There's a magic there that keeps me coming back again and again.  While looking out from the rim is stunning, it could never compete with being in the canyon.  If you've ever been to the bottom, perhaps you know what I mean.
The low sun also meant a mild, cool hike back out Bright Angel.  My previous two hikes involved not only the higher temps, but the sun beating down on us the whole time.  This time, we only got mild sun on the hike back up.  By the time we reached the 3-mile resthouse, I had put all of my layers back on.
I'm very cold-natured, so how much of a difference the heat (or lack thereof) made surprised me.  I kept waiting for the hike to devolve into a sufferfest, as it had the previous two times, but…it never did.  It's not that I wasn't working hard,  the level of work just felt manageable, and I was able to sustain a much stronger pace than I expected.
All told, we finished out the 17-18 mile hike in 8 hours exactly.  This was a huge change from my previous times of over 9 hours.  I attribute the difference to both the impact of cooler weather as well as the effect of trail run training on my capacity.
Although this was my first trip into the canyon in winter, I can't imagine it'll be my last.  I know I've said it before, but off-season hikes virtually never disappoint.  In fact, sometimes (including this case), they're even better than the high season equivalent.  If you're planning a trip to the canyon that involves a lot of hiking and/or you just want to beat the crowds, I'd encourage you to consider the colder months!