Crossing another new brand off the list today: Heroine Sport!  Heroine is a young company, just a couple years old with only a handful of collections under their belt.  Everything Heroine is made in the USA (yay!) and channels a sleek, luxe, and sporty vibe.  Here's my review of the Heroine pieces I got.
Disclosure: these items were gifted to me from Heroine Sport.  As usual, everything here is my own honest opinion and experience.
Racing capris
I got the racing capris in two colors: solid black and blue grid print.  The racing capris are a longer length crop, sporting large mesh panels across the leg.
Both my racing capris are an XS; I'd say fit pretty true to size.  Because of my height and my chicken legs, there's a tad bit of flaring at the hem that you can see here, but not too bad.
The fabric is a slick-faced, micropoly/spandex blend.  In a bend/squat test, the black pair showed a bit of bright colors through, but nothing awful and certainly wearable with non-brights.  The waistband is a bare elastic band with Heroine's logo at the back.  The waistband has a lot of give, I didn't find that it pinched or dug in at all.  They're a medium rise.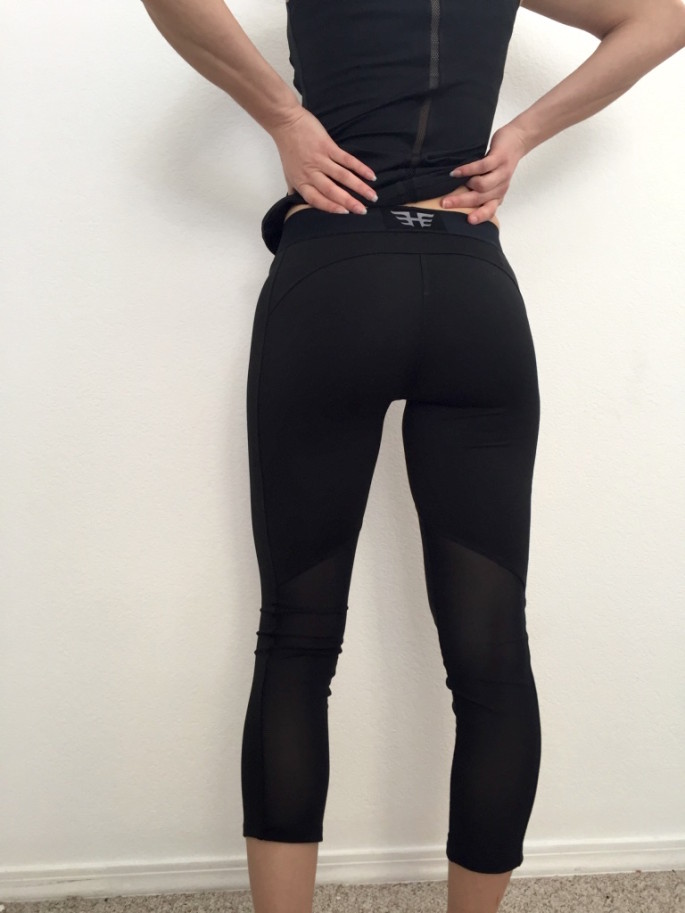 As I mentioned above, the racing capris have a mesh panel on both the front and back of the leg.  The mesh extends all the way to the seam at the inner leg, but there's a panel of solid fabric at the outside of the leg.  The mesh on the black is quite subtle, making these a good option for when you want more coverage than shorts, but want basically the same ventilation benefits.
A couple other functional notes is that these do not have a gusset, and not all the seams are flatlocked.  I didn't feel like that meant these were less comfortable, but it's something something to be aware of before buying.
I feel like the grid print will be a love or hate kinda thing among all of you. :) While the black pair above are very simple, these have a lot more going on.  And of course, the white mesh is a lot more obvious than the black mesh.
The fabric on the grid print feels a bit different to the touch compared to the black pair.  They're slightly thicker, and instead of being perfectly slick they have a slight texture to them.  Still, they are not heavy at all, especially with the mesh.  Also: this fabric is opaque, which was a nice relief on such a light color.  Although these particular crops are exclusive to Bergdorf Goodman, Bandier just debuted their own exclusive capsule with the same print on different styles.
The grid print also makes the back arc seam much easier to see.  That detail plus the angle of the mesh is a nice way to enhance the whole rear view situation.
Training shorts
The training shorts are a boxing-inspired design with a more feminine cut.  The fabric is a silky, polyester material like you'd find on boxing shorts.  The shorts fabric itself has minimal stretch.  The white fabric is definitely see-through, but thankfully, Heroine sewed a brief liner inside.
The white is a super-crisp and bright white with a little navy stripe down the side.  The shorts have two pockets at the front, though they do not have any sort of closure, so they may not be secure enough for your keys or phone if you're out for a run.
What I like about these shorts is the slim, flattering cut at the leg.  There's no dramatic, diaper-like bubble going on here.  The back is also a hair longer than the front, which is nice for coverage where you need it.  The one downside of the stiffer fabric is that it does tend to bubble a bit at the front, rather than sit flush.  I can't be sure how these perform for workouts just yet since it's still too cold for shorts!
Studio tank
This tank doesn't look that exciting in the stock photos I'd seen online, but I actually really liked it once I put it on.  It fits well and is quite flattering.  The fabric is the same as the crops above–slick and fairly lightweight.
There are contoured mesh accents down the front as well as down the middle of the back–they're very flattering.  This is a more open mesh, but lest you worry it will expose something, there is a nude-colored shelf bra liner underneath the top half of the tank.  If you look closely at these pics, you can see the slight difference between my skin and the liner color.  The shelf bra does not have slots for cups and is minimally supportive.  So, personally, I prefer to wear a regular sports bra underneath for extra coverage and support, but you don't have to if you find shelf bras do the trick for you.
The length hits at my high hip, which is a really nice length for me.  I'd say it fits true to size, maybe just slightly small if anything.  Expect it to be fitted/tight in your true size.  I will definitely be wearing this tank on the regular once the weather warms up!
Performance tank
I saved the best for last.  The performance tank is my absolute favorite of these three.  The front racer cut is different from the rest of my collection.  I wasn't sure if I would like it, but it really flatters the shoulders and is comfortable to wear.  The bottom hem is also gently contoured, and hits at high hip.
The real selling point of this tank, though, is the fabric.  It feels amazing.  Instead of the slicker, silkier fabric above, this one is a bit cushier and insanely soft.  This tank is definitely my favorite out of these 5 pieces.  That said, I'd bet any style made of this fabric would be similarly heavenly.  In fact, Bandier has a new dark blue heather that I'm guessing is the same kind of fabric, and it looks beautiful.
Again, there's a shelf bra in this style, but I prefer a full sports bra underneath.  As above, I'd say this tank fits true to size.  This fabric in particular has a fair amount of stretch, so sizing will be more forgiving.
Although this tank is normally quite expensive, I found it on sale via Revolve!
Overall, I'm partial to the tops from Heroine.  It's been tough for me to find fitted tanks I like, so I'm glad to have these to add to my stash.
Shop this post
Shop more of the Heroine Sport collection via their main site / Revolve / Bandier / Carbon38