The Narrows is one of the most popular, most photographed hikes in Zion National Park.  The hike isn't as much of a hike as a wade up and down the Virgin River.  Slot canyon walls tower above you, giving it a secluded, other-worldly feel.  The first time I went to Zion, we didn't have time to do The Narrows, so the iconic walk was on my "must do" list for the next trip.
Last month, my sister suggested the 3 of us head up to Zion for the weekend, so I did some research on whether you could actually hike The Narrows in the winter.
As the existence of this post implies, you can!  In fact, going in the winter made the whole experience even cooler.
For reference, our trip took place on February 4th.  Although no two winters are alike, this should help give you a general idea of what it's like to hike The Narrows during the winter.
What you'll need for the hike
As I mentioned above, the hike through The Narrows involves a lot of wading through the river.  In the summer, it's so warm that you could basically get away with some water-friendly shoes and something to keep your things dry.
The winter is of course a very different story.  Water temps are only a few degrees above freezing, so you must have gear to keep you dry, or you'll be hypothermic before you know it.  We wore full-body drysuits.  You could potentially wear just dry pants or overalls, but because I'm so short and the river was so deep, I hedged my bets and went for the whole thing.  I didn't want getting wet to cut our hike short.  It was definitely the right call, especially considering the strength and depth of the river at the time.
In addition to the drysuit, we also wore double-layered neoprene socks, canyoneering shoes, a tall walking stick, and a drybag.  Your feet do get wet and stay wet, but with the double socks, I was impressed that my feet were warm the whole time.  I have poor circulation in my extremities, so I was impressed that my feet were not cold.
And yes, when I said you need a walking stick, I meant it.  You need it as a counter balance to steady yourself on sketchy terrain, and it's useful for poking in front of you to see if the water depth is ok to step into.
We rented all our gear from Zion Adventure Company.  The whole rental package cost us around $50 per person.  They were very helpful and all the gear was in great shape; I would recommend them if you're in need of rentals. (Note: many businesses close for the winter, so you won't have as many options as you do in the summer.)
Since the drysuit is so huge, I had plenty of room to layer underneath.  The high for the day was in the low 50s, but since there wouldn't be sunshine on the hike and there would be lots of cold water, I dressed more warmly than I would for a regular hike in this weather.  I wore this outfit, which included two pairs of leggings (one fleece-lined), a tank top, a thermal top, plus a hat.
Tip: bring waterproof gloves!  The ones I wore weren't waterproof, and that was a mistake!  My gloves were dry for a while, but about halfway through the hike, I fell in the water and soaked them.  Thankfully, I had built up enough body heat that my hands didn't freeze without them, but I would definitely recommend waterproof gloves for this hike!
I double-bagged my camera and our phones inside the dry bag to ensure absolutely no water got inside.  My husband carried food and water in our backpack (also in sealed containers to be safe), since he was tall enough that the pack wouldn't dip in the water.
What The Narrows are like in the winter
The days we were there, the weather was in the low 50s and sunny, which meant lots of melting snow.  The snowmelt powers the river, which created a small surge in river depth and strength while we were there.
Most of the times we were wading in the river it was about knee deep, give or take.  There were a few times we crossed the river where the water came all the way up to my hips.
On the day of our hike, the flow rate of the river measured between 90-100 cubic feet per second.  It was intense but manageable for our adventurous spirits!  Above 100 CFS is considered very difficult, and the parks service closes the hike above 150 CFS.  I'll talk a little bit more about the challenges of the current later.
Flash floods are very rare in winter, but it's still important to know the signs of a flash flood so that you can seek higher ground quickly.
Many of the banks of the river were still covered in patchy snow.  Shady areas of the canyon harbored amazing ice formations and waterfalls cascading over the sides that summer hikers never get the pleasure of witnessing.
With that in mind, you do need to be careful of falling ice.  Early in our hike, we heard a pretty significant crash up ahead of us.  A few moments later, we saw ice chunks the size of grapefruits floating down the river.  Stay alert, be mindful of where you're standing, and don't forget to look at what's over your head!
The great thing about The Narrow in winter is how isolated it is.  This hike is very popular and can be crowded in the summer.  In the winter, you get to enjoy this incredibly famous place in almost complete solitude.
We saw a handful of people at the start of our hike and in the very last half an hour, but for the overwhelming majority of the hike, there was literally no one.  We were completely alone for more than 95% of our 7-hour hike.  And this was a Saturday!  In my opinion, the solitude made the hike that much more enjoyable.
Based on where we saw other hikers, it seems that very few people go more than a mile or two in the winter.  But if you prepare appropriately, it's obvious how rewarding it is.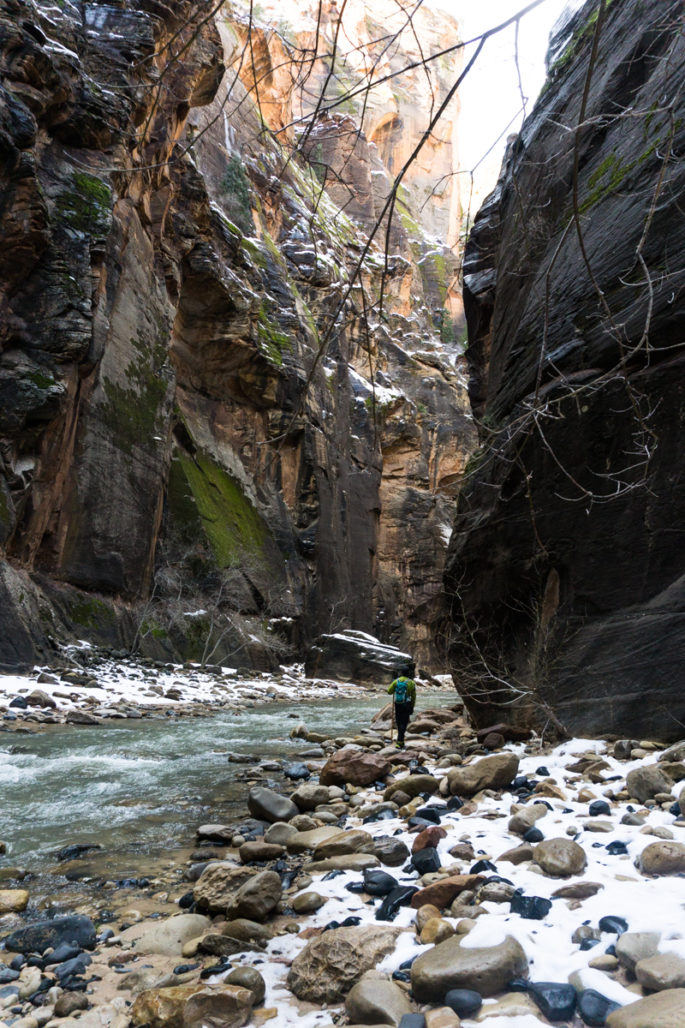 Our hike
We arrived at the Temple of Sinawava parking lot at 9:30a.  We tumbled out of the car in our drysuits, looking like an awkward trio of Star Trek Teletubbies.  This was quite a bit later than our usual early start, but it meant that it was a little bit warmer, which was valuable given the wet conditions.
To access The Narrows, you first walk a mile to the end of the (paved) Riverside Walk trail.  At the time, this trail was actually closed about halfway up due to falling ice, so we had to leave the trail and wade into the river early. (A park ranger confirmed this was ok.) I was a little bit timid at first and tried to avoid dunking my feet in the water.  But I soon got over that as I was knee deep in water within the hour!
The start of the walk is brighter and more open compared to later portions, but still very enclosed by the canyon walls.  The river banks are plentiful, so you spend a lot of time walking alongside the river and simply crossing to the other side when one bank runs out.  The scenery will impress you right away.  Right off the bat, all three of us were delighted with the hike and thrilled to be taking in such a magical place.
The river water is tinged with turquoise because of the mineral content.  Besides being very pretty, the color is a useful guide for depth: the more vibrantly colored it is, the deeper it is.  The brownish water is more shallow.
It didn't take long before we started to see some gorgeous waterfalls pouring over the canyon walls from the snowmelt.  The contrast of the towering rock with the misty waterfall is simply beautiful.
After a couple of hours of walking and wading, the canyon started to narrow and darken.  Although I'm not sure where it officially begins, this portion of The Narrows is referred to as Wall Street.  It's so named for the towering walls of the canyon that shoot straight up toward the sky.  There's little in the way of river banks during this segment.  Instead you spend most of the time wading, taking care to stick to the more shallow bits.  In the deeper portions, the rocky river bed transitions to sandy.  It's a welcome relief for your ankles to walk on more level ground.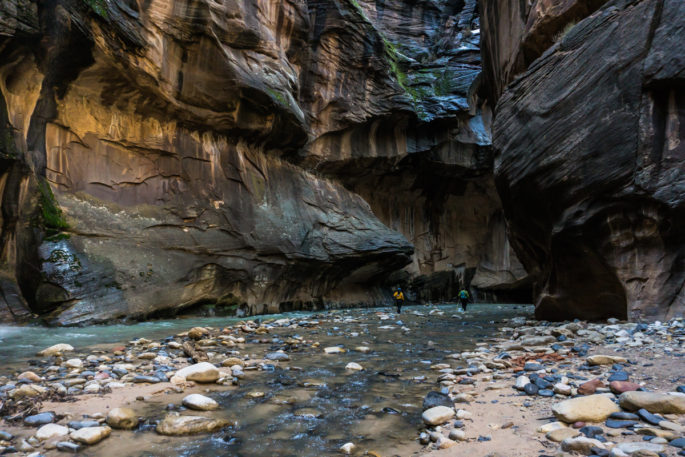 Wall Street is also by far the most photographed section of The Narrows.  It's pretty obvious why.  Using my camera was actually a pretty big pain, since every time I wanted to take a photo I had to unfold and open the drybag, take my camera out of its extra plastic bag, and then do the whole thing in reverse to put it away.  Not to mention, I was terrified I would fall or drop it into the river.  So, snapping a quick photo was actually a bit of an ordeal, but certainly worth it as you can see!
This waterfall was one of my favorite parts of the hike.  So ethereal and majestic.  And those ice formations!  Oh my.
Although the full day hike is not very long in terms of mileage, you move very slowly, for obvious reasons.  Even one mile can take a long time when you're navigating the river.
After Wall Street, the canyon opened and brightened a bit.  Portions of the canyon were decorated with vibrant mosses and ferns creating tiny forests on the walls.
Instead of the narrow but clear terrain of Wall Street, this part of the river was littered with gigantic boulders.  As we progressed, we found ourselves having to negotiate around rocks the size of trucks, scrambling over, under, and around them to continue upstream.
This portion was definitely the most challenging both physically and mentally.  The river rushed very rapidly in places, and the rocks made it difficult to find a route that wasn't too deep and swift.
As an example, at one spot, we had to climb onto and across some wet boulders to avoid wading through a chest-deep pool.  Mr. AA and Sister AA navigated it with no problem, but it took me a minute to muster up the gumption to trust my own strength.
Another time, we had to "jump" a couple feet with our legs underwater to clear another chest-deep area.  I didn't make the jump, and found myself nearly swimming.  Sister AA was standing right next to me on shallower ground, so she grabbed my arm to pull me across to the safe haven.  Side note: it's kind of humbling for your outdoor skills to be put to shame by your baby sister. :)
Although I never felt like these challenges were seriously dangerous, they were definitely not for the faint of heart and could definitely leave you injured if you're not careful.  Fortunately, when we made our way back downstream, we found better routes and techniques through the most challenging bits.
I couldn't take photos, since navigating was taking all my energy.  Both Mr. AA and Sister AA are quite a bit taller than I am, and my smaller stature meant I had the hardest time on the hike.  I brought up the rear them most of the time, especially as I frequently stopped for photos.  On the plus side, following them made for some neat photos.
A little after 1 o'clock, we were getting hungry and stopped at a quiet little spot to have our lunch.  As we watched the time, we decided that we ought to turn back to ensure we had ample time to get back to the trailhead before the sun started to set.  Plus, the difficult section of the walk had taken its toll, and we wanted to be sure we had plenty of energy to get back.
In retrospect, I'm pretty sure we were only just barely shy of Big Spring, the waterfall that marks the official end of The Narrows day hike. (Any further requires a permit.) I was a bit bummed we didn't make it to the very end, but we made it farther than anyone else we saw that day, and it was a hard day's work for sure.
We expected to make up some time going back downstream, but that didn't end up happening.
As we made our way back, the depth and strength of the river was noticeably higher as the afternoon snowmelt added power to the current.  Although there were times that the flow made it easier to walk downstream, sometimes it actually made it harder.  As we crossed particularly fast sections, I had to use my whole body to brace myself against the current to keep my balance.  If I wasn't properly braced, the current would easily twist my legs off balance.  As fatigue set into my joints and muscles, stabilizing myself became even more of a challenge.  Strong, long legs and strong, steady joints are a big plus in The Narrows.
A lot of the riverbed is covered in rocks, which means the terrain can be very uneven, not to mention it's easy for your weight to dislodge one so you slip as you try to walk.  All of us fell one time or another.  I totally ate it 3 times (thank you Teletubby suit for keeping me dry), and had to correct my balance too many times to count!
Although the hike is basically flat, the unique terrain made this a very challenging and strenuous trek.  I would estimate we covered approximately 8 miles during our 7 hour hike (including a ~30 min lunch break).  Overall, I'd rate the difficulty a 9/10 (topped by the Grand Canyon and Mt Ngauruhoe).
We arrived back at our car at 4:30p, completely exhausted and aching something fierce.  Peeling off our neoprene socks was probably one of the greatest moment of that trip, right up there with the shower I took when we got back to our hotel! :)
I couldn't have asked for a more satisfying hike.  Even if it's winter, don't let that dissuade you from tackling this breathtaking, one-of-a-kind hike.